"We're all out here just to get a fair deal," the veteran TV comedy writer, producer and showrunner said while protesting outside Sony Pictures Studios on Friday.
TooFab spoke with the veteran TV comedy writer, producer and showrunner at the picket line at Sony Pictures Studios in Culver City on Friday. Sanchez-Witzel, who sat at the negotiating table with the Alliance of Motion Picture and Television Producers (AMPTP) for six weeks before the strike began in May, provided insight into the negotiation process, stressing that unions should only ask for a "fair deal" and be "taken seriously".
WGA Negotiating Committee Member Danielle Sanchez-Witzel (@WritersonStrike) told TooFab about the strike in Hollywood while demonstrating in front of Sony Pictures Studios.

"We're all out here just to get a fair deal. … The only way to get back to work is if they… pic.twitter.com/hskAygRler

— TooFab (@TooFab) July 22, 2023
@TooFab
She also addressed the now-infamous comment from an anonymous studio executive who recounted this meeting The AMPTP plans to frame the strike in such a way that union members "lose their homes and flats." While Sanchez-Witzel noted that she hopes there is "no truth" to the quote, she called the idea "despicable" and "terrible to say."
It's now a WGA member – whose credits include My name is Earl up here and the new Netflix series, Survival of the fattest – TooFab also explained if she thinks the strike will lead to a stronger push towards independent studios.
Read on for TooFab's Q&A with Sanchez-Witzel and watch the full interview in the video above.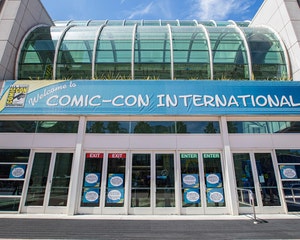 Getty
What Comic-Con looks like during the Hollywood starless strike

view history
What inspires you to strike here today? What brings you here?
I am a member of the Negotiating Committee and a WGA member. And here we are at the end of week 12, the WGA. I'm sure you've seen SAG-AFTRA – who have been with us since day one but are actually on their own strike now – out here at the end of their first week. And we all want to get a fair deal. I mean, that's what everyone's out here for. Our SAG-AFTRA friends, WGA friends, you know, black shirts, blue shirts. We're all out here just to get a fair deal. And so we're in a lot of studios across the city, as I'm sure you've seen us by now, and yes, it's as simple as that. It feels a little crazy to say at week 12 that all it takes to bring this to an end is a fair deal. Our overall goal was to make less than 2% of the profits these companies make just from what we make for them. So it's reasonable enough that it's just movies and TV. I was in the negotiation room with the AMPTP for six weeks. It is very solvable, but here we have to fight.
What's it like being on the negotiating team when big studio execs say they want to wait until the writers starve and leave their homes before even honoring any demands? What is it like to stand on the other side and fight it?
I think that this message, we don't know exactly who sent it. In any case, when we got tired, we suddenly got less tired. It's horrible to say, and if there's any truth to it, then I think it's not only despicable, it's also illegal. I would like to believe that there is no truth to that, and that in the good faith that we had to try to make sure that didn't happen and we didn't have to shut down the city, I would like to believe that the only way for the AMPTP, the studios and the CEOs to get back to work is for them to get back at the table and take us seriously.
I was in the room when we said we'd like to negotiate while we're on strike. So that would have been May 2nd. "Let's meet further." May 3: "Let's meet further." That's because of the AMPTP because we're not at the negotiating table. I'd much rather be there than walking around Sony with my friends, but here we are.
The way the studios are dealing with this is attracting a lot of public attention. Do you think this will give more impetus to independent films and the wider public that supports independent studios?
I don't know. I mean it's very soon to say that I think that from a creative point of view, from an artistic point of view as a writer, when we're writing a film or a TV show, we're thinking about the story and we're thinking about the characters and how and where it's going to spread isn't the impetus for an idea. So I think studios could certainly be affected that there are companies willing to sign independent deals with the unions and just pay us that fair deal that we're all looking for, actors and writers are looking for now. But it's hard to say what will be affected.
I think what I know is that this doesn't end with no more American film and television being made. Wherever that will be, whatever platform, all these companies need us. Whether they want to behave like that or not. And that doesn't mean that there aren't great international dishes, I like checking out that too. But that's what Los Angeles, that's what Hollywood exudes. We are the makers of movies and television is one of our biggest exports to America, and it's not going away. So you need to get back at the table and make us a fair offer no matter what, regardless of whether there is an upsurge in the indie space. I think we could all benefit from that, but they still need to come back and make us a fair offer. That's the only way it ends.
The only way they can get back to work is if they come back to the table and take us seriously.
On May 1, the WGA publicly announced that both the Writers Guild of America West and the Writers Guild of America East had voted unanimously to go on strike.
The organization said it spent six weeks negotiating with Netflix, Amazon, Apple, Disney, Discovery-Warner, NBC Universal, Paramount and Sony "under the Alliance of Motion Picture and Television Producers (AMPTP) umbrella."
"Although we negotiated with the intention of making a fair deal – and although your vote to strike put us under pressure to make some profits – the studios' response to our proposals has been grossly inadequate given the existential crisis authors face," the WGA wrote in a statement to its members meeting.
"We must now use the greatest possible influence to get a fair contract by holding back our workers."
This was the WGA's first work stoppage since the 2007-08 strike, which lasted 100 days and had a major impact on this television season.
A little over two months later also SAG-AFTRA, strike, effectively shutting down Hollywood when they joined the WGA to protest alleged unfair wages and treatment. (For a breakdown of the issues, demands and economics of the SAG-AFTRA strike, click here Here.)
this is that For the first time in 60 years The two unions have protested simultaneously, with both SAG and WGA campaigning against AMPTP.