West Ham players brawl as AZ Alkmaar supporters attack – and one Hammers fan keeps dozens at bay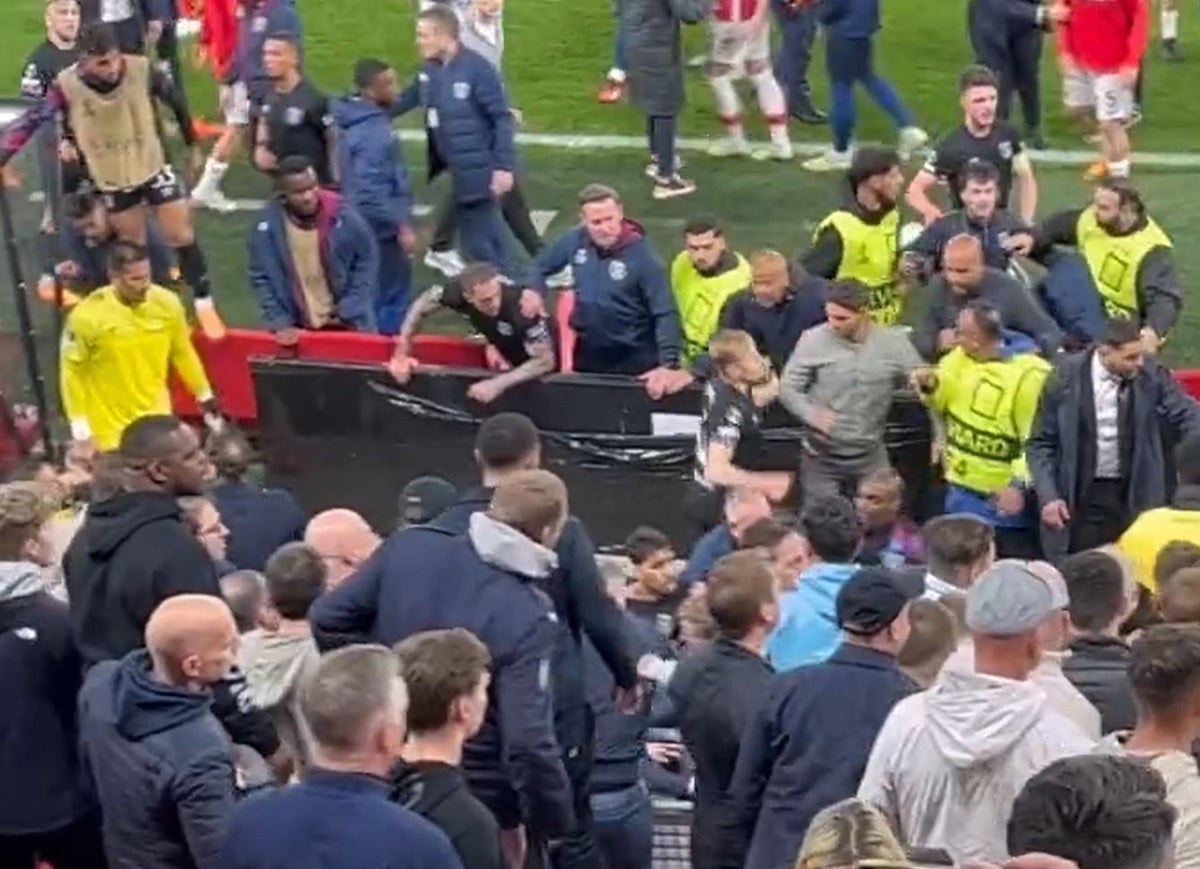 West Ham United reached the Europa Conference League final on Thursday night but the post-game scenes were not what Hammers fans had hoped for.
David Moyes' side won 1-0 that night and defeated AZ Alkmaar 3-1 on aggregate, but as the celebrations began a number of home fans turned up to climb barriers and steps towards the area of ​​the stadium where they were West Ham fans and players staying relatives were gathered.
While stewards and security guards were on site, the Hammers players had to intervene as dozens of AZ fans entered this area of ​​the stands.
A variety of video footage shows various players involved in the brawls. One shows Lucas Paqueta and Said Benrahma throwing punches and pushing in chaotic scenes.
In another, longer video, several players can be seen scrambling back and forth over the barriers to separate fans trying to force their way through, with stewards appearing to do little to remove them from that area.
Hammers captain Declan Rice can be seen throwing an object at one point while Angelo Ogbonna also wades in and Jarrod Bowen stands on the billboards.
Also seen from another angle are two West Ham fans standing at the top of a staircase that reportedly leads to the seating of the players' families, with one fan in particular – dubbed 'Knollsy' on social media – repeating those repels those attempting to climb the steps to this area.
The violent scenes reflect badly on the fans and the stadium management, as well as the lack of response from the security forces in this area of ​​the stadium. Uefa will examine reports and recordings of the incidents. Dutch police said there had been no arrests, the BBC reported.
"We'll have to wait for the dust to settle to see what it is, but the biggest problem is the area where the players all have their families," said manager David Moyes. "That's when the problem came and a lot of players got angry because they couldn't see if they were okay. One thing I definitely don't want to do is spoil our night. It wasn't the West Ham fans looking for trouble.
"Was I worried? Yes, my family was there and I had friends in that section. They hope they would try to get away from it. Security wanted to get me inside but I had to make sure my players weren't involved."
"I was really worried about how my team-mates' family and the West Ham family were doing," added goalscorer Pablo Fornals. "Hopefully everyone is okay and the police can do their job and identify who did it. It's not great when you're in that beautiful moment and people who aren't are trying to use violence against you."
In the other semi-final, Fiorentina beat Basel 3-1 and won 4-3 overall. The Hammers play Fiorentina in the final on Wednesday 7 June. The game will take place at the Fortuna Arena in Prague.