West Ham vs AZ Alkmaar: David Moyes' team overcome the ghosts of Frankfurt to eye Europa Conference League glory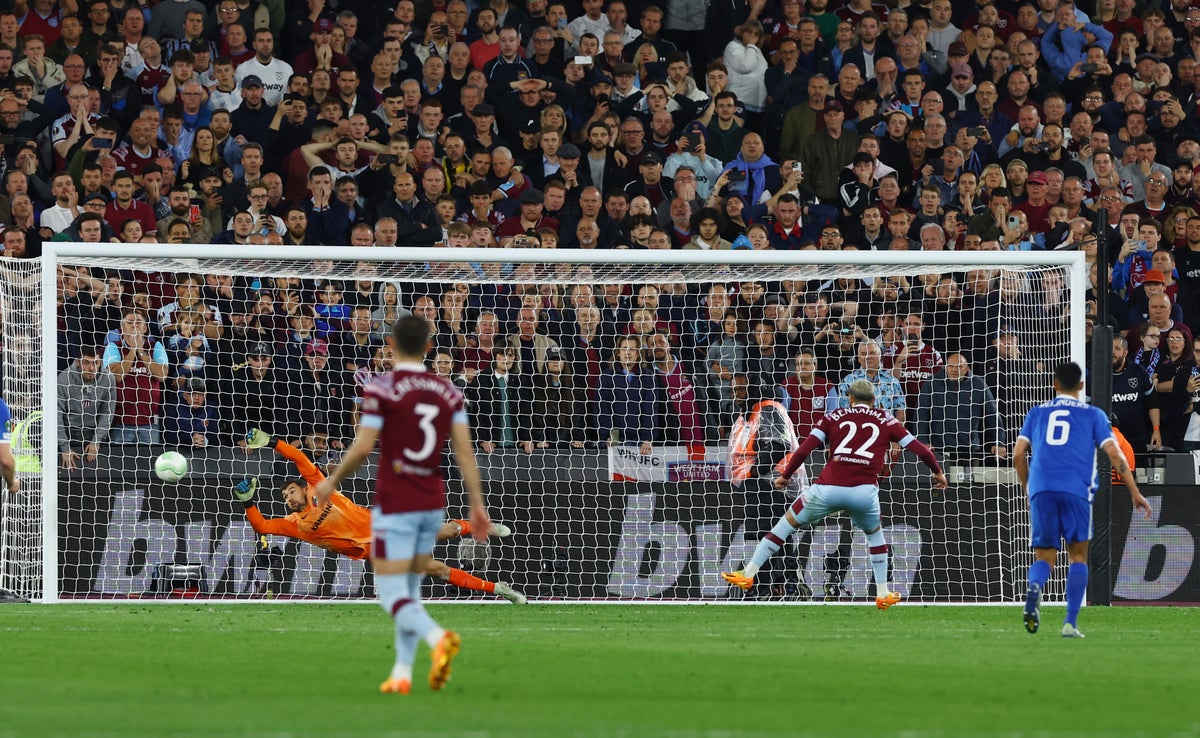 Perhaps the afternoon's torrential rain had relieved West Ham of their regrets, a year after their Europa League semi-final defeat by Eintracht Frankfurt. Maybe this Europa Conference League semi-final with AZ Alkmaar is just a step backwards in competition. In any case, the first leg was a liberating step forward for West Ham, who clinched a 2-1 home win on Thursday.
The 2006 FA Cup final, a soul-wrenching affair for the Hammers, remains the closest the club has come to a trophy in over 40 years and while that shattered spirit may still not need to be restored, his fragments seemed to shine at West Ham, who reached the Final Four of the second competition on the continent 12 months ago.
And again they shone in the sodden steel silo at London Stadium on Thursday, where supporters' confidence was rewarded by a second-half resurgence.
While West Ham's narrow, tense win over Manchester United on Sunday was all about West Ham maintaining their place in the league premier leaguethis game was about that David MoyesMentally, FC Bayern's side are measuring themselves against last year's team, who were physically stronger but proved emotionally vulnerable against Frankfurt.
60,000 home fans lent emotional support on the occasion, soundtracking the scenes ahead as they did in last season's knockout games and rattling the bolts of this silo with every roar, while the Alkmaar fans bounced around the field and gave avatars a boost.
Initially, however, exuberance was Alkmaar's best offer and even that left them too exposed. West Ham were keen to take advantage of the space they saw – whether that was Lucas Paqueta pirouette or Mikhail Antonio marauding through him. However, the home side failed to convert early chances to take the lead as Jarrod Bowen misjudged the angle of a header and the timing of an incoming cross. Still, West Ham were the stronger and more skilled side and nearly scored the opener when Said Benrahma forced a desperate fingertip save from Mathew Ryan with a curvaceous first try. The increasing pressure around the Alkmaar goal triggered violent reactions in the stands.
Excitement turned to anger, however, as home fans and players fumed at what they believed was an unpunished foray into Paqueta.
His fall was theatrical and against all odds, Alkmaar ended the first act of this semi-final with a goal. The visitors, indifferent to West Ham's appeals, sought out Tijjani Reijnders in an awkward room situation and his shot from the air ricocheted over the gloves of a distraught Alphonse Areola.
West Ham were short on time in the second half but Alkmaar felt they had a lot to squander. Until they blew their advantage when Ryan clawed Bowen in the face to prevent a close-range header, resulting in a penalty and a yellow card.
The noise as Benrahma smashed his penalty past Ryan was brutal. So did West Ham's crushing pursuit of a second goal to convert that tie, or at least turn it into the result they were aiming for, with 20 minutes to go. Within ten years the repression had paid off. Nayef Aguerd's header was cleared off the goal-line but only until the threatening Antonio put the ball in and dashed Alkmaar's hopes of leaving London with a lead.
It was in the closing stages of that game that West Ham proved how important those goals were in untying the shackles of the last European Cup semi-final. Thanks to the interaction of Paqueta, Benrahma, Declan Rice and substitute Danny Ings, the Moyes side displayed the kind of free-flowing football they've missed all too often this season.
West Ham travel to the Netherlands next week to cleanse themselves of the spirit of Frankfurt. They are carried by a soul that digs into each of these European nights.