West Seattle light display includes 44,000 holiday lights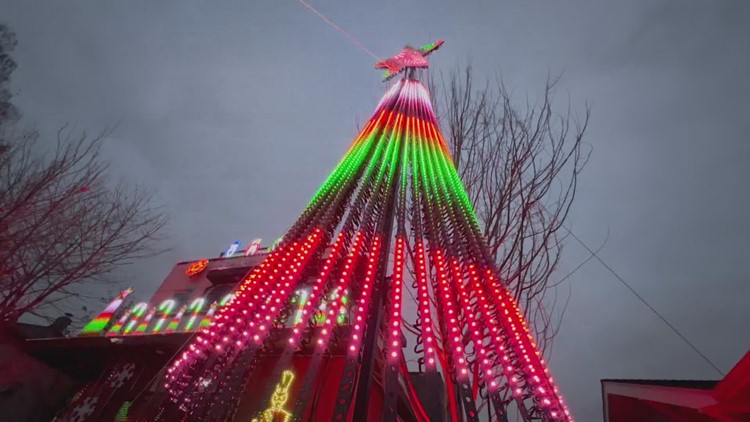 The display consists of more than 44,000 LEDs, synchronized with the music that the audience can hear on their radios.
SEATTLE — A couple from West Seattle are doing their best to spread holiday cheer with a fantastic holiday light show.
"4040 House Holiday Lights" is a beautiful sight that was made all year long. Kent Stroker and Ryan Olson say they just wanted to spread the joy this year and have more than 44,000 LED lights.
The display can be seen at 4040 47th Ave SW in Seattle.
Nearly 2 miles of cables go through the property and are controlled by six devices and a master software program that synchronizes the lighting with the music. Despite its impressive technology, the entire performance uses less energy than three strings of incandescent lights and two outdoor inflatable screens.
It's hard to miss a 25-foot tall and lifelike projection of a dancing Santa. Special emoji characters even sing along to popular songs, and the LED display on the house has lyrics for a family to sing along.
Every prop in the yard has an action that is part of the show.
The radio signal allows guests to enjoy about 40 minutes of programming from their cars. Playlists include holiday classics and some new content.
The show takes place every night from 5pm to 9pm
Audiences can watch from their vehicles or watch the show from the sidewalk where they have several speakers to play music. Stroker and Olson can even join you with their corgis.
https://www.king5.com/article/news/local/seattle/west-seattle-couple-puts-on-huge-holiday-display-with-thousands-of-lights/281-0fd8a7dd-b77e-40b8-ace3-1a5d99815bd5 West Seattle light display includes 44,000 holiday lights