Western Washington teams to compete in rowing youth national championship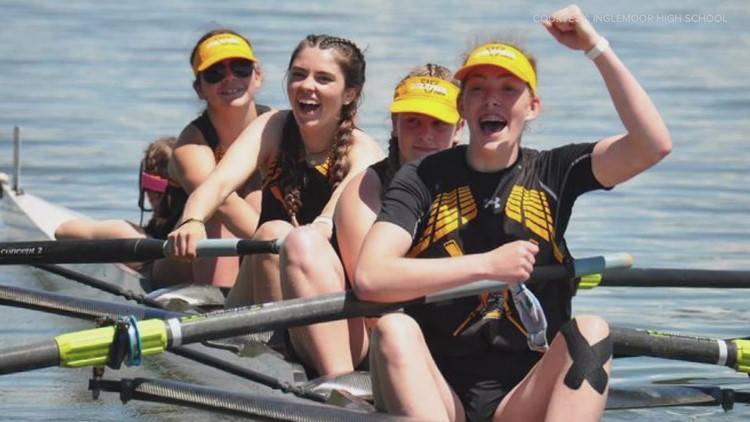 SARASOTA, Fla. – After securing first place at the Regionals, the U17 Girls 4 will compete with the Inglemoor High School Coxswain team in the US Rowing Youth National Championship.
The competition will take place June 9-12 in Sarasota, Florida. This is the first crew team from the Northshore School District to compete nationally.
Helmsman Siena Anderson and rowers Neve Gelatt, Sophia DiBlasi, Aliya Sloan and Ariana Sutter completed multiple challenges before taking first place in the regional finals to advance to Nationals. Anderson, Gelatt, Sloan and Sutter are freshmen and DiBlasi is a sophomore.
>> Download KING 5's Roku and Amazon Fire apps to watch live newscasts and videos on demand
While many of the schools that competed against them had more time on the water to prepare, along with greater resources and history to support them, the Inglemoor team said they stayed positive and focused on what they could control.
"Looking back, I still choke on the caliber of these student athletes," said coach Doug van Gelder. "These girls really came together. I never thought we'd make it to Nationals, let alone the top seed."
dr Northshore School District Superintendent Michelle Reid was a driving force in launching the rowing program in 2018.
"One of my goals is to ensure that students have a wide range of opportunities to gain experience during their Northshore education, and the crew has added a new dimension to our athletic options," said Reid. "I am so proud of the hard work and dedication of these students."
Reid said Crew offers valuable college scholarship opportunities, adding, "We will continue to envision the opportunities."
The team spoke to Sarasota-based KING 5's Jake Whittenberg and Mimi Jung before the competition Thursday morning. You can watch the interview in the video player above or by clicking here.
The Everett Rowing Association U16 boys team, ages 8 and up, will also attend the event.
https://www.king5.com/article/sports/high-school/inglemoor-high-school-usrowing-youth-national-championship/281-52218c92-b64c-4caf-9d70-1a9f356a8669 Western Washington teams to compete in rowing youth national championship