What each of the Republican candidates have said about the war in Ukraine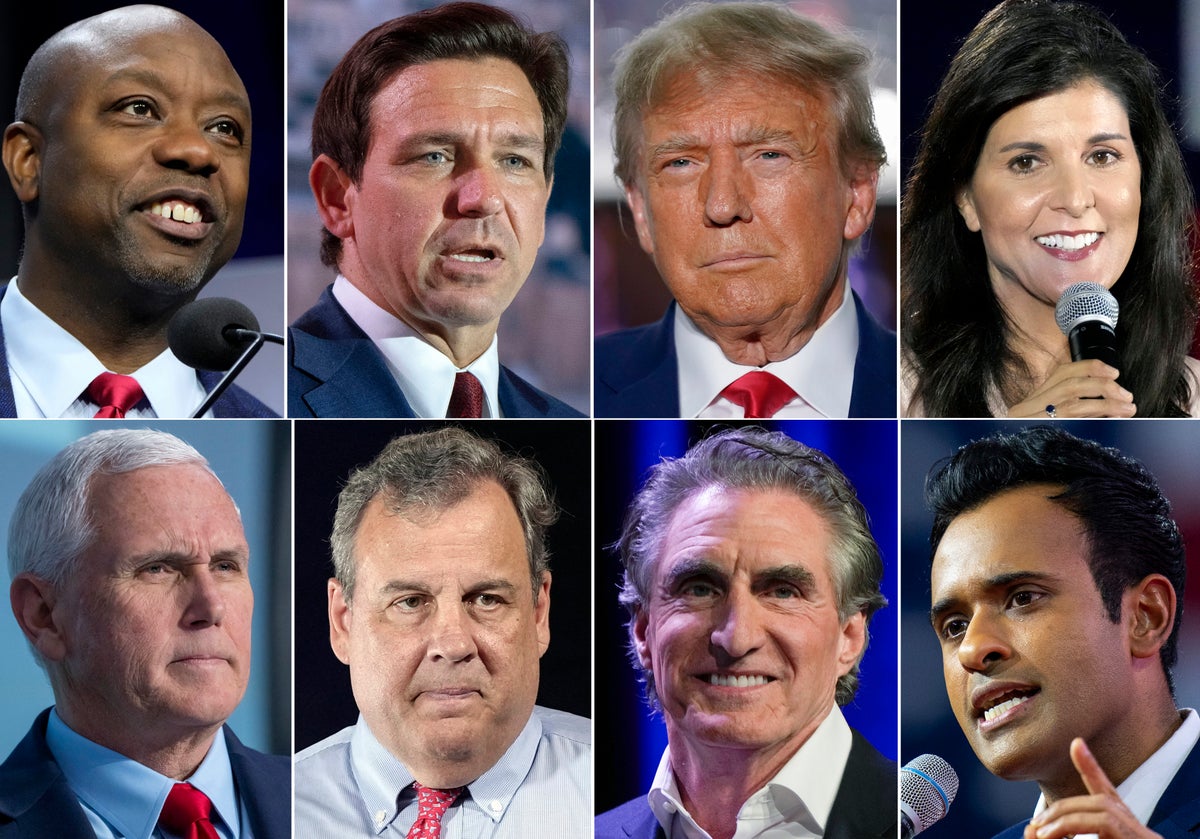 As President Joe Biden likes to remind anyone who'll listen, "This is not your grandfather's Republican Party".
One of the issues where that's becoming more evident by the day is Ukraine.
John McCain, the late Arizona Senator and 2008 GOP presidential candidate, sounded the alarm about Russia for years, making him one of President Vladimir Putin's "greatest antagonists," the Arizona Republic noted in February 2022, days after the Russian invasion began.
During the last year of his presidency in 2008, George W Bush said he "strongly supported" eventual Nato membership for Ukraine and Georgia. Last year, in a viral gaffe, he mistakenly said Iraq when he meant to call the war in Ukraine "unjustified and brutal".
His younger brother, Jeb Bush, a former Florida Governor, went to Europe in 2015 shortly before announcing his presidential campaign.
In a speech in Berlin about a year after Russia's annexation of Crimea and support of separatists in eastern Ukraine, he said: "Russia must respect the sovereignty of all of its neighbours. And who can doubt that Russia will do what it pleases if aggression goes unanswered?"
Mr Bush was quickly bullied out of the 2016 primary by the man who would come to embody the modern Republican Party – reality TV star and real estate mogul Donald Trump.
Support for Ukraine is dividing the GOP field, with several saying the US should continue to support the war effort, while a number of others are following Mr Trump's lead towards isolationism.
The leading candidates are all against further intervention, while those adhering to more traditional Republican foreign policy remain in the lower half of the pack.
The New York Times revealed on Friday that Mr Trump is planning on sitting down for an interview with former Fox News host Tucker Carlson instead of taking part in the debate in Milwaukee on 23 August.
This is a rundown of what the GOP presidential candidates have said about Ukraine:
Donald Trump
While president, Mr Trump attempted to withhold military assistance to Ukraine to get then-rookie president – now wartime leader – Volodymyr Zelensky to open an investigation into Hunter and Joe Biden, who Mr Trump saw as his main rival in 2020.
During an infamous press conference in Helsinki, Finland, Mr Trump sided with Mr Putin when asked if he believed Russia had interfered in the 2016 US election, as outlined by the US intelligence community.
More recently, Mr Trump has argued that all aid to Ukraine should be put on pause until federal agencies provide evidence regarding what he claimed were "corrupt business dealings" by Mr Biden and his son.
During a July rally in Pennsylvania, Mr Trump argued that Mr Biden was "dragging" the US into the war.
Related video: Trump says Ukraine invasion could lead to WWIII
"The US Congress should refuse to authorize a single additional payment of our depleted stockpiles … until the FBI, [Department of Justice] and [Internal Revenue Service] hand over every scrap of evidence they have on the Biden crime family's corrupt business dealings," Mr Trump said in reference to what Republicans have claimed are allegations of bribery against Mr Biden.
The GOP has been unable to provide any evidence of the supposed scheme.
Mr Trump appeared on Fox News in March, saying that he would end the war in Ukraine "in 24 hours with Zelensky and with Putin".
"And there's a very easy negotiation to take place. But I don't want to tell you what it is because then I can't use that negotiation – it'll never work. But it's a very easy negotiation to take place. I will have it solved within one day, a peace between them. Now that's a year and a half. That's a long time. I can't imagine something not happening," he added. "The key is the war has to stop now because Ukraine is being obliterated."
Mr Trump has also been ambivalent about his support for the North Atlantic Treaty Organization (Nato). While president he equivocated over whether he would back Article V, which states that an attack on any one of the defence pact's 31 members constituted an attack on all of them. The article has only been invoked once, by the US following the terrorist attacks on September 11, 2001.
He is also reported to have wanted to pull the US out of Nato.
Ron DeSantis
In March, Mr DeSantis was forced to walk back his comments calling the war a "territorial dispute".
Mr DeSantis made the remark in writing to then-Fox News host Tucker Carlson.
"While the US has many vital national interests — securing our borders, addressing the crisis of readiness within our military, achieving energy security and independence, and checking the economic, cultural, and military power of the Chinese Communist Party — becoming further entangled in a territorial dispute between Ukraine and Russia is not one of them," he wrote at the time.
In an appearance on the streaming service Fox Nation, he backtracked.
"What I'm referring to is where the fighting is going on now, which is that eastern border region Donbas, and then Crimea, and you have a situation where Russia has had that. I don't think legitimately, but they had," he said. "There's a lot of ethnic Russians there. So, that's some difficult fighting, and that's what I was referring to, and so it wasn't that I thought Russia had a right to that, and so if I should have made that more clear, I could have done it."
In April, he said he supported a ceasefire, saying it's "in everybody's interest".
He told the Japanese English-language weekly Nikkei Asia that "You don't want to end up in like a [Battle of] Verdun situation, where you just have mass casualties, mass expense and end up with a stalemate".
Vivek Ramaswamy
On 5 August, the tech entrepreneur suggested that the US is aiding Ukraine because of Hunter Biden.
"The purpose of the US military [is] to advance American interests, to protect the homeland. Not to aimlessly fight some random war that's arguably a repayment for a private bribe that a family member of the United States received, $5m from Burisma," Mr Ramaswamy told a small crowd at a Council Bluffs, Iowa campaign event, according to NBC News.
"Was the payment to Hunter Biden corrupt? Absolutely it was. Do I think that it has some relationship towards our posture toward Ukraine? I think it's likely that it does," he added, seemingly in reference to unsubstantiated allegations made by congressional Republicans.
House Oversight Committee Chair James Comer has claimed that a whistleblower told him about a tip about a $5m payment to Mr Biden and a family member during his time as vice president, "relating to the exchange of money for policy decisions".
Mr Ramaswamy has said that he would work to get an agreement that would offer major concessions to Mr Putin, which would mean handing over most of the eastern Donbas regions of Ukraine to Russia, removing sanctions, shutting down all US bases in Eastern Europe, and blocking Ukraine from entering Nato, according to The New York Times. 
He would then require Russia to end its military alliance with China and once again join the START nuclear treaty.
"I don't think it is preferable for Russia to be able to invade a sovereign country that is its neighbour, but I think the job of the US president is to look after American interests, and what I think the number one threat to the US military is right now, our top military threat, is the Sino-Russian alliance," he told ABC News. "I think that by fighting further in Russia, by further arming Ukraine, we are driving Russia into China's hands."
Mike Pence
The former vice president made a surprise visit to Ukraine in June to meet with Mr Zelensky, becoming the first GOP presidential candidate to do so.
"I believe America's the leader of the free world," Mr Pence told NBC News at the time. "But coming here just as a private citizen — being able to really see firsthand the heroism of the Ukrainian soldiers holding the line in those woods, see the heroism of the people here in Irpin that held back the Russian army, to see families whose homes were literally shelled in the midst of an unconscionable and unprovoked Russian invasion — just steels my resolve to do my part, to continue to call for strong American support for our Ukrainian friends and allies."
He added that the visit "steeled my resolve, and it's made me better equipped to be able to go home as I speak to the American people about the vital importance of American support to repel Russian aggression".
He also criticised the Biden administration for being slow in sending aid to Ukraine.
"We should never send American troops into Ukraine, and we don't need to," he said.
"There are too many voices in our party that are sounding the retreat, that are willing to let Putin keep the land grab that he's made in Eastern Ukraine, willing to make promises. I heard my former running mate announced over the weekend that he's willing to promise that Ukraine will never be in Nato," Mr Pence told radio host Hugh Hewitt last month. "In my opinion, the only thing Putin will understand is strength, and providing those courageous fighters in Ukraine what they need to repel the Russian invasion is the fastest way to security and preventing, preventing the day that American forces are actually required to go into battle in Europe again."
Tim Scott
The South Carolina Senator supports sending military aid to Ukraine but dodged questions on if it was right for the Biden administration to send cluster munitions.
Like Mr Pence, Mr Scott told NBC News that Mr Biden has "done a terrible job explaining and articulating to the American people"  what the US interests are in Ukraine.
"First, it prevents or reduces attacks on the homeland," Mr Scott said in May, according to the Greenville Post and Courier. "Second, as part of Nato and land being contiguous to Ukraine, it will reduce the likelihood that Russia will have the weaponry or the will to attack on Nato territory, which would get us involved."
Just a month after the invasion, in March 2022, Mr Scott wrote that the war was "for the principles that America has always championed".
In May last year, he voted for funding Ukraine beyond what Mr Biden had suggested.
While Mr Scott argued that Mr Biden had been waiting "too long to provide too little support," the president backed the increase in funding.
Nikki Haley
The former UN ambassador has argued that it's in the best interest of the US to support Ukraine.
"A win for Ukraine is a win for all of us because tyrants tell us exactly what they're going to do," she said on CNN.
"China says Taiwan's next, we'd better believe them. Russia said Poland and the Baltics are next, if that happens, we're looking at a world war. This is about preventing war," the ex-South Carolina governor added.
She argued that a Ukrainian victory would send a broader message to warn China about attacking Taiwan, that it would push Iran to not build nuclear weapons, and urge North Korea to move away from ballistic missile testing.
She added that it would tell Russia that "it's over".
Mr Biden has been "far too slow and weak in helping Ukraine," she said in a speech at the American Enterprise Institute. 
Chris Christie
Like Mr Pence, Chris Christie also ventured through the old iron curtain to visit Ukraine and signal bipartisan support even as the top candidates in the field are arguing for US withdrawal.
The former New Jersey governor has argued that the US should back Ukraine until the war is "resolved".
"None of us like the idea that there's a war going on and that we're supporting it, but the alternative is for the Chinese to take over, the Russians, the Iranians and the North Koreans," he said on CNN.
He referred to the conflict as "a proxy war with China".
He noted that "some kind of compromise" with Russia may be required at some point and that the US should be part of the negotiations at a time when "Ukraine can protect the land that's been taken by Russia in this latest incursion".
He argued that Mr Trump "set the groundwork" for the invasion and echoed 2016 comments by former Secretary of State and then-Democratic Presidential nominee Hillary Clinton, calling him "Putin's puppet".
He compared Mr DeSantis to British Prime Minister Neville Chamberlain, who unsuccessfully attempted to appease Adolf Hitler ahead of the Second World War.
Doug Burgum
The North Dakota Governor has suggested that he supports backing Ukraine but that he wants "accountability on every dollar".
"Russia cannot have a win coming out of this, because if it's a win for them, it's a win for China," he told told North Dakota TV station KFYR.
But he also said he wanted Europe to take on a bigger role financially in supporting Ukraine.
In June, during an appearance on CNN, he said that problems within Russia could be exploited by the US and Nato.
"Let's give them the support they need," he said in reference to Ukraine. "Let's get this war over now instead of having it be protracted."
On the day the invasion began, 24 February 2022, Mr Burgum issued a statement.
"We support and pray for the Ukrainian people as they defend themselves against these brazen acts of aggression by Russia and President Putin, which we condemn in the strongest terms possible," he said. "The United States and its allies must stand together in support of Ukraine and hold Russia accountable for its unprovoked attacks.
"This international crisis underscores the importance of U.S. energy security and increasing American production so we can sell energy to our friends and allies versus buying it from our enemies.
"Our thoughts also are with those of Ukrainian heritage here in North Dakota who are concerned for the safety of their relatives as their homeland is under siege, as well as those North Dakota farmers and businesses with interests in Ukraine."
Asa Hutchinson
The former Arkansas governor said on CNN last year that it would be "a mistake to withdraw funding for Ukraine in this extraordinary fight against Russia and Russia's aggression against the sovereign territory of Ukraine".
"I'm very much supportive of Ukraine. I believe they're fighting a battle that helps reflect a free Europe," he added.
He has also said that the US should help Ukraine "win quickly," according to Politico.
He called Mr DeSantis "naive" for suggesting the US doesn't have a vital interest in the conflict.
The GOP "needs to have leaders who understand the importance of the strength of America and our utilization of that strength in the cause of freedom," he said.
"To dismiss this as something unimportant to the security of the United States is naive and not in our historic traditions," he told McClatchy.
Will Hurd
The former Texas congressman and CIA undercover agent has slammed Mr Trump's and Mr DeSantis's isolationist policies.
"We've seen over the last couple of days that we need people that have a real experience when it comes to national security," he said on ABC's This Week in June. "And look, Donald Trump has some good ideas, but he … lacked an ability to leverage the government in order to execute on those things. People like Ron DeSantis don't have that experience when it comes to foreign policy."
"It's unfortunate the two leading Republican nominees for president, Donald Trump and Ron DeSantis, [their] policy on Ukraine is wrong," he added. "I wish they would stop fighting with American companies like Disney and be more interested in supporting our allies against attacks against democracy."
"The thing that I get frustrated [with is] this old fashion concept of escalation," he said.
"What did Vladimir Putin do when he had somebody barreling down the highway to come to Moscow? He didn't escalate … He capitulated," he added in reference to the botched coup by the Wagner group.