What happened to Dana Smithers? Woman whose death now linked to Bryan Kohberger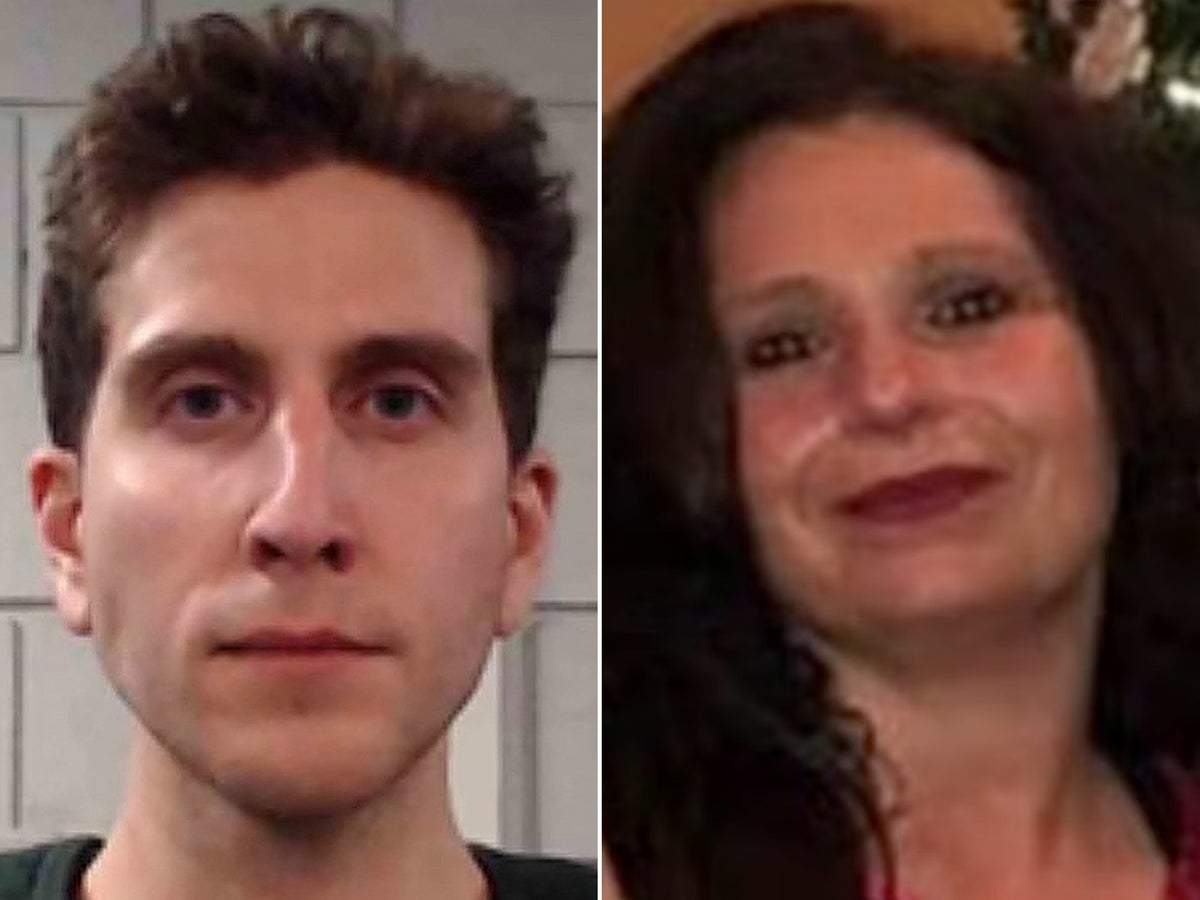 TThe horrific case of four University of Idaho students butchered in an off-campus home took another dramatic turn after it was revealed that the parents of their accused killer are testifying in a separate case thousands of miles away in Pennsylvania .
In a shocking development, it came to light this week that Bryan Kohberger's parents have been subpoenaed to appear before a grand jury investigating the disappearance and death of mother-of-three, Dana Smithers.
Smithers, 45, was last seen alive in May 2022.
Her remains were finally discovered last month, the cause of death is still a mystery.
It remains unclear what connection, if any, her disappearance and death might have to Mr. Kohberger, who was living near Smithers at the time of her disappearance.
However, multiple reports have revealed that Mr Kohberger's parents, Michael and Maryann Kohberger, have been asked to testify in the case.
A source told CNN that the accused killer's mother has already testified before the grand jury, while his father is expected to testify Thursday.
Any information in the case can then be relayed to the Idaho prosecutors who have charged Mr. Kohberger with the quadruple murders of Kaylee Goncalves, 21, Madison Mogen, 21, Xana Kernodle, 20, and Ethan Chapin, 20.
While many questions remain unanswered, here's what we know about Dana Smithers and what happened to the mother-of-three.
Mysterious disappearance
In May 2022, Smithers disappeared without a trace from Monroe County — the same Pennsylvania county where Mr. Kohberger was living at the time before moving across the country to Washington state in the summer to pursue graduate school in criminal justice.
A ring video camera filmed Smithers leaving a neighbor's home at around 11:05 pm on May 28, holding her mobile phone.
She was never seen alive again.
What was particularly strange was that Smithers' cell phone, wallet and everyday medication were found at her home.
Earlier that day, Smithers and their youngest daughter, 7, had gone to a local festival at the Happy Hour Bar and Grille in Stroudsburg with their daughter's father.
Smithers' sister Stacey told it NBC's December dateline that the couple is no longer together, but still understand each other well.
At the festival, Smithers appeared to be having fun, dancing and greeting people.
The three later returned to the home shared by Smithers, her daughter, and Smithers' mother.
Later that night, best friend Tara Cioni said Smithers called her home to hang out. The two women lived only a few houses apart and often stopped by in the evenings to see each other.
"We're best friends. She's been my neighbor for 16 years. We raised our kids together," Ms. Cioni told Dateline.
"She had an open-door policy. So she came in and stayed here for a while."
Ms. Cioni said that with hindsight, she wondered if anything was troubling her friend that evening.
Smithers – who had a history of substance abuse – smoked, which she only did when she was "nervous" or nervous.
Ms Cioni said Smithers later asked her if she wanted to come back to her house to hang out, but she was tired and said she was going to bed.
That was the last time anyone saw her.
"If I had known that was the last time I would have seen her, I definitely would have asked more questions, but I was kind of like, 'I'm going to bed,'" she said.
Looking back, she said she didn't think Smithers was back on drugs.
"I really don't think it was," she said.
Her sister added that Smithers had recently adjusted her medication and appeared to be "much better" at the time.
It was the next morning when Smither's mother realized her daughter hadn't come home that night.
At first, the family weren't too concerned, as Stacey said the 45-year-old had a history of staying out all night.
But when she didn't show up with the family for Memorial Day celebrations on May 30, they knew something was wrong.
Smithers and their children, ages 25, 23, and 7, had a family tradition of going to Knoebels Park in Pennsylvania every Memorial Day.
"She wouldn't have missed Memorial Day," Stacey said, adding that she would never have left her youngest child for that long either.
"She didn't do anything that didn't affect her children," she said. "That was her thing. I mean, she was always with the kids."
Smithers was eventually reported missing days later after Stacey said law enforcement initially didn't take her disappearance seriously.
In June, Pennsylvania State Police and local police conducted cadaver dog searches in Glen Park in Stroudsburg, a wooded area near her home. The search yielded no results and the case lay dormant for months.
In a missing persons report, Smithers was described as a 45-year-old white woman, 5'7″ tall, weighing about 165 pounds, with brown eyes, brown hair and last seen in black jeans with a burgundy shirt.
For nearly a year, the mother-of-three's family searched desperately for answers, and Smither's case was featured on an episode of NBC's Dateline in December 2022 — a month after the four students were killed in Idaho.
Fearing the worst, Stacey said: "I think something happened. I don't think she's here anymore."
remains found
Almost a year later – on April 27 – Smithers' remains were found in a wooded area in Stroudsburg.
The Stroud Area Regional Police said a county worker discovered decomposing human remains in a wooded area near Park Avenue in the Stroudsburg area.
Due to the extensive dissection, the person's gender and identity were unclear at the time.
Dental records later determined that the remains belonged to Smithers.
Her cause of death and manner of her death is not yet known.
What connection does Bryan Kohberger have to the case?
There are many unanswered questions about what happened to Smithers – and what it may have to do with Mr Kohberger.
It is currently unclear why Mr. Kohberger's parents, Michael and Maryann Kohberger, were called as witnesses in the case.
An attorney for Mr. Kohberger's parents tried to have the subpoenas overturned but was unsuccessful, the source told CNN.
Pennsylvania judges are permitted to release transcripts of grand jury testimonies to law enforcement agencies across the state in Idaho.
At the time of Smithers' disappearance in May 2022, Mr. Kohberger and his family were also living in Monroe County.
Then that summer, he moved across the country to Pullman to pursue a graduate program in criminal justice at Washington State University (WSU).
A few months later, on November 13, he allegedly broke into an off-campus dorm just over the border in Moscow, Idaho, and murdered the four college students.
He was back at his parents' home in the Pocono Mountains over the holiday season when police rushed in and arrested him on December 30 for the quadruple murders.
In this case, it remains unclear what motive and what connection Mr. Kohberger could have had to the victims.
And in the Smithers case, too, a possible connection remains unclear.
Mr. Kohberger is said to have a solid alibi for Smithers' disappearance and is unlikely to be connected to her death, a source told Eyewitness News.
However, the grand jury investigation is ongoing and no results have been announced yet.
Back in January, Stacey posted an update on the Finding Dana Facebook page, saying that many people had contacted her about a possible connection between her sister's disappearance and the Idaho murders.
"Thank you to everyone who has recently agreed on the possibility that the suspect in the horrifying Idaho murders may have been in our area at the time of my sister Dana's disappearance," she wrote.
"I have forwarded all of your suggestions to local law enforcement. Please pray for everyone involved."
However, it came after a report that one of the accused killer's older sisters became increasingly suspicious that her brother might have been involved in the Idaho murders prior to his arrest.
Such was their suspicion that at one point when the family got together to spend the holidays together, several family members searched Mr. Kohberger's white Hyundai Elantra for possible evidence of the crime, sources told NBC date line.
They found nothing, but investigators had allegedly already seen Mr Kohberger scrubbing his car with bleach.