What's the TV schedule for the final Jan. 6 committee hearing?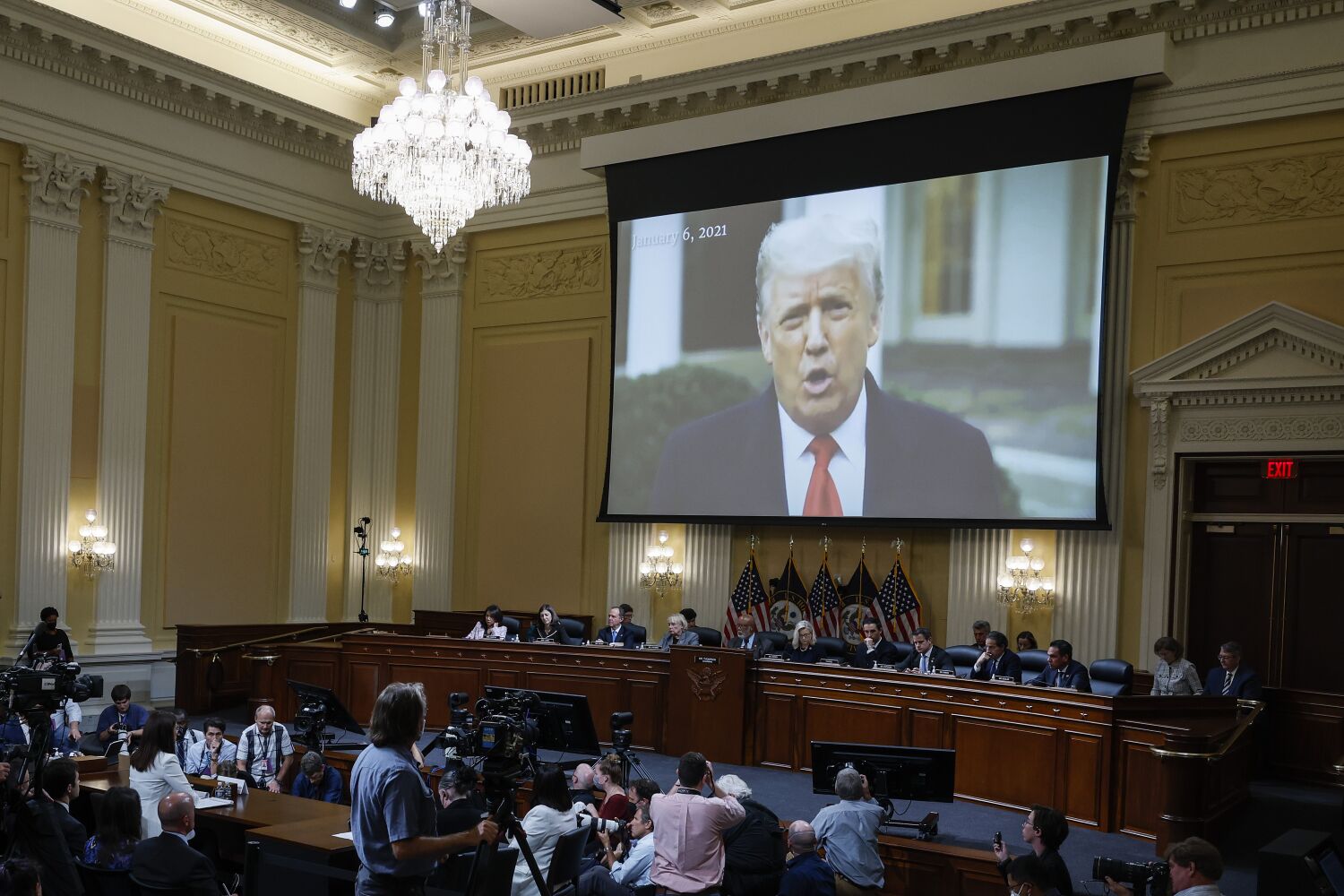 The Jan. 6 House Select Committee announced Thursday that its final hearing will be on Dec. 19 at 10 a.m. PST, when it will vote on referring cases to the Justice Department, House Ethics Committee and other oversight bodies.
With the new Republican majority poised to dissolve the committee, members will complete their work without the help of several key witnesses. Former President Trump, in particular, has not responded to the committee's requests for documents and testimonies.
Monday's hearing will serve as a handover of sorts as the committee announces which individuals it will refer to the DOJ and other agencies for prosecution or punishment. And while they can be dramatic, the referrals themselves do not guarantee further action.
Committee members agreed that some individuals should be prosecuted for attempting to prevent the inauguration of 2020 presidential election winner Joe Biden and for instigating the violent attack on the US Capitol. But they didn't name names.
The panel is also expected to seek prosecutions or sanctions related to campaign finance violations, violations of attorneys' codes of ethics and disregard of committee subpoenas. To whom these cases will be referred and who will be targeted has yet to be announced.
Another topic likely to be discussed is the panel's extensive final report, which the committee may release as early as Monday. Although the committee summarized its findings at its October 13 hearing, it was able to reiterate this at its last meeting.
like watching
ABC, NBC, CBS, CNN, MSNBC and CSPAN all aired the hearings instead of their usual programming. Fox News broadcast the daytime hearings, while Fox Business broadcast the prime-time hearings.
The hearings were also streamed on the select committee's YouTube channel, which also provides a recording of each completed session.
As with previous panel hearings, the proceedings are expected to be streamed live on YouTube, major broadcast networks, cable TV news channels and C-SPAN.
Previous Revelations
June 9: To illustrate how violent the Jan. 6 attack was, Capitol Police Officer Caroline Edwards testified that she "slid in the blood of the people" as she fought to defend lawmakers inside.
June 13: The committee revealed evidence that then-President Trump's advisers repeatedly told him there was no significant fraud during the 2020 presidential election, but he continued to spread the "big lie."
June 16: A top aide to Vice President Mike Pence recounted the pressure campaign by Trump and conservative California attorney John Eastman to get Pence to reject seven-state electoral votes won by Joe Biden — even though they knew their actions were illegal.
June 21st: The Arizona House Speaker and two Georgia election officials, all Republicans, detailed efforts by Trump and his attorneys to get them to reverse election results without the legal authority to do so.
23rd June: Three former senior Justice Department officials recounted the former president's efforts to get the department to support his baseless claims of a tainted election and his aborted efforts to install an acting attorney general to support those claims.
June 28th: Former White House staffer Cassidy Hutchinson testified that discussions at the White House on Jan. 6 revealed Trump brushed off concerns about guns in the crowd that day that he wanted to be in the Capitol so badly that he got inside an argument with an intelligence officer in his vehicle, and that he didn't think the rioters chanting "Hang Mike Pence" were doing anything wrong.
July 12: Witnesses and evidence presented by the committee detailed how Trump's call for a Jan. 6 protest resonated with his supporters and extremist groups, who interpreted it as a call to prevent – violently, according to some people – Congress from Biden's victory to confirm Electoral College.
21 July: Two former White House staffers described how Trump ignored pleas from advisers, family members and Republicans in Congress to withdraw the rioters.
13 Oct: Committee members took turns summarizing evidence of Trump's efforts to overturn the election results. Among other things, they noted the Trump campaign's plan to declare victory regardless of the outcome of the vote, as well as the former president's admission before Jan. 6 that he had indeed lost.
Sarah D. Wire, a Times contributor, contributed to this report.
About the Times Utility Journalism Team
This article is from the Times' Utility Journalism team. Our mission is to be essential to the lives of people in Southern California by publishing information that solves problems, answers questions, and aids in decision making. We serve audiences in and around Los Angeles – including current Times subscribers and diverse communities whose needs have not been met by our coverage in the past.
How can we be useful to you and your community? Email Utility (at) latimes.com or one of our journalists: Matt Ballinger, Jon Healey, Ada Tseng, Jessica Roy and Karen Garcia.
https://www.latimes.com/politics/story/2022-12-15/what-is-the-tv-schedule-for-the-last-jan-6-committee-hearing What's the TV schedule for the final Jan. 6 committee hearing?