Whidbey Island floatplane crash victims, wreckage recovered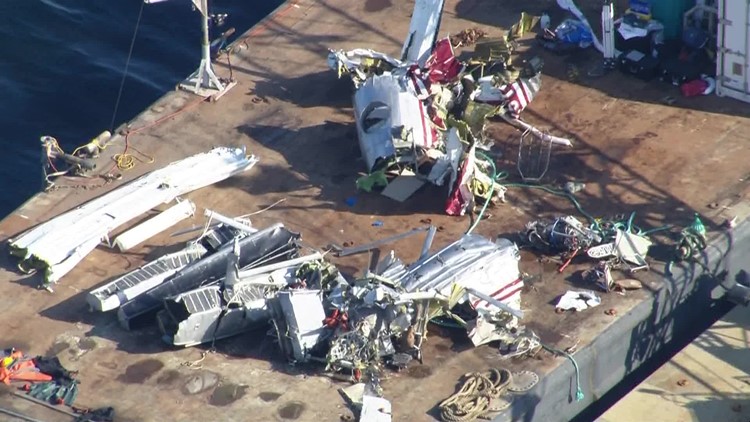 The NTSB chairman said 80% of plane wreckage has been recovered so far.
OAK HARBOR, Wash. — Some victims killed in a fatal seaplane crash earlier in September were recovered from the water off Whidbey Island Thursday, according to Island County Emergency Management.
Ten people were killed when the seaplane dived into the water at Mutiny Bay on September 4. The flight was a regular commuter flight from Friday Harbor, scheduled to land at Renton Municipal Airport.
Island County's emergency management declined to say exactly how many of the other passengers were recovered Thursday. The victims are in the custody of the Island County Coroner's Office to be identified.
The body of a passenger, later identified as Gabbie Hanna, was previously recovered by a Good Samaritan at the crash site.
According to National Transportation Safety Board (NTSB) Chair Jennifer Homendy, 80% of the wreckage from the seaplane had been recovered as of Thursday. Crews began recovering the debris on Tuesday, and recovery is expected to take several more days.
The US Navy is using a Deep Drone 8000 remotely operated work vehicle (ROV), barge and crane to recover the debris from the seabed. The ROV will collect smaller wreckage in baskets for the crane to lift, the NTSB said. The recovery is a "24/7 operation".
The plane was "severely damaged," Homendy said.
The team still has to salvage a wing, a piece of the horizontal stabilizer and the two elevators – which control the pitch or pitch or pitch of an aircraft – and the ailerons – which control the aircraft's roll. Most of these components are critical to an NTSB investigation, Homendy said.
The flow of the water was problematic for seaplane recovery. Homendy said there were times when the submersible could not move or it was very difficult to see, requiring crews to pull the machines out of the water until the current subsided. The current is one factor that determines how long the recovery will take.
Officials said determining the probable cause of the accident could take anywhere from 12 to 24 months.
The NTSB released its preliminary report on September 16, detailing the moments that led to the seaplane crash. According to the NTSB, the information contained in the report is preliminary and is subject to change as the investigation progresses.
The family of victims Lauren Hilty, Ross Mickel and Luca Mickel issued a statement Thursday, saying:
"Words cannot adequately express the depth of our sorrow. The last three weeks have been absolute torture as we continue to eagerly await the recovery of the plane and more importantly our loved ones. We hope this salvage process is successful, but we know this is just the first step on our long, painful journey."
David and Marcie von Beck, parents of Gabbie Hanna, also issued a statement saying:
"We all sincerely hope that the rescue effort is successful and that all loved ones are recovered and the cause of this horrific crash is determined. We miss our dear Gabby from the bottom of our hearts every day. She really was a shining star."
RELATED: Seaplane wreckage salvage begins in Mutiny Bay
RELATED: Seaplane wreck salvage underway off Whidbey Island
https://www.king5.com/article/news/local/passengers-recovered-floatplane-wreckage-whidbey-island/281-772a99de-3a65-478f-95f5-5016ec3f036f Whidbey Island floatplane crash victims, wreckage recovered