While world media speculates on Wagner chief's presumed death, Russian state media shies away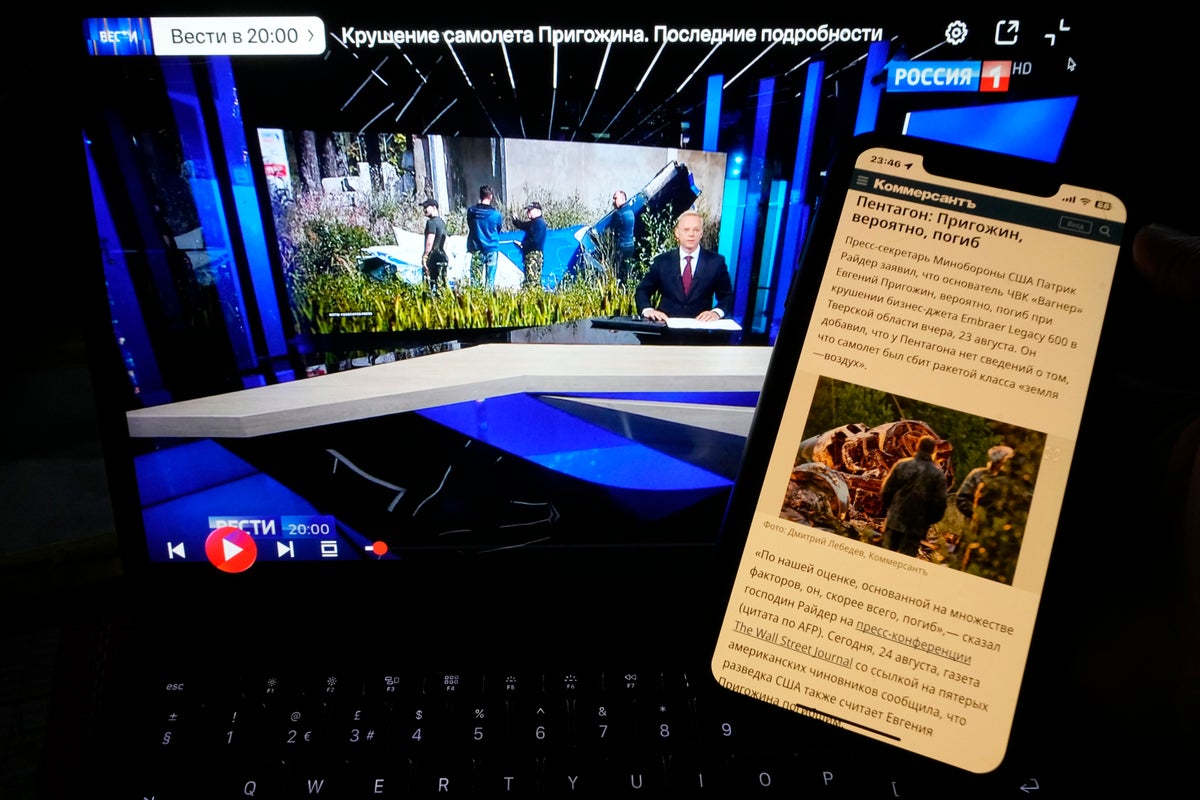 While news that Russia's mercenary boss Wagner was believed to have died in a plane crash dominated world news Thursday, along with speculation that it was linked to his mutiny in June, Russian state media painted a very different picture.
State TV channels Russia 24 and Russia 1 largely stuck to Thursday's description of the investigation into the previous day's accident that killed ten people. Wagner boss Yevgeny Prigozhin, whose short march on Moscow was seen as the greatest challenge to the 23-year rule of Russian President Vladimir Putin, was only mentioned towards the end in some reports.
Meanwhile, Russian state broadcasters have focused on portraying Putin as calm and controlled.
Putin's participation in the BRICS Summit in South Africa was widely reported via virtual link. Russia 24 covered Putin's speech at the BRICS summit in full, without the usual commercial breaks or usual news stories.
In contrast, independent Russian media outside the country, such as the online news agency Meduza, reported extensively on the crash.
And many Russians have been feverishly discussing Prigozhin's alleged death online, including speculation rife in the West that Prigozhin's death may have been an assassination attempt to avenge his role in the aborted June mutiny.
Sergey Mironov, leader of the pro-Kremlin Fair Russia party and former speaker of the upper house of the Russian parliament, hinted on his Telegram channel that Prigozhin was deliberately killed.
"Prigozhin has messed with too many people in Russia, Ukraine and the West," Mironov wrote. "It now appears that at some point his enemy count reached a critical point."
Although social media is becoming increasingly popular among Russians, most of the country still gets its news from a powerful state-run television network that spans multiple channels across 11 time zones. There are no independent television stations in Russia since Putin cracked down on dissidents after invading Ukraine.
Analysts speculated that the muted coverage on state television indicated that broadcasters were given little official direction and were unsure how to respond.
"It's not out of the question that there was an order to keep it quiet," said Keir Giles, Russia expert at international affairs think tank Chatham House in London. "But it's just as possible that they played it safe because there was no indication, and possibly no direction, from the Kremlin's power structures on how to go about it."
Russian TV seemed to be the closest to the rumors and speculation when the Russian state TV talk show "60 Minutes" was held on Russia 1. The show was known for news stories with dramatic music and did not report on the crash, but on Western media's reaction to it.
Olga Skabeeva, one of Russia's most prominent TV presenters and propagandists, opened a segment with excised "Breaking News" headlines from the US, UK and Australia, suggesting the West was reacting hysterically.
Another of Russia's most famous TV news anchors, Vladimir Soloviev, suggested that Ukraine was behind the reported deaths of Prigozhin and some of his top associates.
But as of Thursday afternoon local time, news of the crash and Prigozhin's fate appeared to be low or gone in the news stories.
That was until Putin spoke.
"I would like to offer my sincere condolences to the families of all the victims. It's always a tragedy," Putin said in a speech he recorded at a meeting with the head of Ukraine's Russia-annexed Donetsk region.
Recalling that he had known Prigozhin since the early 1990s, Putin described Prigozhin as "a man with a difficult fate" who "made serious mistakes in life", adding: "He was a talented man, a talented businessman ."
In the hour after Putin broke his silence, his comments shot to the top of some state newscasts before falling back, which analysts say suggests Putin's words hadn't given state news networks enough direction for their coverage.
Giles said he expected Russian state media to cover Prigozhin's fate "less prominently in the Russian domestic news than one might expect, but not completely scrap it from the script."
By 9 p.m. local time in Moscow, the story had fallen about halfway through the news of Russia's flagship news program on Channel One, behind reports on Putin's meetings with war veterans in Ukraine and the BRICS summit. The broadcaster briefly mentioned that Prigozhin was on board the plane and reported that an eyewitness saw it "pirouette" as it plummeted to earth.
However, there was no clue as to the cause of the crash, nor were any comments from Western leaders suggesting that it might not have been an accident or that the Russian leader had even ordered the crash.