Who is Banksy? Artist 'reveals name' in interview first published by BBC in 2003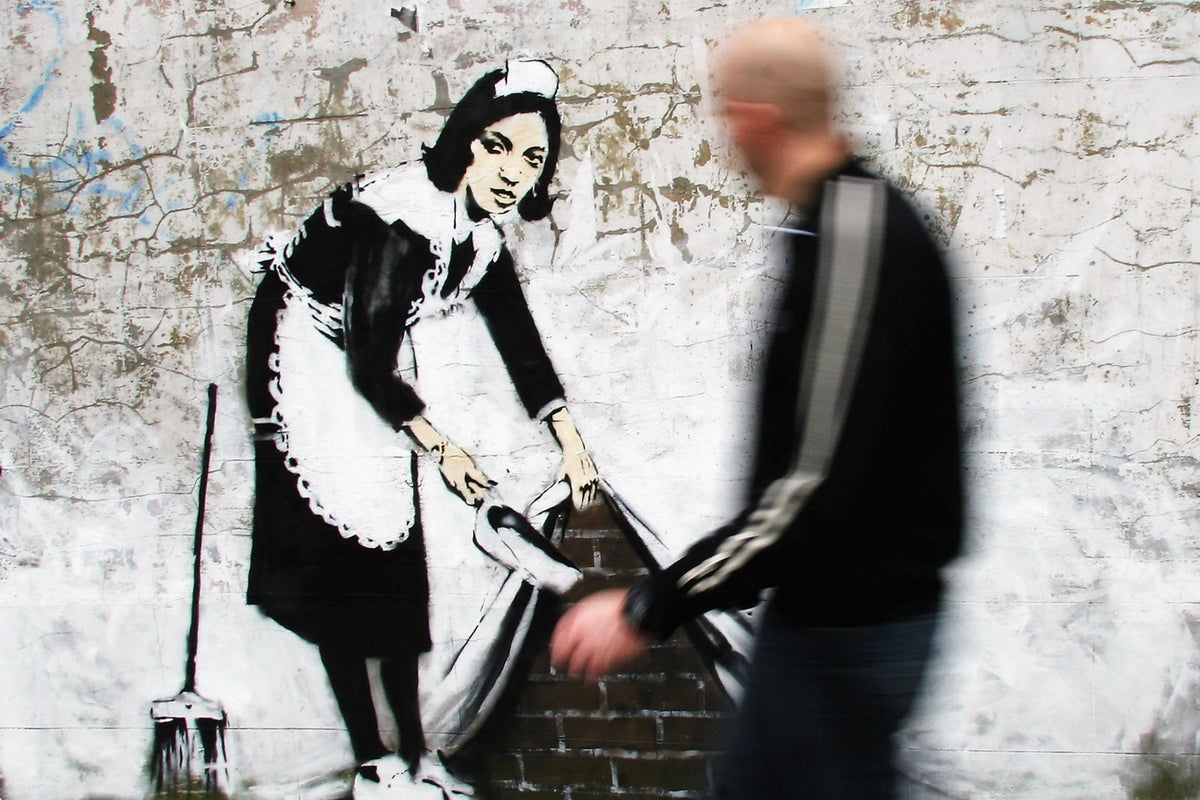 Banksy appeared to reveal his identity in a 2003 interview, now published for the first time by the BBC.
In 2003, the mysterious Bristol street artist, whose identity has long been the subject of public speculation, took part in an interview for BBC Radio 4 PM Program.
Banksy, who was working on his show Turf War in east London at the time, spoke to former BBC arts correspondent Nigel Wrench about the anti-authority nature of his work, which still exists today.
Now, 20 years later, the BBC has published the interview in full as The Bansky Story, available on BBC Sounds. During the interview, Banksy appeared to confirm his first name.
"Are you happy that I'm using your name?" I mean, The Independent Wrench asked Bansky, who replied, "Yes."
"Is it Robert Banks?" The journalist continued, to which Banksy replied: "It's Robbie." "Robbie. OK. "Robbie," Wrench repeated.
Over the years, there has long been speculation about Banksy's true identity. One such name is that of Robin Gunningham, who was recently named as the first defendant in a court case accusing the artist and his company Pest Control Ltd of defamation.
Robert Del Naja, also known as 3D, was previously rumored to be from the group Massive Attack is Banksy. Del Naja also began his career as a graffiti artist, and both discussed the similarities in their work and said they were friends, two separate people.
Banksy began his career as a graffiti artist, painting across Bristol. Turf War, which ran for three days in Dalston in 2003, was his first gallery exhibition in the UK and helped establish him on the British art scene. This helped establish the artist's signature mystique, as the location of the exhibition was only announced a day before it began.
On display were graffitied police cars, images of Winston Churchill with a grass mohican and the late Queen as a chimpanzee, and live farm animals painted with the Met Police's blue checkered patterns.
Speaking to the BBC in 2003, Banksy was asked about the modern art establishment, as many of them would attend his exhibition. In response, Banksy said that he had no interest in the "world of art."
"I'm not really interested in the art world, the British art thing," he told Wrench. "I don't know… it's not really something that interests me. I'm more interested in art chosen by people with their feet than in a millionaire judging you and telling people whether you're 'art' or not."
When Wrench pointed out that his canvases were for sale for £15,000, Banksy replied: "Apparently! That's not what I get from them! No. I take pictures these days, you know? And yes, I don't know who actually buys them. Maybe I should find out. Good point."
Instead, he said that he was much more interested in street art and that people could paint over his works if they didn't like them.
"I've even had police officers in the past say they kind of like the thing, but … I just think it's my right to go out and paint it," he said. "And it's also someone else's right to go out and paint over it if they don't like it, you know?
"With a bucket of white paint, it doesn't actually take long to paint over things. I think it's better to treat the city like a big playground, you know? …She's there to run around, you know?"
The Banksy story is now on BBC Sounds.