Who's running for mayor in Olympia?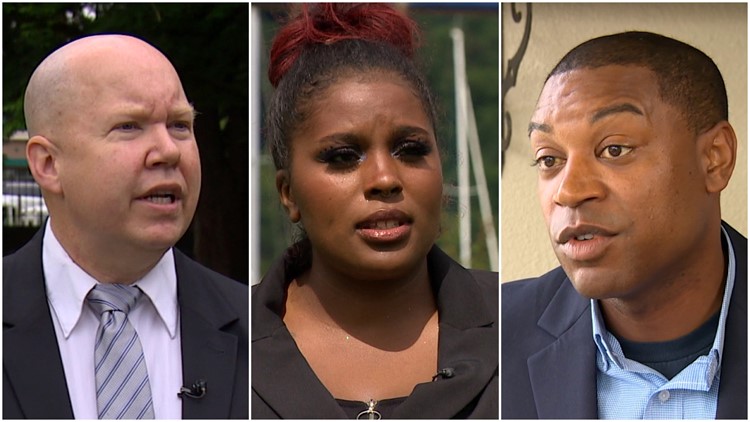 A city council member, business owner and mother experiencing homelessness go head-to-head in the August 1 primary election for mayor of Olympia.
OLYMPIA, Wash. – Olympia's next mayor will come from a diverse set of candidates: city council members, business owners and a mother who lives out of her car with her seven-year-old daughter.
Cheryl Selby, mayor of Olympia since 2016, announced last December that she would not run for a third term this November.
Selby endorsed Olympia . City Councilor Dontae Payne, a former soldier who served two tours in Afghanistan. Payne currently serves in Governor Jay Inslee's policy office and will be elected to the Olympia City Council in 2021.
"I have a comprehensive understanding of how government works," says Payne.
Payne said he takes pride in his work in requiring police officers to wear body cameras and his support for the expansion of affordable housing in the city.
He says he knows more needs to be done to help the homeless and clean up the camps.
"Work is going on. Please continue to be patient with us," Payne said. "Give me a chance. I've only been on the city council for 18 months."
Candidate David RossA former Olympia business owner who worked with the homeless in Thurston and Mason counties, said the city has made it possible for homeless people to set up unsafe camps across the city.
If elected, Ross said he would move to ban campsites while building more shelters and affordable housing. Ross said those receiving benefits and housing from the city will be held accountable.
"We'll set a schedule for you to make some progress with us and it's going to be small steps and we'll help you through the process," Ross said. "But if you refuse to help, we won't agree to be a community that allows you anymore."
Candidate Desiree Chantal Toliver has no experience in government or elections.
"But I have held my position as an advocate," Toliver said.
Toliver said she and her 7-year-old daughter Aiyanna lived in the car from October 2022 to the end of January 2023. She said she could get a home and a job by fighting for her family and learning. available services. .
Toliver said she wanted to bring that first-hand experience to Olympia's town hall to help others in need.
"When people fall into these cracks, underneath that crack is a giant sinkhole full of other people who have fallen in and don't know how to get out," Toliver said.
The office is nonpartisan.
The two who received the most votes in the August 1 primary will go head to head in November.