Why are there so many shootings: More than halfway through 2023, US on pace for record-setting year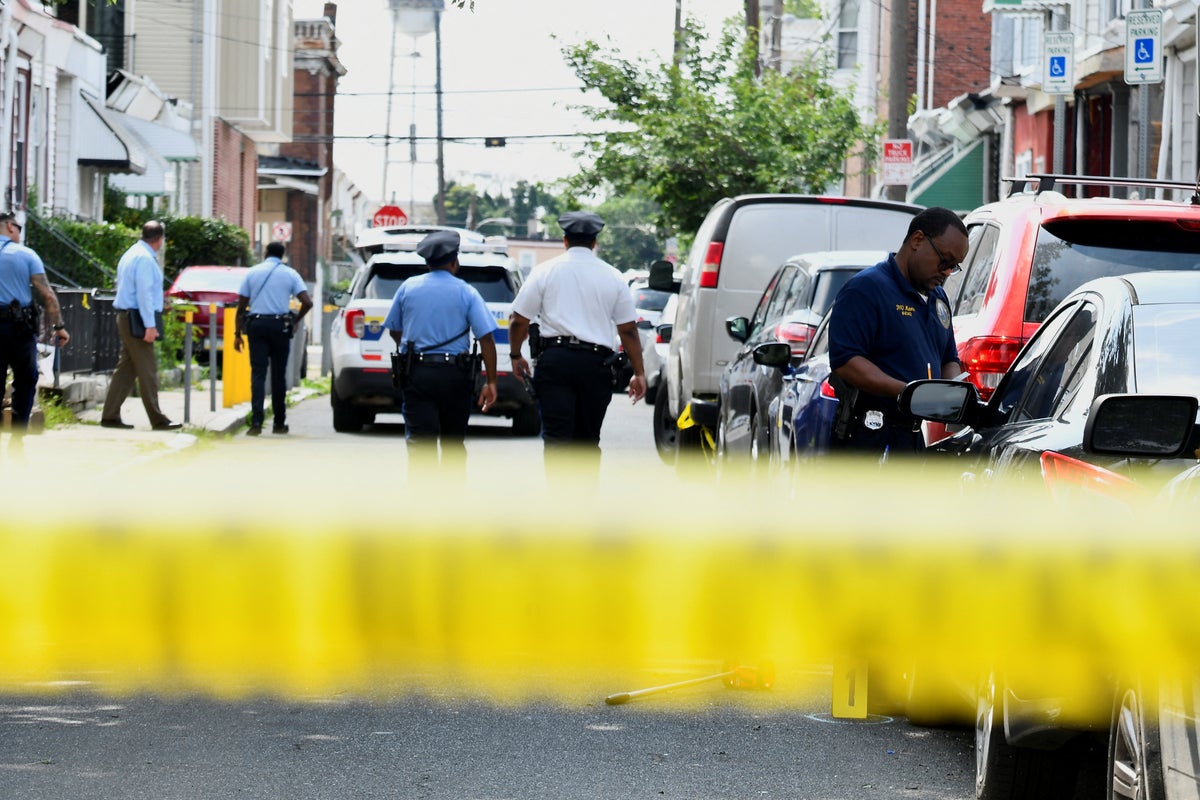 Before the end of a long July 4 holiday weekend, nearly a dozen mass shootings across the country injured more than 75 people and killed at least 11, hastening the already rapid number of mass shootings in the country this year in the United States.
At least 346 mass shootings were recorded in the first six months of 2023 and up to the 4th weekend of July, i.e. at least one per day and more than the number of mass shootings at similar times on the calendar in previous years.
A mass shooting at a festival in Fort Worth, Texas, on July 3 killed three people and wounded eight others. Five people were killed and two others injured when a gunman in a bulletproof vest shot at a crowd of strangers in Philadelphia that same night.
And in Baltimore on July 2, two people were fatally shot and 28 others — half of them children — were injured during a Baltimore block party.
The deadly incidents underscore the country's failure to combat an epidemic of gun violence, even as officials across the US and in the country's highest courts are relaxing gun laws and making it easier to arm Americans in public.
As of July 4, more than 21,000 people have died from gun violence, including suicide, in the United States, making it the largest number of gun deaths each year. according to the Gun Violence Archive. So far this year, nearly 19,000 people have been injured in gun-related incidents.
The organization counts incidents in which four or more people are killed or injured as mass shootings.
Some of the most visible and deadly acts of violence occurred in America's schools. In February, a mass shooting at Michigan State University killed three students and wounded five others. The following month, a mass shooting at a Nashville school killed six people, including three young schoolchildren.
Almost every US state now allows gun owners to carry some form of concealed gun in public. But more than half of U.S. states allow most gun owners to carry a concealed firearm in most public spaces without a permit, background check, or safety training as Republican lawmakers push a so-called "constitutional carry" movement through state legislatures.
The attacks during the July 4 holiday came a year after a gunman armed with an AR-15 opened fire over a parade in Highland Park, Illinois, killing seven people and injuring at least 48 others.
State officials later decided to ban assault weapons and high-capacity magazines used in that attack in the months that followed. But assault weapons like AR rifles remain in widespread use across the country, despite repeated calls from President Joe Biden and broad support among Democratic congressmen for a federal ban to be reinstated.
Since taking office, the president has had more success passing new gun safety legislation than any other president since Bill Clinton's two terms in office in the 1990s.
But with a Republican-controlled House of Representatives and a de facto 60-vote threshold for any legislative action on any issue in the Democratic-controlled Senate, it's unlikely that Congress will make any headway toward new legislation that will limit the availability of legislation restrict guns in the United States, even though most Americans believe they will be more difficult to obtain.
"And as we have seen over the past few days, much more needs to be done in Illinois and across America to combat the epidemic of gun violence that is tearing our communities apart," President Joe Biden said in a statement following the recent spate of violence on the 4th of July.
"We have the power to re-ban assault weapons and high-capacity magazines, require safe storage of guns, lift gun manufacturers' liability immunities and introduce universal background checks," he added. "I call on other states to follow Illinois' lead, and continue to call on Republican lawmakers in Congress to agree on meaningful, common-sense reforms that the American people support."
Meanwhile, the U.S. Supreme Court — a year after repealing a centuries-old New York law that requires handgun owners to show "just cause" for a license to carry a concealed gun — will deal with another important one in the coming months deal with the Second Amendment case.
The conservative super-majority court will hear arguments in a case over whether the government can ban domestic violence offenders from owning firearms. It will launch another major test of the Second Amendment, which could radically overhaul gun safety laws across the country in the face of a record-breaking year for gun violence.
Here's a look at several high profile mass violent crimes in the US in 2023
Philly, Pennsylvania
At least five people were fatally shot and two children injured on the night before July 4 during the long bank holiday weekend. Police arrested a suspect who was reportedly armed with an AR-15 rifle and handgun and was wearing a bulletproof vest.
The apparent rampage spanned several blocks and damaged several cars.
Baltimore, Maryland
At least two people were killed and at least 28 others injured at a July 2 block party over the July 4 bank holiday weekend.
Hollywood, Fla
Nine people were injured on May 29 during the Memorial Day holiday when gunfire broke out between two groups on the beach.
Allen, Texas
A gunman whose alleged online history and writings contained violent neo-Nazi images and statements opened fire at a crowded mall in suburban Dalla on May 6, killing at least eight people and injuring at least seven others. A local officer fatally shot him.
Atlanta, Georgia
A 24-year-old gunman entered the waiting room of a doctor's office in central Atlanta on May 3, killing one person and injuring four others before fleeing the city and sparking an hours-long nationwide manhunt. Deion Patterson was charged with one count of murder and four counts of aggravated assault.
Henryetta, Oklahoma
On May 1, convicted sex offender Jesse McFadden killed six people, including his wife and three of their children, before fatally shooting himself at his ranch in a small town outside of Tulsa.
Cleveland, Texas
On April 28, a gunman fatally shot five people after a neighbor asked him to stop firing his gun in his yard. State and federal police officers discovered Francisco Oropeza after a four-day search. He was charged with five counts of murder and charged with the murder of multiple people, allowing prosecutors to seek the death penalty.
Dadeville, Alabama
A shooting at a Sweet 16 birthday party on April 15 in a small town of about 3,000 people 45 miles northeast of Montgomery killed four people and injured 28 others. About 60 people were in the venue at the time of the shooting.
Various charges have been brought against at least six people suspected of being involved in the shooting. Two brothers, aged 16 and 17, have been charged with four counts of reckless murder. Johnny Letron Brown, Wilson LaMar Hill and Willie George Brown Jr. also face the same charges. A sixth suspect, a 15-year-old from Tuskegee, is also facing the same charges.
Louisville, Kentucky
A 25-year-old employee opened fire in a bank on April 10, killing five people and injuring eight others while live-streaming the attack and firing shots with the intervening police officers.
The shooter, who was bank teller Connor Sturgeon, was armed with an AR-15 rifle. He was fatally shot by the police.
Nashville, Tennessee
Three nine-year-old students and three staff members died March 27 after a shooting at a private Christian elementary school.
The suspect, 28-year-old Audrey Hale, was fatally shot by police at Covenant School in the Green Hills suburb of Nasvhille.
Half Moon Bay, California
On January 23, Chunli Zhao shot dead seven people at two agricultural sites — a mushroom farm and a shipping facility.
Zhao fatally shot four people at Mountain Mushroom Farm and three others at Concord Farms, about two miles away. Zhao was a former employee of both farms. He is charged with seven counts of murder, one attempted murder, an improvement in the use of firearms and multiple murders due to special circumstances.
Monterey Park, California
Huu Can Tran, a one-time guest at the Star Ballroom Dance Studio, shot dead 11 people and injured nine others with a submachine gun-style semi-automatic pistol on January 21. He killed himself when police surrounded his van the next morning.