Why Austin Butler cries when he sees one Elvis performance
Austin Butler, as you can imagine, has a ton of Elvis playlists on his Spotify account. He created the first three years ago while painting a house in Los Feliz that he had just moved into, right at the beginning of the five months he spent convincing Baz Luhrmann to let him star in Elvis. to occupy.
Butler won the role and over the next two years he never stopped listening to Elvis. He created playlists to evoke emotion for scenes in the film. (Loneliness ran rampant in these sets.) He created a playlist of gospel and blues music that Presley loved and listened to. And as a challenge, he's carved down his 50 favorite Elvis songs, including Butler's two favorite numbers, "Milkcow Blues Boogie" and "Polk Salad Annie," songs that always make him happy. It's an immaculate mix, even though it includes "Never Been to Spain," a song we agreed on during a long chat on a sunny LA afternoon.
Can Butler even listen to Elvis these days after two years of being so engrossed in the role of the king that he had to be hospitalized for a week on the day shooting wrapped? (What was mistaken for appendicitis turned out to be a virus that ruptured his lymph nodes.)
"You know, now he's like my best friend where if I'm having a bad day, I just turn on his music and it's fine," says Butler. He did so recently while listening to Elvis recordings from Stax Studios while driving through Cincinnati where he is filming the Jeff Nichols motorcycle film The Bikeriders. Maybe he'll do it again tonight and go home to Los Feliz.
"I love listening to 'Good Time Charlie's Got the Blues' when I'm in LA," says Butler. The song's opening lines: "Everybody's goin' away / Said they're movin' to LA"
Butler slept in his own bed for the first time in months last night, so he can appreciate the song's melancholic vibe. Raised in Anaheim, he misses Southern California, especially the weather, the sushi, and "smelling the air here," which isn't the first time he's come across a scent as one of his favorite things. He loves Disneyland but hasn't been there in a few years. He wants to go back and tap into that "feel of going there and holding my mom's hand." Favorite ride: Pirates of the Caribbean. What other answer is there?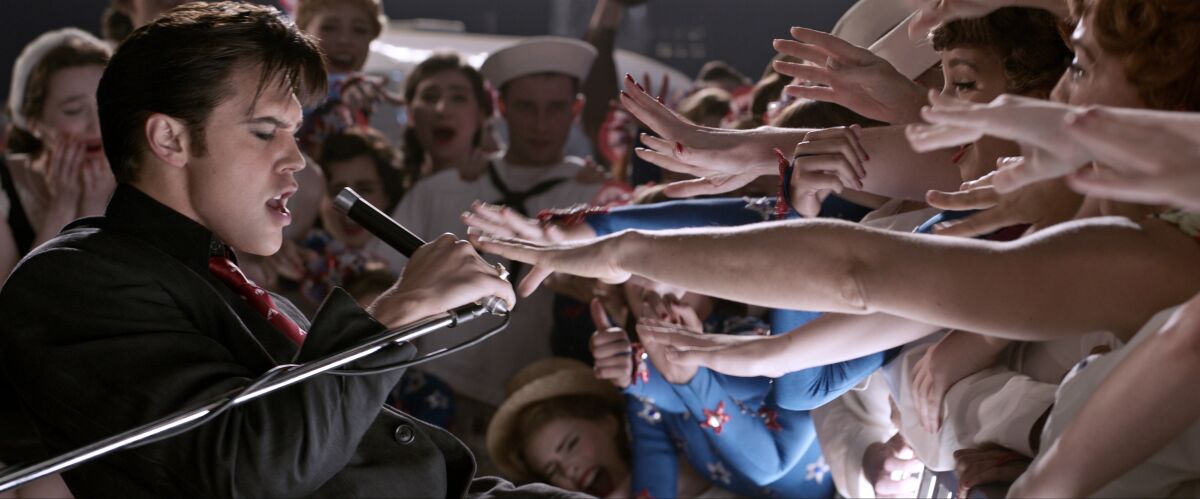 "I love the smell," he says, smiling. "There's a person who makes perfume and candles, and they bottled the Pirates of the Caribbean scent. I could smell that all day."
What does Pirates of the Caribbean smell like? "Sweet and musky," replies Butler in a deep, honeyed Southern tone, an accent still ingrained in his speech some 20 months after completing "Elvis." He is aware of this and laughs when I point it out to him. "The next shoot I did they had to hire a dialect coach ['Masters of the Air,' a World War II limited series about the 8th Air Force] to make sure I don't sound like Elvis."
In an alternate universe, we could be sitting here right now and talking about Butler playing a different fighter pilot – Rooster Bradshaw in Top Gun: Maverick. In 2018, while he was appearing in the Broadway revival of Eugene O'Neill's The Iceman Cometh, Butler's agent called and told him the Top Gun producers wanted him to go to Florida for a screen test. Butler said no. Days earlier, he and Quentin Tarantino shook a deal for Butler to play Manson's "family member" Tex Watson in Once Upon a Time in Hollywood. It wasn't a huge role, but Butler had grown up adoring Tarantino's work, and he wouldn't pass on the dream of working with him.
So Butler shot Once Upon a Time in Hollywood, finished filming in November 2018, and then found himself out of work again — and slipping into sadness. Throughout his career, he had often thought about quitting acting, but could never let go. Throughout his years producing teenage sitcoms for Disney Channel, Nickelodeon, and the CW, he kept coming back to a quote from Ira Glass about how your taste gets you into art and then you have to keep working until your skill level catch up your taste. Butler stuck with it and would watch Raging Bull for the 100th time, get inspired, hone his technique and hope for a chance.
Starring alongside Denzel Washington in The Iceman Cometh ("You could tell he was going to be a star," Washington tells me) was the first step. "Once Upon a Time in Hollywood" – in which he tells Brad Pitt that he's "as real as a donut" during the crucial showdown, a line that was originally "I'm as real as a bullet" but Pitt has Misunderstood Probe and just before Tarantino said action, Tarantino told Butler to get in "Donut" – was the second.
But nothing came after that to convince Butler he was about to take the next big step. He recalled something Pitt had told him — "Play the long game … if it doesn't sound in your heart, don't give it the time of day" — so for four months he turned it all down, even though it was "for Going insane," despite feeling his sanity slipping. And then he heard that Luhrmann was doing "Elvis". And that's when he started making his Spotify lists, treating his extended audition as a job and, as he puts it, "indulging in the illusion that if I just believe this job is mine, nobody can stop me." ".
The breakthrough came after he filmed himself singing "Love Me Tender" to send to Luhrmann and walked away disheartened. It was an Elvis impersonation. Nothing more. By this time, Butler had been watching every Elvis performance he could find on video and YouTube and came across "Unchained Melody," a song Elvis sang on his final tour a year before his death. Elvis is out of breath and struggling, but mid-song he hits a high note, looks at the audience, and smiles. Butler cries every time he sees that smile, the twinkle in Elvis' eyes reminding him of the young singer who stole the hearts of the world.
One night Butler woke up from a nightmare – he dreamed his mother was dying again. Cancer took her when Butler was 23, the same age Elvis was when his beloved mother died.
"It was that thing where I knew this was going to be a very bad day, you know where you start in deep sorrow," Butler says, recalling that morning. "And I figured there must be a way to channel that feeling. And I became so obsessed with Elvis that saying 'OK' became this other thing. He felt sadness. How did he deal with it?' Well he would sing. He would pour out his soul in songs."
So, still in his pajamas, Butler pulled on a robe, sat down at a piano, turned on a camera, and sang "Unchained Melody" to his mother.
A few weeks later, Luhrmann called with the offer.
"You know, I'm a shy guy, never sang, never danced, and even if I didn't get the part, I'd appreciate the fact that I got to spend five months exploring and experimenting with that part of me with Baz ' says Butler. He pauses, then breaks out into a smile. "Nevertheless, I'm pretty happy I got the job."
https://www.latimes.com/entertainment-arts/awards/story/2022-11-21/austin-butler-elvis-presley-baz-luhrmann-film Why Austin Butler cries when he sees one Elvis performance