Why Shredder's Not in Teenage Mutant Ninja Turtles Mutant Mayhem
There are a lot of things that make Teenage Mutant Ninja Turtles: Mutant Mayhem stand out from the rest of the Turtles movies. The main characters are voiced by teens, for one. The unique, purposefully messy animated style is another. And the fact that the Turtles' most common villain, Shredder, is nowhere to be seen is a third.
Turtle Power with Melissa Navia | First Fandoms
Speaking with io9, Mutant Mayhem director Jeff Rowe explained that wasn't always the case. "The early version of the film [was] very different from what you're seeing on screen," Rowe said. "They were just in high school the entire movie. Shredder was the villain. And then part of the process of making this—and that's one of the amazing things about animation—is because you don't have to do a live-action shoot on a compressed schedule, you have a lot of time to make decisions and make sure that you're making the best decision. And we dropped some of that out. Maybe halfway through we're like, 'It can't be Shredder. He's a human. It's too much, too soon. He's too big of a presence.'"
In the film, the villain is Superfly, a fellow mutant whose origins are not only tied to the Turtles in some unique ways but who shares the human-hating viewpoint of their father, Splinter.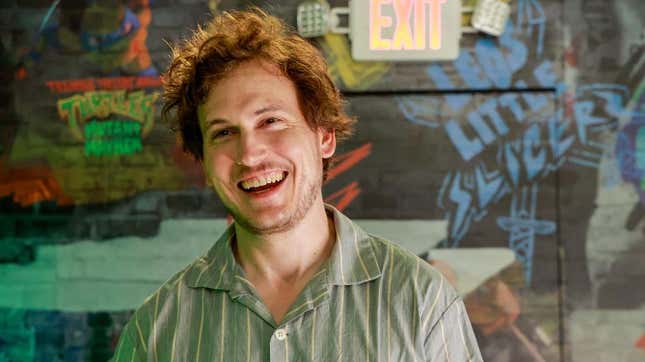 "[We said] for this story about the turtles being accepted and finding a place in the world, it would really make sense, and it would really help the story, if the villain was a mutant like they are with a similar back story," Rowe said. "And [he] could maybe, like, be able to have a conversation with Splinter about 'Look, we both hate humans. You go about it this way, I'm just going about it this way. And we're like, 'That's what this movie needs.' Hence Superfly."
But could Shredder show up in a sequel, especially since—in the time between our interview and this article—both a sequel and TV show have been announced?
"There was a point where we were like, 'This is coming together pretty good. We're liking what we're making. We're not blowing it. We're not whiffing it,'" Rowe said. "So likely based on the importance of this IP to Paramount, we will likely be making a sequel or have the opportunity to explore more things later… I think everybody wants to spend more time with these characters and I think there's a lot of things in the lore that we haven't been able to address yet."
Teenage Mutant Ninja Turtles: Mutant Mayhem is in theaters August 2. We'll have more from Rowe next week.
---
Want more io9 news? Check out when to expect the latest Marvel, Star Wars, and Star Trek releases, what's next for the DC Universe on film and TV, and everything you need to know about the future of Doctor Who.