Why the 'Below Deck Down Under' hosts fired two fellow actors for misconduct
In the early hours of a spring day last year, a situation occurred just off Cairns, Australia, inside the luxury superyacht Northern Sun, which is the focus of Bravo's Below Deck Down Under.
Members of the yacht's party-loving and boisterous crew stumbled back to their quarters after a drunken evening, fresh from the completion of a multi-day charter – such celebratory outings are a regular occurrence when the crew has completed an excursion that meets the needs of discerning guests. It's rarely a quiet return. This time around, however, the inappropriate behavior of two crew members, boatswain Luke Jones and second steward Laura Bileskalne, led to their departure from the crew and the end of their time on the series: each trying to bed castmates who didn't have their approval give.
Heavy drinking is not uncommon on the compulsively watched Below Deck series, whether it's charter guests enjoying themselves during their luxury layover or off-duty yacht staff unwinding after days of grueling work. The drunken antics typically exhibit awkward behavior that often fuels the drama on camera the next day. But the turn of events portrayed in the final two episodes of Below Deck Down Under quickly became a talking point on social media. Many praised the quick handling of the situation by both the yacht crew supervisors and the show's production team, as well as the fuller exposure to consent in the episodes.
"It was a tough night; "It was very, very difficult," said Nadine Rajabi, one of the show's executive producers. "I didn't know what the reaction would be because we didn't think about it. It's nothing to be congratulated on, it was just about doing the right thing. I would hope everyone behaves like this. It was about security."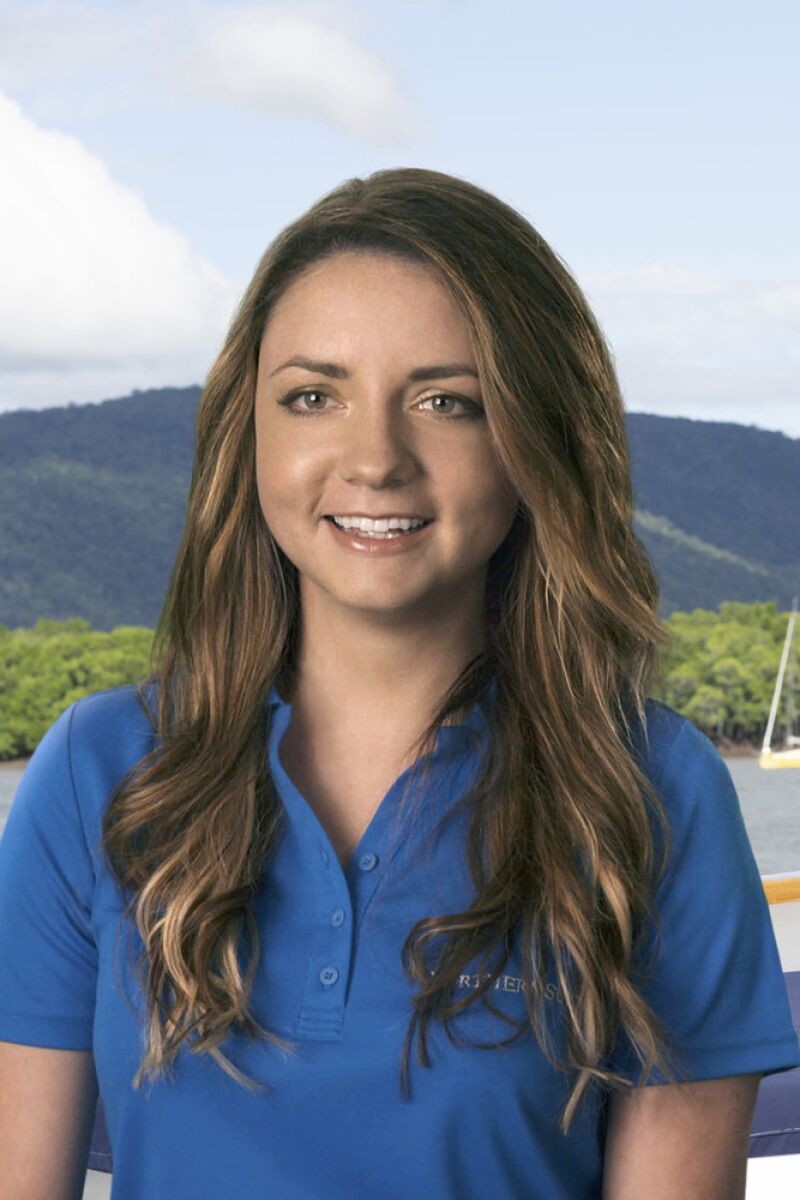 Laura Bileskalne and Luke Jones from Below Deck Down Under. (Bravo)
Bravo made the decision to air the episodes back-to-back, and the network timed the start of the season accordingly so viewers could see the breakup immediately to avoid creating a cliffhanger due to the seriousness of the moment. Still, some fans criticized the decision not to place a content warning at the beginning of each episode. At the end of the seventh episode comes a notification message.
In Episode 6, viewers see that after a night of drinking, Jones went into the cabin of actress Margot Sisson, who was drunk and passed out, and lay naked on her bed. Both the production staff and chief steward Aesha Scott intervened to keep Jones out. Within minutes that lasted into Episode 7, Bileskalne was thwarted by production after she climbed into the bed of her boatmate Adam Kodra, who had resisted her advances that night and for most of the season.
The Times contacted Jones via Bravo and his social media, requesting comment on his firing. He didn't answer. Jones then says, "I accept that," while Chambers describes his actions and announces his dismissal. Later, as he exits the boat, Jones tells Chambers, "I'm sorry. And I'm just so disappointed in myself."
Bileskalne declined to comment on this story about Bravo and referred to it Instagram post on the matter last week: "My sincere apologies to Adam, I didn't know I made him uncomfortable and no one should be put in that position."
At over 50 meters (164 feet) in length, the Northern Sun is a massive ship. The production team is stationed inside the yacht in a so-called video village, where the production staff can watch on monitors what the cameras are recording in real time. It takes "a good minute," says Rajabi, to get from the control room to the crew's sleeping quarters on the lower level.
The rapid intervention of the manufacturers at such a crucial moment came just as the yacht experienced a power outage. When it got dark in the control room and the image transmission to the monitors was interrupted, the cameras were still recording. An audio supervisor was the first to intervene and wedged his foot in the door to prevent Jones from staying in Sisson's room, as seen in the episode.
"Some of the lighting you will see is different; He used his phone to turn on the light there. And that gave enough time because we had to flee the video village," says Rajabi. "And our producer came by at that moment and went in. It was a valiant effort by the production team to go there and also have someone strong to actually go in. When the emergency power finally kicked in, you run. No question, you run."
Scott, 31, was praised for handling the unfolding situation prudently and taking steps to protect and ensure the safety of Sisson and Kodra when the details broke to her. She was reluctant to be interviewed for this story, fearing that it would appear that she was taking advantage of a bad situation or gaining fame through it. Her sensitivity stems in part from her experience of sexual assault. On a 2019 episode of Below Deck Mediterranean, she revealed that she had been raped after a drunk night.
"I really couldn't tell you what made me so nervous that night. I just knew when I got home in the van that my Spidey senses were tingling," says Scott. "Something just told me something wasn't quite right. I had this thing on my mind, 'Just put Margot to bed, put Margot to bed.' That's all you have to do.'
"They had to trim it down due to time constraints so it doesn't quite show how long I just lay in her dressing room to make sure she was ok. Then I remember the power went out while I was standing by the microwave waiting for my pasta to finish. And I heard the producers walking by and it just made me so angry because I'd spent so much time with Margot and her cabin making sure she was okay and it felt like I was after all this effort d failed. I was really upset."
Scott was initially only aware of Jones' behavior. She woke the yacht's captain, Jason Chambers, to convey her concerns. Chambers quickly got Jones off the boat and told him to sleep in at a hotel. On his return in the morning, Jones was fired by Chambers. When Scott later learned that Bileskalne had made insensitive comments towards Sisson – expressing sympathy for Jones and questioning his firing – and confirmed that Bileskalne continued to make unwelcome sexual advances towards Kodra, which also led to producers' intervention , Scott relayed her concerns back to Chambers . He promptly dismissed Bileskalne. (In addition to her social media apology to Kodra, Bileskane has since apologized to Sission for not expressing sympathy.)
"Due to time constraints, they couldn't include a part where I actually talked to Laura about stepping back a bit [with Adam]; that it goes both ways and she needs to stop being so inappropriate with Adam," says Scott. "So to see it and see how far she took it, that was really shocking for me too."
Chambers added separately, "I don't feel those little moments until the audience feels it until it airs. I now know even more that I made the right step. I made my decisions based on what Aesha told me. That was enough for me to know that something had to be done there, of course. And the other decision I based on what Aesha told me and what I talked to Adam about and all together I just knew that this was an environment that I didn't want to work in and I didn't want the crew to be in that environment I want them to work in a happy, safe and family environment."
It's not the first time "Below Deck" has been rocked by controversy. Heavy drinking is part of the franchise's DNA and contributes to loosening the boundaries between work and personal relationships. An incident on the Below Deck Sailing Yacht last year, in which two crew members had sex despite one appearing to be more drunk than the other, sparked criticism from fans. Rajabi says that prior to production, cast members take part in on-the-job courses and training, which has an increased focus on awareness training. During filming, the production will cover the cost of two drinks and some food during their outings — "that could be Diet Coke, it could be orange juice, or whatever that is." But that's it. Everything else is on them," she says. (There is also a supply of alcohol on deck for guest consumption, which the performers sometimes enjoy on their evenings off.)
"In the past there have been situations where we really monitored them, we cut them off, we made sure people agreed – and those are the things you don't see," Rajabi continued. "The situation documented in this episode has not only sparked a lot of conversation in the yachting industry, it has shed some light on things. The only thing I remember from that night is that I was so scared because I thought, "If there were no cameras, what would have happened?" What would have happened? Because nobody else is there to watch.' We are actually encouraged to intervene… I think [this incident] was more instinctive; it was "this can't happen" and it was safety. It wasn't 'What do we do? Should we or shouldn't we?'"
With seven episodes left in the current season, Chambers says he wanted to ensure a safe environment for the crew during their final days at sea.
"I'm also grateful nothing happened," Chamber said. "For everyone involved: it will hurt everyone. We must protect all crew members involved, and I mean all crew members involved, for their health, safety and mental health going forward. We need to respect everyone around us and understand that no means no so that we are all safe."