Why this Olympia ice cream parlor has kids hopping and dogs wagging their tails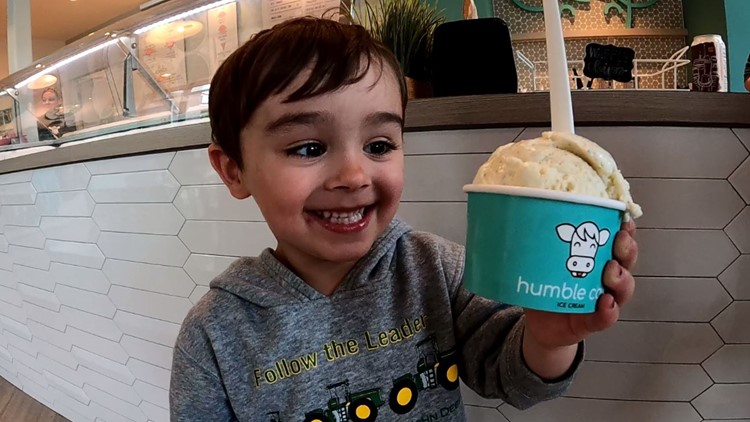 Humble Cow Ice Cream has caused quite a stir by offering frozen treats for everyone in the family. #k5evening
OLYMPIA, Wash. — At the Humble Cow Ice Cream Shop, ordering an ice cream cone can add some pizzazz to someone's day.
"I have a feeling that if you want to treat yourself, it should be good, and ice cream definitely spreads joy," said owner Meegan Cronk. She came up with the name Humble Cow.
"I think it's the opposite of pretentious," she laughed.
A former high school counselor, at the start of the pandemic, she dreamed of her small batch being made from scratch.
"It wasn't a good time to start a business, but it was a great time to plan a business," she said.
The plan included a place for the community to gather, where each family member could get an ice cream treat. From vegan daughter to family dog.
"We have puppy cups that are a frozen treat for dogs and are made with things that aren't harmful to dogs," Cronk said. "For example, it's no dairy, no chocolate, so it's made with peanut butter, applesauce, and bananas and things that are healthy for dogs but also give them a fun treat."
Giving someone an ice cream is like spreading a little joy.
"Ice cream kinda works on both ends of the spectrum," Cronk said. "When you're partying, ice cream is appropriate. If you need some comfort, ice is appropriate too."
Humble Cow makes fresh waffles every day and always offers some type of coffee ice cream.
"We're in the Northwest and people want their coffee, whether it's in the form of a drink or in the form of ice cream," she said.
how good is the ice cream We met two longtime friends and ice cream lovers who ordered a six scoop taster flight.
"I give it a 10 out of 10," said Caroline Shipley-Peters. "Good taste, it's really creamy and the salted caramel is very good."
"Salted caramel definitely wins in our book," agreed her friend Anna Krause. "But I think I could have one of these any day and be perfectly happy."
"It's really great to see how people love their ice cream here," Cronk said. "That's exactly why I created this business and great ice cream."
Humble Cow is located in South Olympia at the corner of Henderson Blvd and Yelm Highway. They are open daily from 2pm to 9pm.
The evening of KING 5 celebrates the Northwest. Contact us: Facebook, TwitterInstagram, email.
https://www.king5.com/article/entertainment/television/programs/evening/why-this-olympia-ice-cream-parlor-has-kids-hopping-and-dogs-wagging-their-tails/281-489256f1-c349-4f5c-bbaf-fe69d199fc42 Why this Olympia ice cream parlor has kids hopping and dogs wagging their tails