Why Ukraine's spring offensive still hasn't begun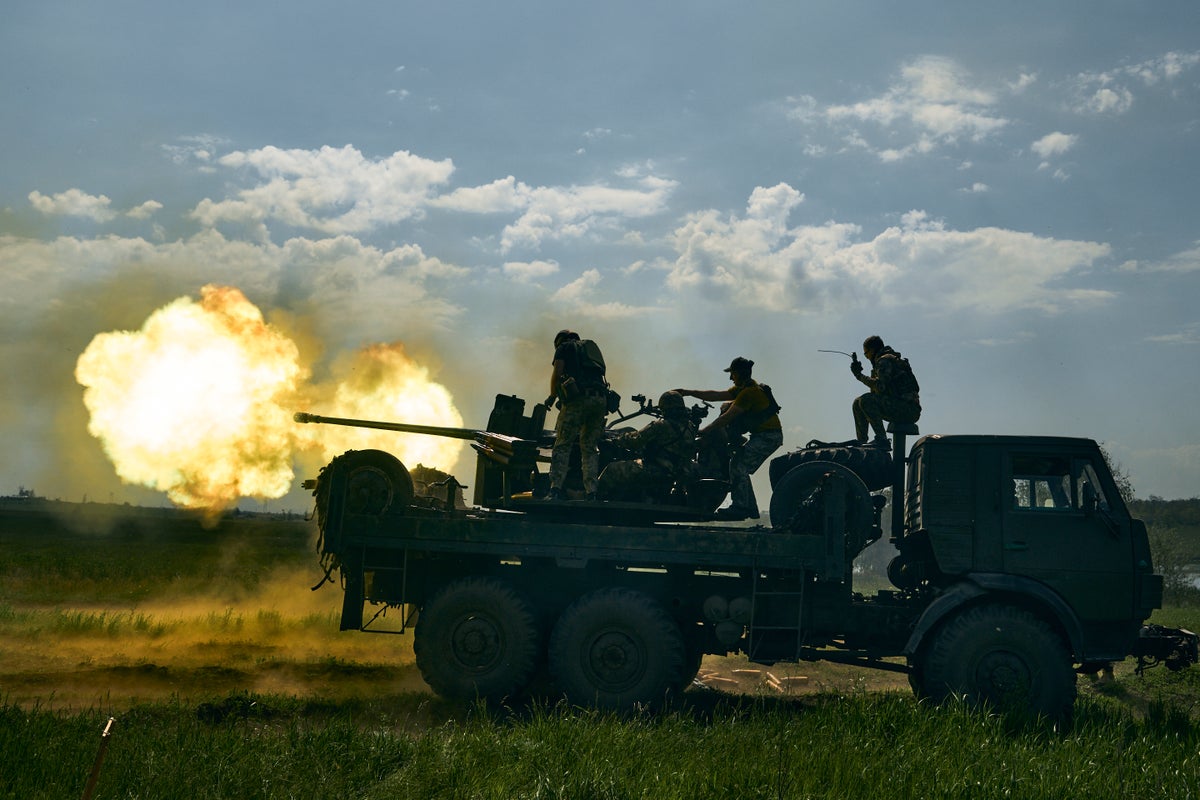 For months, Western allies have shipped billions of dollars worth of weapons systems and ammunition to Ukraine, with the urgent need to get the supplies to Kiev in time for an expected spring counter-offensive.
Now summer is only a few weeks away. As Russia and Ukraine focus on an intense battle over Bakhmut, Ukraine's spring offensive has yet to begin.
Last week, Ukrainian President Volodymyr Zelenskyy said it was delayed because his country does not have enough Western weapons to succeed without suffering too many casualties. Weather and training also play a role, officials and defense experts say.
Officials insist the counteroffensive is imminent. Preliminary steps by Ukraine to set terms for an attack have already begun, a US official said, on condition that he wished to remain anonymous to discuss sensitive matters.
A look at the factors delaying the counteroffensive and the preparations both sides are making for its imminent launch.
Weather
A large part of the delay is due to the weather. An extended, cold, wet spring has taken longer than expected for Ukraine's frozen ground to thaw and dry, making it difficult to transition to an offensive.
Instead, the ground is covered in deep mud, making it difficult for trackless vehicles to use.
The mud is like a soup, the official said. "You just sink into it."
Training
Tens of thousands of Ukrainian soldiers have been trained for combat by the US and allies in recent months. But the last Ukrainian battalion that the US is currently training is just finishing its course.
This last class brings the total number of Ukrainians the US has trained for this fight to over 10,700. These forces have learned not only field and medical skills, but also advanced combined arms tactics using the Stryker and Bradley armored fighting vehicles and Paladin self-propelled howitzers. This includes highly skilled forces trained to operate the Patriot missile defense system.
According to US Army Europe-Africa, up to 11,000 additional Ukrainian soldiers are participating in other training programs from more than 30 partner countries every day.
A new phase will soon begin: the US will begin training Ukrainians on Abrams tanks at the Grafenwoehr Training Area in Germany. But the Ukrainians would not wait for tank training to be completed before launching their counteroffensive, Ukraine's Defense Minister Oleksii Reznikov told reporters in late April.
arrival of arms
In the last five months alone, the US has announced that it will send more than $14 billion worth of arms and ammunition to Kiev. Most of this is taken from existing stocks to get shipments to Ukraine faster. NATO and Western allies have also responded, pledging billions in the form of tanks, armored vehicles and air defense systems.
But much of that equipment still hasn't arrived, said Ben Barry, a former British intelligence official and now a Senior Land Warfare Fellow at the International Institute for Strategic Studies.
For example, of the 300 or so pledged armor systems – such as the Leopard 2 tanks promised by countries like Denmark, the Netherlands, Spain and Germany – only about 100 have arrived. Of the approximately 700 combat vehicles pledged, including British Marauders and US Bradley Infantry Fighting Vehicles, only about 300 have arrived, he said.
Ukraine will also need enough ammo to sustain a faster fight once the counteroffensive begins. When it comes to the ammunition needed, Ukraine's chief military logistician will also have a strong say in when the army is operational, Barry said.
With just one ammunition — the 155mm howitzer — Ukraine fires between 6,000 and 8,000 rounds a day, Ukrainian MP Oleksandra Ustinova told reporters in April.
Notes on the counter-offensive
Both Russia and Ukraine are taking steps ahead of the counteroffensive.
Russia has deployed about 200,000 troops along a 1,000-kilometer (620-mile) battle line, dug in using the same type of trench warfare tactics used in World War I, a Western official said on condition of anonymity to discuss intelligence matters.
These troops are not as well trained as the original Russian invasion force, which suffered heavy casualties. But they are defended by ditches, minefields and dragon's teeth – above-ground concrete triangular barriers that make it difficult for tanks to move.
Meanwhile, Ukraine has begun designing operations, such as targeting Russia's front lines with long-range artillery fire. That could indicate that Ukraine is making headway in this area — or it could be a decoy to divert Russia's attention from its planned first strike, the official said.
If Ukraine attempts to breach those borders — whether in a limited area or as part of a complex campaign in multiple locations — that is the likely indicator that the offensive has begun, both Barry and the Western official said.
Barry said that if Ukrainian brigades start moving into Russian-held areas and try to attack the first line of Russian defenses, "I think that will be a clear sign."