Wimbledon crowd boo Victoria Azarenka after defeat to Ukraine's Elina Svitolina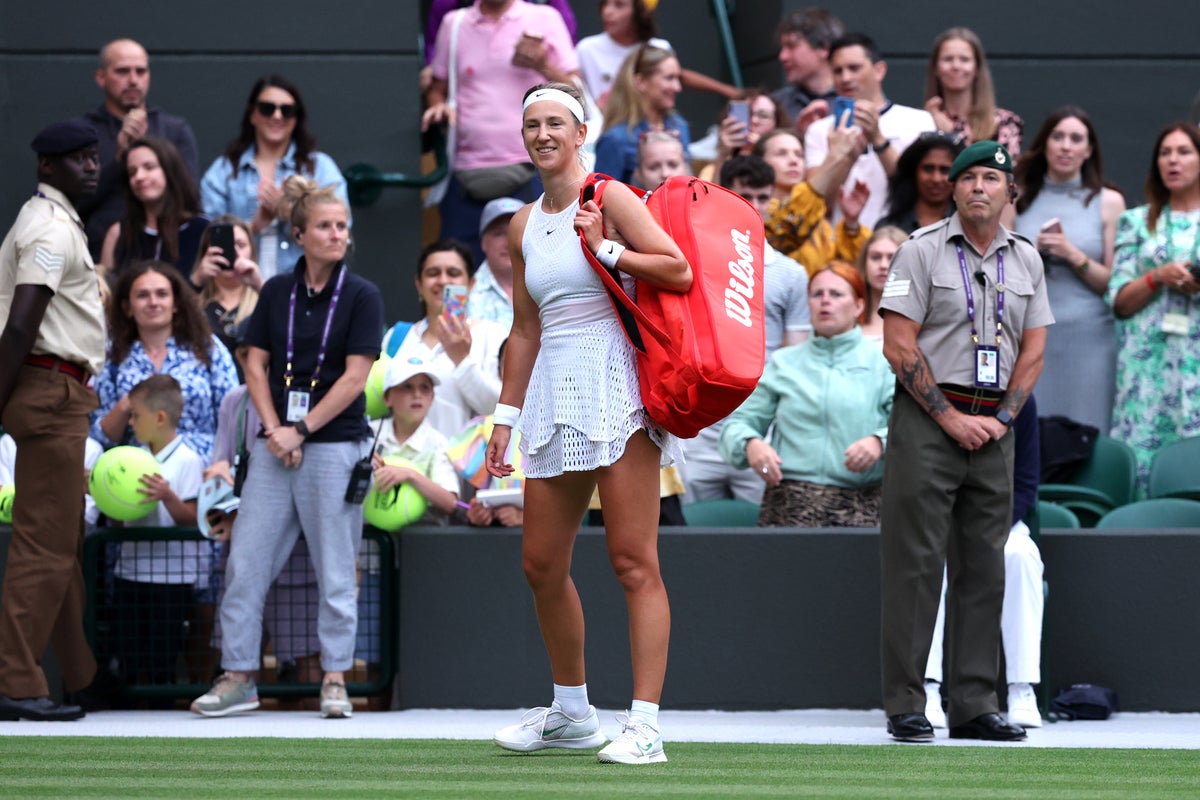 Belarus' Victoria Azarenka blamed the 'drunk' fans in the Wimbledon crowd after being booed off the field following her loss to Ukraine's Elina Svitolina.
Svitolina triumphed in an epic three-set match against former world No. 1 Azarenka in the first match between a Ukrainian player and a Russian or Belarusian at this year's tournament.
Players from Russia and Belarus were banned from Wimbledon last year after the invasion of Ukraine, but this year they were allowed to compete as neutral athletes.
Svitolina, like all Ukrainian players on the professional tour, does not shake hands with either Russian or Belarusian opponents due to the ongoing invasion of her homeland.
As expected, there was no handshake at the net, but there was an appreciative nod between the players.
But Azarenka was then loudly booed as Svitolina prepared for her post-match interview.
Azarenka stopped as the booing started, staring in disbelief at the reaction from the fans at No. 1.
The 33-year-old then banged his wrists together, apparently disgusted.
In her post-game press conference, Azarenka said she was surprised by the crowd's reaction to the lack of a handshake and said the boos were "not fair".
"I'm not sure a lot of people understood what's happening," she said. "There were probably a lot of Pimm's throughout the day.
"I feel like it's been pretty consistent over the last 18, 19 months. I haven't done anything wrong, but sometimes I'm always treated differently.
"But what can I say about the crowd? There is nothing to say. She does not want to shake hands with the Russian and Belarusian people. I respected her decision. What should I have done? stayed and waited? I mean, there's nothing I could do that would have been right, so I just did what I felt was respectful of their decision.
"But this conversation about shaking hands isn't a life-changing conversation. So if you want to keep talking about it, bring it up, make it a big deal, make headlines, whatever it is, go ahead.
"I thought it was a great tennis match. When people just focus on handshakes or a pretty drunk crowd that ended up booing, that's a shame. That's probably what it is at the end of the day."
Ahead of the tournament, Svitolina spoke out against Wimbledon's decision to allow Russian and Belarusian players to return to the championship.
Svitolina has stated that she will not shake hands with Russian and Belarusian opponents out of respect for the soldiers who fought on the front lines after their country was invaded.
Svitolina showed the same reaction at the French Open last month, when she was booed by some fans after her quarterfinal loss to world No. 2 Belarusian Aryna Sabalenka in Roland Garros.
Svitolina didn't shake hands with Sabalenka and was booed as she left the field. Ukraine's Marta Kostyuk also received the same welcome after her first-round loss to Sabalenka.
Svitolina said a pre-match announcement in which she explained there will be no handshake between Ukrainian and Russian or Belarusian opponents would help fans understand the situation.
"I have said on several occasions that we will not shake hands until Russian troops leave Ukraine and we retake our territories. So I have a clear statement," said Svitolina. "I don't know how clearer I can be."
Svitolina, a former 2019 Wimbledon quarterfinalist who only returned to tennis earlier this year after giving birth to her first child, was extremely emotional after her win against Azarenka and at the support she had received.
"I think this is the second happiest moment in my life after the birth of our daughter," she said in her interview on the pitch after the 2-6, 6-4, 7-6(9) win.
"When I was down in the second set, I heard you guys cheering me on and I almost wanted to cry.
"It was really hard for me because I didn't do my best. I was really struggling but I really wanted to win today. You have given me so much strength today. You were truly amazing."