Wimbledon day eight: Carlos Alcaraz and Novak Djokovic inch towards final clash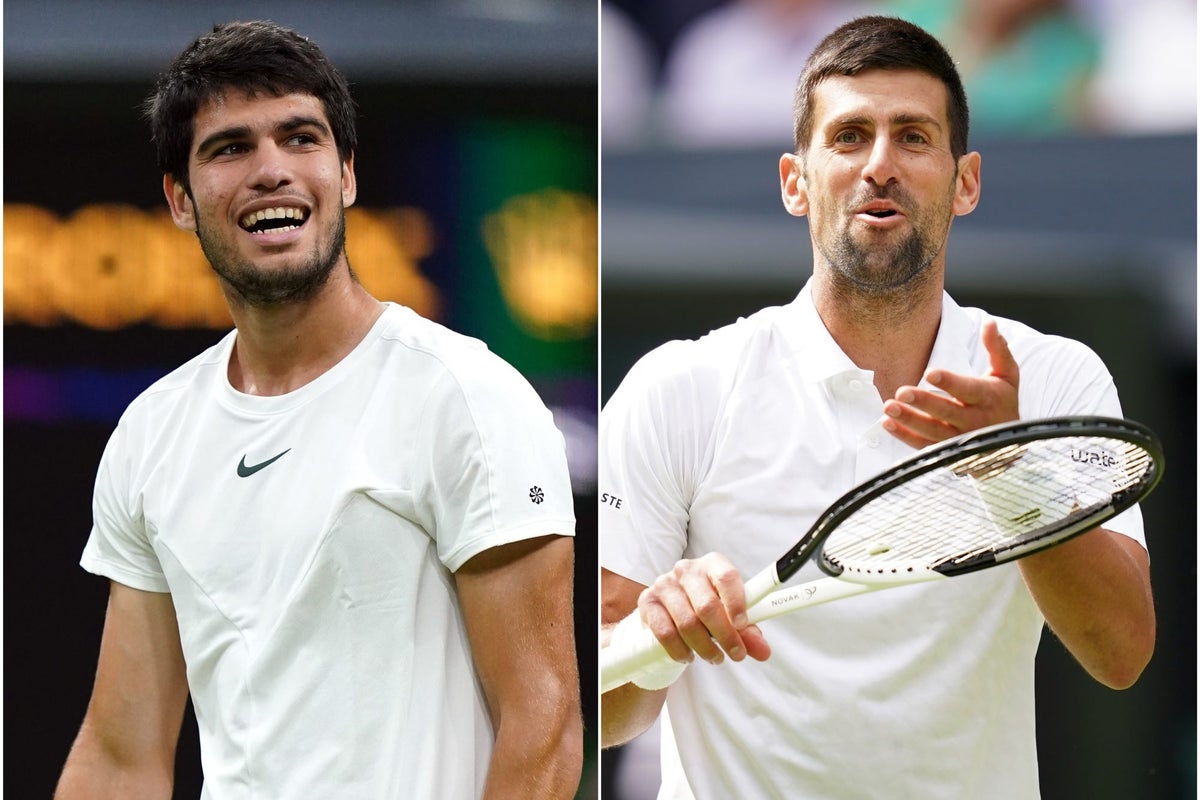 Novak Djokovic and Carlos Alcaraz remain on a collision course for a final showdown after a thrilling day at Wimbledon.
Defending champion Djokovic returned to end his delayed quarter-final with Hubert Hurkacz before world number one Alcaraz recorded a thrilling win over 2021 runner-up Matteo Berrettini.
Elsewhere, world number five Stefanos Tsitsipas was eliminated prematurely by Chris Eubanks, while last year's finalist Ons Jabeur prevailed in the women's draw against two-time winner Petra Kvitova.
Here, the PA news agency takes a look at the course of the eighth day.
No escape from Alcaraz
Carlos Alcaraz passed another test and reached the last eight for the first time in SW19.
After being relegated to four sets by Nicolas Jarry in the third round, the Spaniard fought back in style from a set deficit to prevail over Matteo Berrettini 3-6 6-3 6-3 6-3.
It was a clash between the last two Queen's Club champions and undoubtedly a major hurdle for Alcaraz, who is a quick learner on the surface and put in a very solid performance.
He will next face fellow compatriot Holger Rune, 20, in the first under-21 Wimbledon men's singles quarterfinals of the open era, with a potentially delicious final against Djokovic very likely.
Tweet of the day
Time is waiting for Novak
Although he was making progress, following his protracted win over Hubert Hurkacz, Djokovic demanded that Wimbledon revise their schedule and start the game on Center Court earlier
The seven-time champions broke the All England Club's requirement to start games at 1.30pm as their fourth-round match on Sunday night had to be suspended at 11pm due to the Council-imposed curfew.
The 36-year-old, who beat Hurkacz 7-6(6), 7-6(6), 5-7, 6-4 on Monday afternoon, was unequivocal in his response when asked if games should start earlier .
"I think so. I agree," said the 23-time Grand Slam winner. "I understand that due to the community and residential area we are in, curfews are probably much more difficult to change.
"I think the games could at least be rescheduled to start at 12pm. I think it would make a difference."
shot of the day
quote of the Day
image of the day
Statistics of the day