Wimbledon interrupted by Just Stop Oil as protesters storm court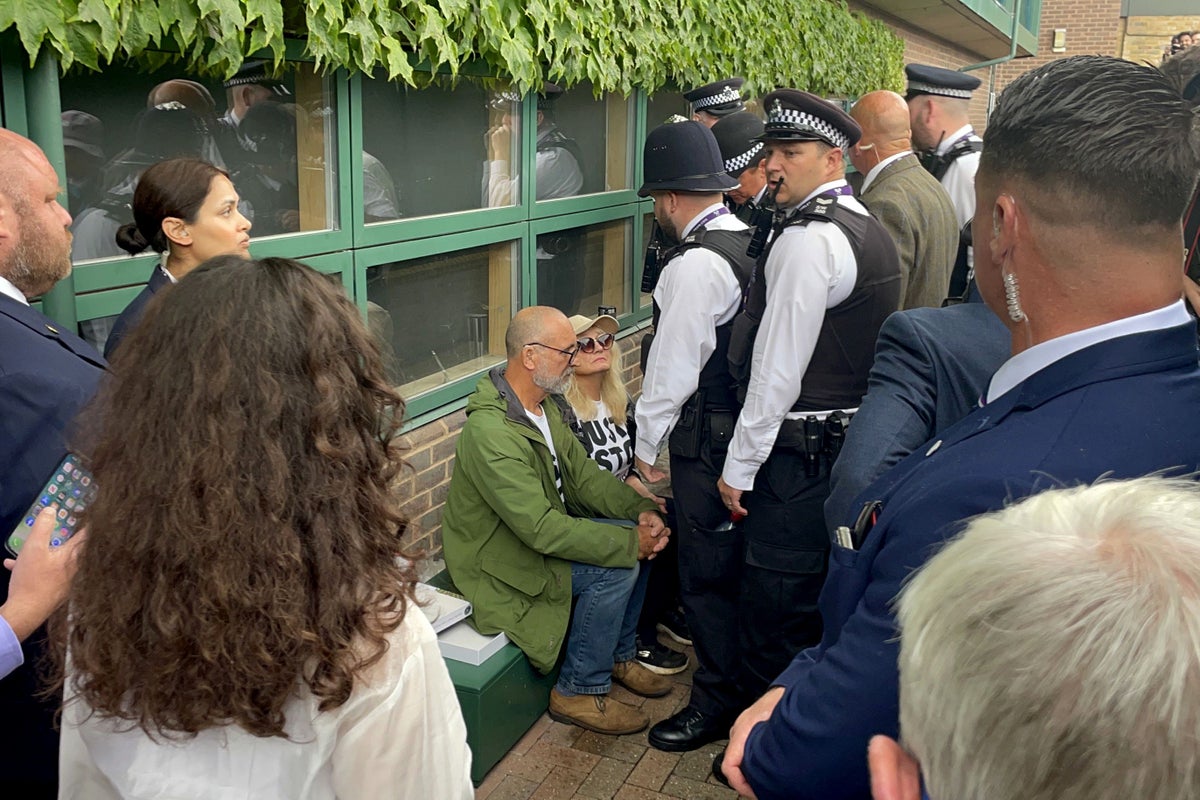 Two Just Stop Oil protesters have disrupted Wimbledon by throwing orange confetti and jigsaw puzzle pieces at seat 18.
The activists ran onto the field during a match between Grigor Dimitrov and Sho Shimabukuro before one of them sat down.
The game was briefly delayed while the marshals picked up the game pieces. The crowd booed before security officials removed the protesters.
The eco-group rejects Wimbledon being sponsored by Barclays Bank, which they say has donated £30billion to oil and gas companies over the past two years. Fossil fuels are major emitters of greenhouse gases and cause climate change.
In a statement, Just Stop Oil said: "We cannot leave it to the next generation to pick up the pieces."
Deborah Wilde, 68, a retired teacher from London, ran into the square just after 2.10pm.
She said: "I'm just an ordinary grandmother opposing this government's policy of granting us new oil and gas licenses. Under normal circumstances, such a disruption would be totally unacceptable, but these are not normal circumstances.
"We just had the hottest June on record, beating the previous record by almost a full degree. We don't need a keen eye to see that our government's granting of over 100 new fossil fuel licenses is a very bad intention."
The Met Office confirmed on Monday that June was the hottest on record.
Ms Wilde added: "Forget strawberries and cream – scientists warn of looming food shortages, mass displacement and war."
"We face new pandemics, economic inflation and increasingly authoritarian governments that will try to quell unrest.
"This is a crisis and a crisis response is needed. I want a secure future, not just for my grandchildren, but for all children around the world and for generations to come."
Another Just Stop Oil protester who stormed the court was Simon Milner-Edwards, 66, a retired musician from Manchester.
He said: "I'm here for my grandchildren and everyone else's. I'm not willing to let our politicians destroy everything and let the next generation pick up the pieces.
"The last thing I want to do is spoil people's enjoyment of Wimbledon but at the moment Center Court is about humanity versus oil and gas – and the referee gets every decision wrong.
"How long will it be before we see a McEnroe-level meltdown?"
Breaking news: More to come