Wind Advisory in effect for east Puget Sound lowlands Monday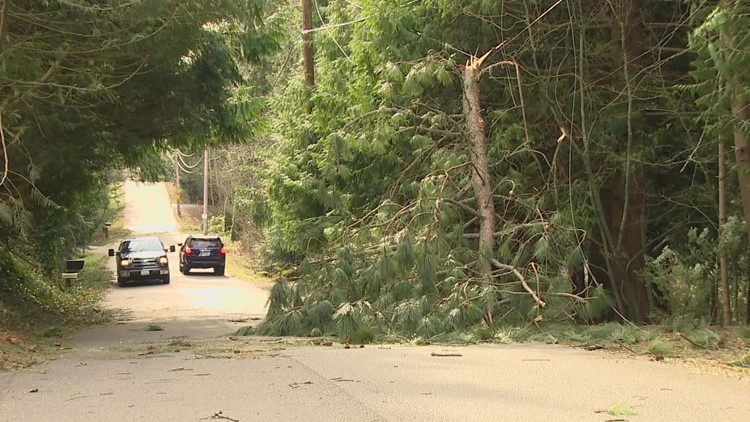 Forecasters say gusts of up to 45 mph are possible this morning.
SEATTLE — A Wind Warning for the lowlands east of Puget Sound in effect until Monday afternoon, with gusts of nearly 50 mph (mph).
The Seattle National Weather Service issued a Wind Advisory for the lowlands east of Puget Sound, beginning at 6 a.m. and lasting until about noon Monday. Forecasters say there will be southeasterly winds of 25 to 35 mph, with gusts of up to 45 mph expected. The strongest winds are expected in the North Bend area.
NWS Seattle said winds will move south and weaken Monday afternoon and evening.
NWS Seattle said in its advisory, strong winds could blow around unsecured objects, tree branches could break and some power outages could occur. Puget Sound Energy reported 13,266 people without power at 8:30 a.m
Weather officials advise securing outdoor items and exercising extreme caution when driving.
Forecast for this week
Tuesday: A few showers early in the morning, then the sky cleared. About 50 tall.
Wednesday: Sunshine in the morning, rain increasing in the afternoon. Almost 50 tall.
Thursday Friday: Rain, which can sometimes be heavy on both days as an atmospheric river winds through the area. There is a possibility of local flooding and flooding of some rivers. It will also be blustery at the time. High temperatures remain in the upper 40s to mid-50s.
Saturday: Turn off and shower. About 50 tall.
Sunday: Rain is increasing. About 50 tall.
https://www.king5.com/article/weather/wind-advisory-east-puget-sound-lowlands/281-e9fe8134-7822-4250-bc65-0b4cc9da34f6 Wind Advisory in effect for east Puget Sound lowlands Monday