Wind farm workers evacuated after offshore turbine catches fire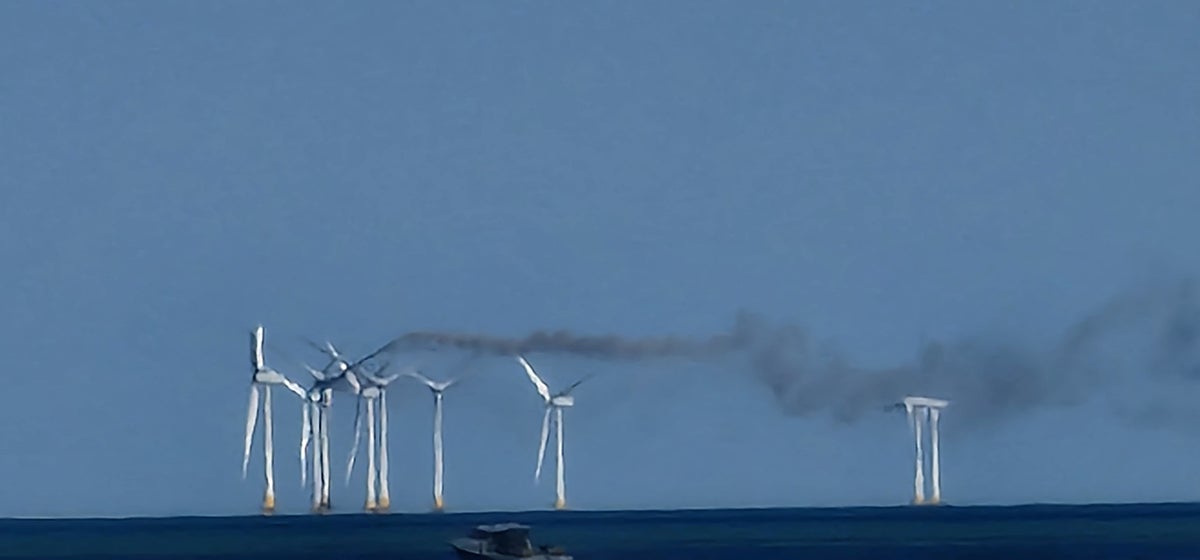 Workers at a wind farm in Norfolk were evacuated Tuesday morning after an offshore turbine caught fire and plumes of black smoke billowed into the sky.
Part of a wind turbine at the Scroby Sands site caught fire around 10.50am this morning and a witness said he saw the smoke coming from Lowestoft, East Suffolk – about 10 miles away.
Filmmaker Liam Killett, 29, said he was "surprised and shocked" when he saw the smoke as he was walking on a break from work. "I was just starting my lunchtime walk when I saw this and snapped it right away," he said.
"[I was]We were surprised that there were no service boats but assumed they were on the move as we had seen such a busy service area around these boats lately."
He added: "[In the] Several ships have been out there in the past few weeks. I saw that the fire was on the way down and not up so I didn't report it. "When I finished my hiking route I stopped by again for one last look and it had stopped.
A family, who asked not to be named, said they arrived at the beach around 10:50 a.m. "The turbine was already on fire at this point," said the woman Eastern Daily Press.
"We could see things falling off the back of the tip and also going into the sea." The woman added that the hoisting equipment was closer to the wind farm at the time, but not near the turbine.
RWE, the Germany-based company that runs the turbines and is about 2.5km off the coast of Great Yarmouth, said its entire staff had been evacuated and held accountable and that it immediately called the emergency services and the UK Coastguard The situation was under control and was being monitored.
A spokesman for RWE, which operates the turbines, said the fire, which was extinguished, was started by a component at the top of the turbine.
The turbines were taken out of service so checks could take place. RWE said it hoped they would resume operations and supply power on Wednesday.
The Scroby Sands offshore wind farm was opened by E-ON in 2004. When the site first opened, it had 30 turbines that would provide an estimated 60 MW of renewable energy – enough to power around 41,000 homes.