Windrush compensation scheme plans to be scaled back due to low uptake, minister says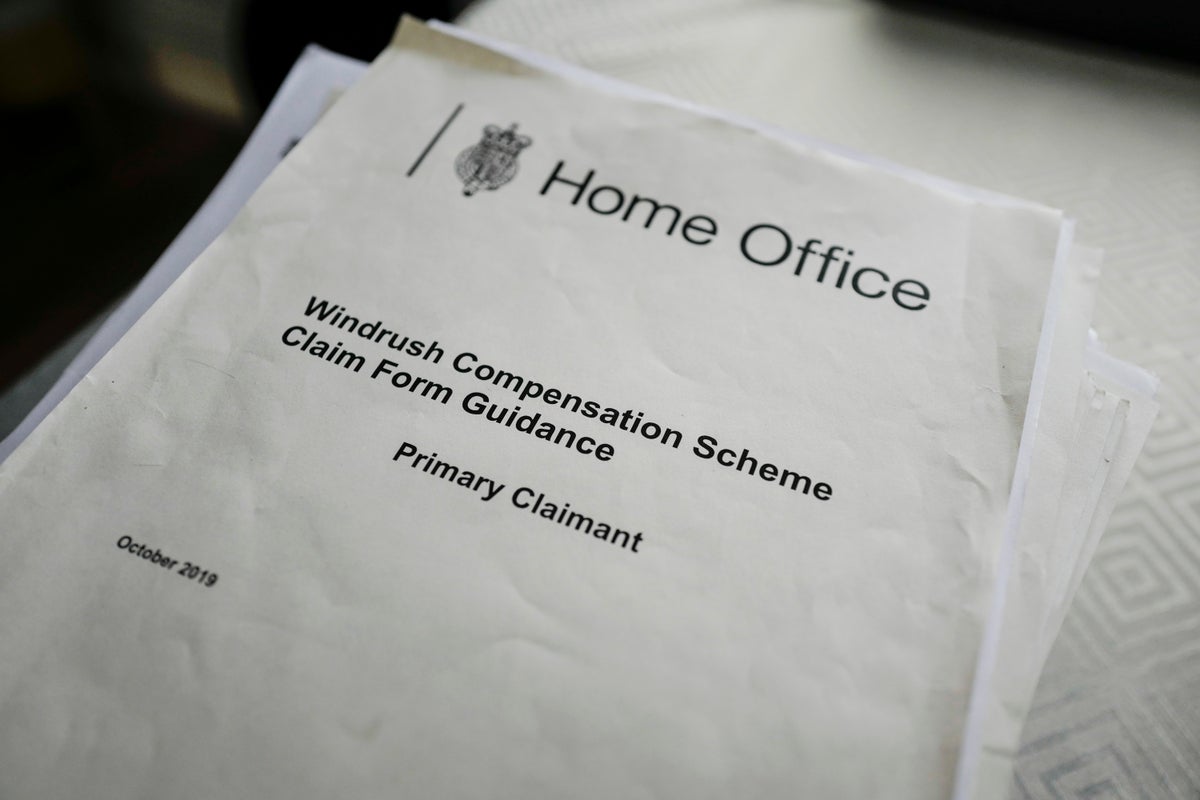 The Home Office is poised to slash its Windrush compensation program because it's not getting enough applicants — although campaigners say it's too difficult to access.
Simon Murray, Member of the House of Lords and Parliamentary Under-Secretary for Migration and Borders, confirmed that projections for the number of victims now expected to receive payments would fall because "significantly fewer applications have been received than originally expected". .
The revelation comes after activists – including Labor MP Marsha de Cordova, Little Mix singer Leigh-Anne Pinnock, celebrity chef Levi Roots and fellow Crossbench fellow Simon Woolley – wrote to Home Secretary Suella Braverman in June demanding an acceleration of the Have demanded payouts as delays have meant dozens of people have died before receiving compensation.
In a letter, Lord Murray said: "Despite extensive ongoing public relations work, significantly fewer claims have been received than originally expected." Given this experience and information, the Home Office reduced its original planning assumption first to 11,500 and then to 4,000-6,000 and published an updated impact assessment in February 2020 ."
According to the Government, since the scheme was launched in 2019, £65.78m has been paid out on 1,757 claims and a further £11.98m has been offered.
But there have been significant delays: nearly a fifth of those who received payments last year waited over a year and the number of people who died waiting for payments has almost doubled in two years.
Roland Houslin, 54, was born in the UK but moved to Jamaica with his parents in 1973. His family were repeatedly prevented from returning to Britain from 1975 because they had been out of the country for two years, which caused them significant hardship.
This "two-year rule" was enforced by the Immigration Act 1971, which came into force in 1973 and is responsible for the separation of many British-Caribbean families. Mr Houslin eventually moved back to the UK in 1988, however his parents were never able to.
In 2021, he applied for the compensation settlement along with his elderly mother, but their claims were denied due to "insufficient evidence". For applicants who, like Mr Houslin, were born in the UK and subsequently locked out of the country, there is no element of the system, which causes delays, he said.
Mr Houslin said problems in providing the documents required by the Home Office meant his application and that of his mother were still being processed.
"For the Home Office, it's all about the looks and giving the impression that the system works even when it doesn't," he said The Independent. "The system is offensive to applicants, but also abusive."
When approaching The IndependentThe Home Office refused to give any assurances that cutting the scheme would not have an adverse impact on applicants.
In response to the minister's letter, Ms de Cordova said: "Rather than taking responsibility for the lack of confidence many have in the Home Office, it is instead reducing its planning assumptions on the number of estimated Windrush claimants." That is totally unacceptable.
"The government must commit to giving the victims of the Windrush scandal the compensation they deserve."
dr Wanda Wyporska, executive director of the Black Equity Organization, said The Independent The Home Office had overseen a compensation scheme that was "so bureaucratic and complicated" that some victims died before their cases could be resolved, while others were too "traumatized and intimidated" to apply.
"Rather than scaling back the program, the Home Office should hand over its administration to an independent body focused on quickly righting the wrongs done to the Windrush generation and giving them the compensation they deserve." Blaming the victims is unacceptable." , added her.
Lord Murray's letter also appeared to downplay the impact of the scandal on victims, implying that thousands of plaintiffs had not suffered discrimination and therefore did not need to seek compensation.
"Although as of Q1 2023 more than 16,200 people had been provided with documentation confirming their status or UK citizenship, experience shows that many of them have not suffered any loss or disadvantage because they were unable to prove their legal status in the UK "I did not have to make a claim claim damages," he wrote.
It comes months after Human Rights Watch released a scathing report criticizing the government for operating a compensation system that places an undue burden of proof on it.
The charity said requiring applicants to prove they could not get a job due to their lack of legal status was unreasonable as it could require searching for a potential former employer, which may not be possible.
In his letter, Lord Murray dismissed Human Rights Watch's concerns.
L'myah Sherae, co-founder of the all-party faction for racial equality in education, said The Independent Lord Murray's comments "made it abundantly clear" that the Home Office does not understand the needs and experiences of the Windrush community.
"The Department's statement that 'many of them have suffered no loss or disadvantage' is completely deaf and completely disregards the real, lived experiences of thousands of black Britons here in the UK," she said.
It's not the first time the Home Office has scaled back the rule. In 2020, the estimated payout total was reduced from £112m to £86m.
And in June of that year it emerged that the Home Office had disbanded the department tasked with reforming the department to prevent a repeat of the Windrush scandal after Ms Braverman relinquished key commitments that would have strengthened independent scrutiny of immigration policy.
Ministers have previously acknowledged that distrust of the government is one reason for the low take-up – but there is no concrete action plan on how the ministry intends to tackle the problem.
The department has previously been criticized for lowering its assumptions based on low application numbers, rather than trying to understand the reasons for the disparity.
A Home Office spokesman said: "The whole of Government remains absolutely committed to righting the wrongs of the Windrush scandal and we have already paid or offered more than £77m in compensation to those affected."
"We continue to improve the compensation system so that people receive maximum compensation as quickly as possible, but we know there is more work to be done and will work tirelessly to ensure such an injustice is never repeated."