Wing Luke calls for community, unity after windows smashed at museum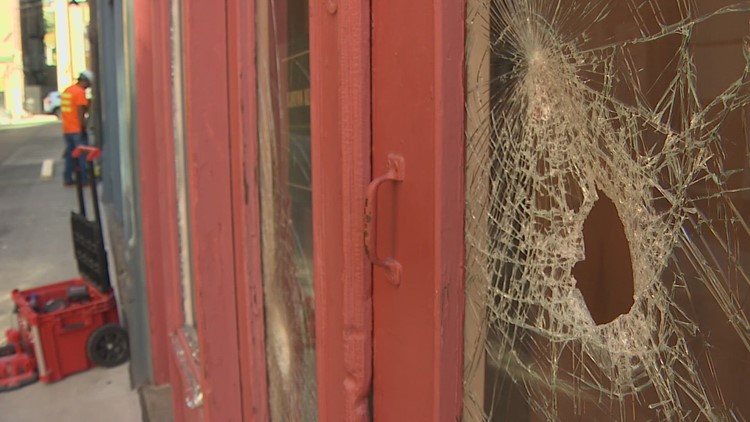 Seattle police said they arrested a suspect on suspicion of committing a hate crime and causing property damage.
SEATTLE — Staff at Wing Luke Museum are healing together after what police describe as a hate crime that occurred in Seattle's Chinatown International District's historic Canton Alley.
They hope community members will support the museum by revisiting and spending time in the neighborhood, and participating in programming and storytelling following the recent vandalism.
"Safety is not the absence of any type of danger but the presence of our connectivity," said Wing Luke director Joël Barraquiel Tan. "We can create safety by being together more often and with more people, and ultimately, that will bring more dignity to everyone – which is the whole point of this moment . How can we bring more dignity to people during these confusing times?"
The Seattle Police Department (SPD) said they responded to the area around 6 p.m. Thursday night after receiving multiple 911 calls reporting a man with a sledgehammer destroying windows and screaming. racial slurs.
When police arrived, SPD said the suspect was still at the scene and told police that "the Chinese did the torture." [me] for many years and [I have] to do something." According to police, he destroyed about 10 windows worth about $100,000.
According to police, the suspect was arrested for a hate crime and first-degree malicious vandalism or property damage.
"It is within our historic Canton Alley that is the cultural center of, at least the Chinese American community here, if not the entire neighborhood," Tan said. "It's the geographic center of our neighborhood."
Stan Shikuma, co-president of the Seattle branch of the Japanese American Citizens League, said an after-hours event was going on inside when the vandalism occurred Thursday night.
"We heard glass breaking, someone looked outside and said, 'There's someone with a sledgehammer,' so the employees ran outside to see what was going on," Shikuma said. "The person with the sledgehammer was just standing against the wall, he was just holding the sledgehammer in one hand and the employee was trying to talk to him."
Shikuma said that some people reacted with fear, others were angry about someone attacking the Wing Luke Museum. He's concerned about another incident of someone acting out of anti-Asian hatred.
"We can lock him up and take him away but how many more are there ready to attack?" Shikuma said. "That's what we're really concerned about – that the situation appears to be escalating. And all we get is platitudes, we don't have any real plan, that will change the situation."
Shikuma said the incident underscores what he believes is the need for leadership to do more, to provide more support to the CID community through law enforcement, policy changes and broader social transformation.
A judge ordered $30,000 bail for the suspect on Friday. The King County Prosecutor's Office will review the information once received to make a charging decision.
On Friday, Tan spends most of the day with the staff. He said he's currently focused on upcoming events, including an ongoing storytelling project called the Chinese American Heritage Art Project.
He encouraged everyone to support the museum by: Donate online or come to upcoming shows.
"Overcome the fear that is often perpetuated by story after story about how this neighborhood is dying – which completely ignores the renaissance, the rejuvenation, the great new businesses great, youth programs, food bank programs, arts coming up." here because we know that, living and working in this neighborhood, the rejuvenation and renaissance is already here," Tan said. "We work so hard to create these joyful experiences but we are often overwhelmed by the fear out there and are engulfed by story after story that only shows shortcomings. "
This Sunday, September 17, the museum will host an event related to Wing Luke's sister, Aunt Bettie Luke.
She and Stewart Wong will share stories related to the exclusion of Chinese Americans and discuss the Chinese American Heritage Artwork Project that aims to shed light on the exclusion of Chinese people.