Witnesses recall what it was like inside South Korea crowd crush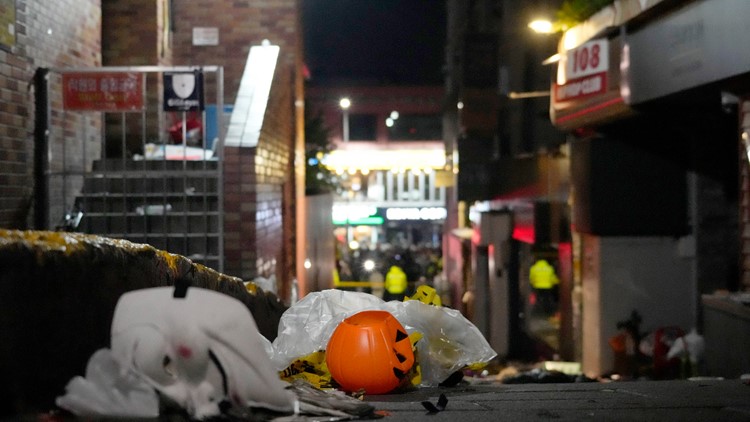 The turmoil was so intense, people's clothes were ripped off.
SEOUL, South Korea – For a moment, thousands of Halloween revelers crowded the narrow, vibrant streets of Seoul's most cosmopolitan neighborhood, eager to show off their capes, witch hats and bat wings.
Next, a wave of panic spread as an uncontrollable mass of people swarmed into a narrow alley in Itaewon. Hilarious players were trapped for 40 minutes, stacked "like dominoes" in a frenzy so intense that their clothes were ripped off.
A stunned Seoul was just beginning on Monday when the massive gathering of crowds on Saturday night killed at least 153 people, mostly people in their 20s and 30s, including citizens. foreign. The Department of Home Affairs and Safety said it expected more deaths as more than 130 people were injured, many in serious condition.
Witnesses described a horrifying scene as people performed CPR on the dying and carried limp bodies to ambulances, while dance music blared from colorful clubs. lit with neon lights. Others try desperately to pull those trapped at the bottom of people's hearts, but often fail because too many people fall on top of them.
One survivor, surnamed Lee, said: "We were so glued together that we couldn't call out and report the situation. "We were strangers, but we held hands and kept shouting, 'Stay alive!'"
Kim Mi Sung, who works for a nonprofit in Itaewon, told The Associated Press that 9 out of 10 people she gave CPR eventually died. Many people have nose and mouth bleeding. Most are women dressed as witches or in other Halloween costumes; two are foreigners.
"It was like hell," Kim said. "I still can't believe what happened."
In this highly wired, high-tech country, anguish, horror and grief – as well as many details of what happened – are at their most vivid on social media. Users posted the announcements desperately searching for friends and loved ones, as witnesses and survivors describe what they've been through.
"I thought I was going to die," one woman said in a Twitter post. "My whole body was trapped among other people, while everyone laughed from the rooftop and videoed us. I thought I would really die if I cried. I spread my arms to (others) above me and I tried to get out. "
An unidentified woman in her 20s cried as she described the scene to Yonhap news agency: "It looked like people's graves piled on top of each other. Some of them gradually lost consciousness and others appeared to be dead. "
One man, surnamed Kong, said he managed to escape to a nearby bar with his friends after the affair happened. He saw through the bar window that people were pouring on each other's heads "like dominoes", Yonhap reported.
When a 27-year-old office worker, who gave only his last name, Choi, left the bar he had been to during his infatuation, he saw dozens of policemen and medical staff. "It looks like a war zone," he said.
The bodies of 10 to 15 people lined up in front of the King Kebab restaurant on the asphalt and covered with blue tarps as he passed.
"It looked like they were asleep – eyes closed, mouth open. They look like mannequins," Choi said.
Friends and family members gathered at a local government office to try to find information about the missing person.
One Twitter user posted a series of messages asking for information about a 17-year-old friend who had come to Itaewon for a celebration wearing a headband that looked like cat ears.
"I lost contact with her. She's been my friend for 12 years, and we're like family. Please help me," the message read.
Even after the collision, eyewitnesses said they saw some playful people not giving way to emergency vehicles, rescuers and police. A video clip that went viral on Twitter showing a crowd of young men dancing and singing near the massacre drew insults from South Koreans.
Ken Fallas, a Costa Rican architect who has worked in Seoul for the past 8 years, was stunned to see dozens or more mindless partygoers carried out from a side street. packed with young men dressed as movie characters.
Fallas said police and emergency personnel begged people to step up if they knew how to give CPR because they were overwhelmed by the large number of people injured.
"I've seen a lot of (young) people laugh, but I don't think they're (really) smiling because you know what's funny?" Fallas said. "They laughed because they were so scared. Because to stand in front of such a thing is not easy. Not everyone knows how to handle that."
https://www.king5.com/article/news/nation-world/witnesses-describe-south-korean-crush/507-9c75da99-2c62-4c15-b5fc-8b3d5d004c96 Witnesses recall what it was like inside South Korea crowd crush