WNBA Star Brittney Griner Detained in Russia: What to Know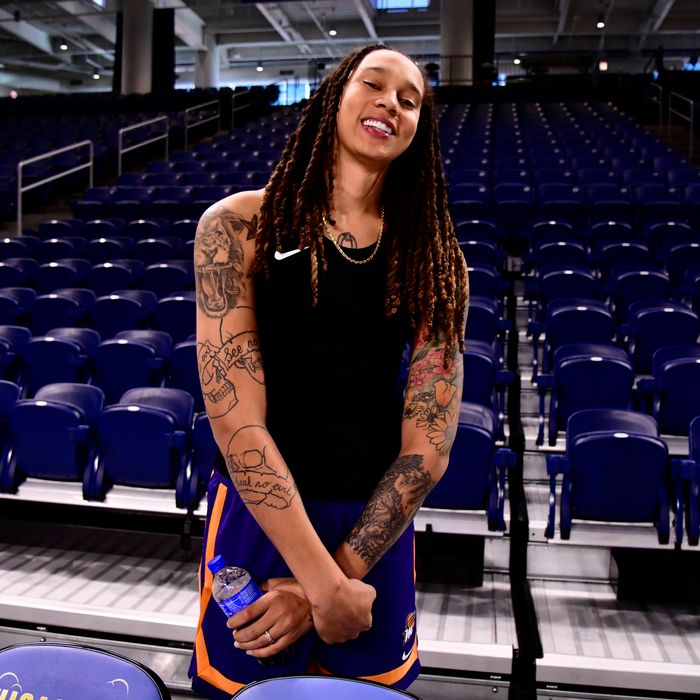 Photo: Barry Gossage/NBAE via Getty Images
As tensions between the U.S. and Russia continue to rise amid the latter's invasion of Ukraine, an American WNBA star has been detained in Russia for months. Brittney Griner, the two-time Olympic gold-medalist who plays for the Phoenix Mercury in the WNBA and for Russia's UMMC Ekaterinburg during the off-season, was arrested on drug charges in February after customs found vape cartridges in her luggage at the airport. On August 4 — almost one month after Griner pleaded guilty — a Russian court convicted her of drug smuggling and sentenced her to nine years in a penal colony. Griner's legal team has since appealed the verdict; now, a Russian court has set her appeal date for October 25. Here, everything to know about her case:
Russia first announced Griner's detention on March 6, telling the world it had an American basketball player in custody. The player was later identified as Griner, and footage allegedly showing her stop at Customs was released. According to the New York Times, Russian law enforcement claimed Griner had been found with vape cartridges containing hashish oil and opened a criminal case against her on drug-smuggling charges, which carry a jail sentence of up to ten years in a penal colony.
After Russia announced Griner's arrest, her agent, Lindsay Kagawa Colas, told ESPN they were "in close contact with her, her legal representation in Russia, her family, her teams, and the WNBA and NBA." Colas's statement continued, "As this is an ongoing legal matter, we are not able to comment further on the specifics of her case, but can confirm that as we work to get her home, her mental and physical health remain our primary concern." Griner's wife, Cherelle Griner, also released a statement on Instagram thanking fans for their "prayers and support" and asking for privacy. Meanwhile, the WNBA released a statement offering Griner its "full support" and noting, "Our main priority is her swift and safe return to the United States." Phoenix Mercury and USA Basketball released similar statements.
Griner's arrest in Russia is especially troubling given her high-profile status as an American athlete and her identity as an LGBTQ+ Black woman. Russian president Vladimir Putin has taken an active stance against LGBTQ+ rights, having declared in 2020 that he would never legalize same-sex marriage in the country.
U.S. secretary of State Antony Blinken acknowledged Griner's arrest during a March 6 press conference, saying, "Whenever an American is detained anywhere in the world, we of course stand ready to provide every possible assistance. And that includes in Russia."
While coordinated efforts to secure Griner's freedom have remained private, a spokesperson for the U.S. State Department claims the department has been "doing everything we can" to support Griner and work toward her safe release. On March 23, consular officials reportedly visited Griner in the cell she shares with two Russian inmates. While government officials are choosing to work quietly on Griner's case for fear that overpublicizing it will adversely affect her detention, many of Griner's supporters are outraged that the government isn't waging a louder campaign for her freedom.
In April, the Biden administration announced that Trevor Reed — a U.S. Marine veteran who has been detained in Russia since 2019 — had been released as part of a prisoner swap between Russia and the U.S., renewing scrutiny of Griner's case. In June, a spokesperson for the Kremlin denied Griner was being held hostage or used as a political pawn, telling NBC in an interview that she was no different from "hundreds and hundreds of Russian citizens that were sentenced for carrying hashish." The spokesperson added, "Why should we make an exception for a foreign citizen?"
Griner's detention was extended multiple times, which the Times reports is typical of Russian courts. In June, dozens of organizations representing women, people of color, and LGBTQ voters sent a letter to the Biden administration, urging it to negotiate a deal for Griner's release as she "continues to endure inhumane treatment, deprived of contact with her family." On June 27, Griner's lawyer told the Times Griner had "no complaints" about her detention conditions.
During her July 7 court appearance — which took place hours after a Russian foreign minister reportedly accused the Biden administration of trying to "foment hype" over Griner's case — Griner admitted she brought cannabis into Russia but said she didn't mean to break the law. "There was no intent," Griner told the court. "I'd like to give my testimony later. I need time to prepare." Experts in Russian law believe admitting guilt is the best strategy to secure a lesser sentence; per CBS, it's also a necessary prerequisite to a potential prisoner exchange.
On July 4, Griner's family delivered a handwritten letter from the basketball player to President Joe Biden. "As I sit here in a Russian prison, alone with my thoughts and without the protection of my wife, family, friends, Olympic jersey or any accomplishments, I'm terrified I might be here forever," Griner wrote. "I realize you are dealing with so much, but please don't forget about me and the other American detainees. Please do all you can to bring us home."
Griner reportedly told Biden she voted for him in 2020 — her first time voting in a presidential race. "I believe in you. I still have so much good to do with my freedom that you can help restore," she wrote.
The White House confirmed Biden received the letter, with press secretary Karine Jean-Pierre saying the issue was "very personal to him." When reached for comment by the Times, Adrienne Watson, a spokeswoman for the National Security Council, stressed that the government "continues to work aggressively" for Griner's release and said that the "president's team" was in contact with Griner's family but that whatever relationship they had seems to be devolving.
Griner's wife, Cherelle Griner, appeared on CBS Mornings on July 5 to defend her wife against Russia's allegations of drug trafficking and express her disappointment in Biden. Cherelle said that while she doesn't know why her wife decided to write to Biden directly, she suspected it was because of his past failure to meet with her family directly. "I think the decision for her to feel the need to directly reach out to President Biden is because the failed attempts that we have had as a family," she said, adding that in her letters, Griner frequently asked whether Cherelle had been able to meet with Biden. She added that she was "terrified" for her wife and her mental health after seeing photos of her during her first court appearance.
While she previously kept her media appearances and communications to a minimum, Cherelle Griner said she was done being quiet. "I did that, and respectfully, we're over 140 days at this point — that does not work. And so I will not be quiet anymore," she said. "They are not moving, they are not doing anything, and so my wife is struggling, and we have to help her." According to a statement released by the White House, Cherelle spoke on the phone with Biden and Vice-President Kamala Harris in early July. Biden reportedly assured her he is "working to secure" Griner's freedom and read her a draft of a letter he planned to send her.
Griner appeared in court in July as her trial continued with expert testimony on the medicinal use of cannabis. Griner's defense previously presented a letter from a U.S. doctor recommending that the athlete use medical cannabis to treat chronic pain, but it's unclear if this will help her case, as all cannabis use is illegal in Russia. Other witnesses for the defense, as reported by ABC News, included the UMMC team doctor, who testified that Griner never tested positive for drugs while playing for the Russian club team.
Griner held up photos of her wife, teammates, and friends in court, using her court appearance to send a message to her wife, Cherelle, who just graduated law school. "Good luck on the bar exam," she told an ABC News reporter. When asked if she had any complaints in her detainment, she said, "No, no complaints. Just waiting patiently." Elizabeth Rood, the U.S. Embassy's charge d'affaires, told reporters that Griner "confirms that she is doing okay and as well as can be expected under these circumstances."
Griner testified that she was not read her rights when she was taken into custody at a Moscow airport in February, and that she did not know she was being detained. Per the Washington Post, Griner said a translator present at the airport told her where to go but did not explain what was happening, and that officials made her sign documents without telling her what they meant. Griner told the court that her passport and phone were confiscated, and that she was forbidden from seeing her lawyers until the following morning. "At that point I felt like I was being held against my will," said Griner, who also testified that the translation provided to her during her months under Russian investigation was lacking. "I remember one time there was a stack of papers that [the translator] needed to translate for me," recalled Griner. "He took a brief look and then said the exact words were, 'Basically, you are guilty.'" Echoing her legal team's argument that she used cannabis oil to treat inflammation from sports-related injuries, Griner said she knew she was not allowed to carry the cartridges through the airport and again emphasized that she packed them accidentally. "I had no intention of breaking the law," she told the court.
At a news conference in Washington, D.C., in July, Secretary of State Antony J. Blinken announced that the U.S. has proposed trading an imprisoned Russian arms dealer, Viktor Bout, in exchange for the release of Griner and Paul Whelan, another U.S. detainee in Russia. Per Blinken, the "substantial proposal" was backed by Biden and put forward in June, and the U.S. and Russia have "communicated repeatedly and directly" about it since. The Russian Foreign Ministry confirmed the negotiations for the first time last week, with a spokesperson saying negotiations are "being conducted by competent authorities." "I'm hopeful," Biden said, following Russia's public comments. "We're working hard."
In August, a Russian court found Griner guilty of attempting to smuggle illegal narcotics into the country, sentencing her to nine years in a penal colony and issuing a fine of roughly $16,300, according to Griner's lawyers. Although the verdict was widely anticipated — per the Times, Russian courts tend to issue harsher sentences to high-profile foreigners and defendants are rarely acquitted — it arrived after both Griner and her team had appealed for leniency. "I made an honest mistake," Griner told the judge in her testimony before the sentencing, adding, "I hope that in your ruling that it doesn't end my life here." Griner's freedom is now contingent on diplomatic negotiations between the U.S. and Russia, namely a potential prisoner swap. Her legal team called the guilty verdict "absolutely unreasonable," and filed an appeal, arguing that the Russian court committed "serious procedural violations" during Griner's arrest, investigation, and detention. While a date for the appeal has been set, per the Times, it could still take months to adjudicate. Griner's lawyers have said they will withdraw the appeal if it interferes with ongoing prisoner-swap negotiations.
In a joint statement, the WNBA and NBA commissioners called Griner's guilty verdict "unjustified and unfortunate, but not unexpected," stressing their mutual commitment to her safe return and their hopes that the end of the trial means "we are near the end of this process of finally bringing BG home to the United States." Biden also released a statement, calling Griner's verdict "unacceptable" and calling on Russia "to release her immediately so she can be with her wife, loved ones, friends, and teammates."
A week after Griner's appeal was announced, former NBA star Dennis Rodman told NBC News that he would be making the trip to Russia to "help that girl," presumably speaking about Griner. "I got permission to go to Russia to help that girl," he said, adding, "I'm trying to go this week. It's unclear whether he actually received any formal approval by the government (which is still trying to negotiate for her release) for his trip, though he wouldn't technically need official permission to visit Russia. Besides, it wouldn't be the first time Rodman has seemingly taken international relations in his own hands. He famously formed a relationship with North Korea's Kim Jong Un, and has reportedly called Putin "cool."
After months of requests, Biden finally met with Cherelle Griner in September, though negotiations for Brittney's freedom — and that of Paul Whelan, whose family the president is also scheduled to meet — appear to be at an impasse. "While I would love to say that the purpose of this meeting is to inform the families that the Russians have accepted our offer and we are bringing their loved ones home, that is not what we're seeing in these negotiations at this time," White House press secretary Karine Jean-Pierre said during a press conference on September 15. "The president wanted to make sure that their families understood that they were front of mind and that his team was working tirelessly to get Brittney and Paul home safely." Following Griner's guilty conviction, her lawyers told People that she was "stressed and very much concerned with her future." After meeting with Biden, Cherelle Griner said in a statement that she was honored to speak with the president about "the Brittney we know and love." She expressed her pain over her wife's detention: "I've felt every minute of the grueling seven months without her," said Cherelle. "I look forward to the day my wife is back home."
This post has been updated.
https://www.thecut.com/2022/10/russia-arrests-wnba-star-brittney-griner-on-drug-charges.html WNBA Star Brittney Griner Detained in Russia: What to Know