WNBA star Brittney Griner makes direct appeal to President Biden for her freedom, asks in letter to 'please don't forget about me'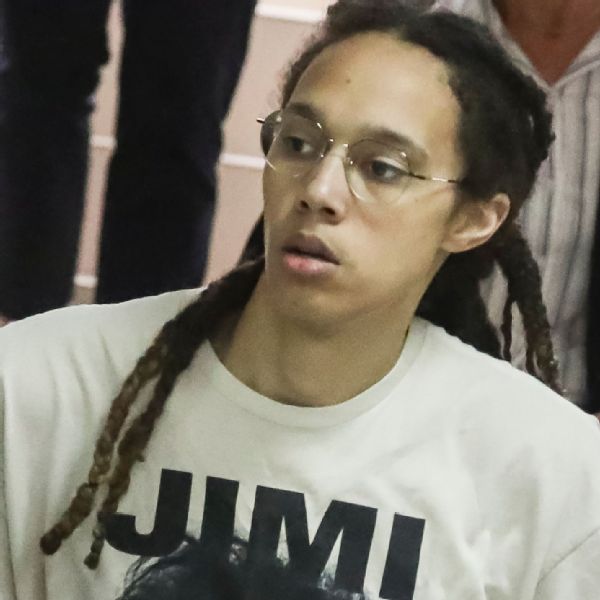 Brittney Griner appealed directly to President Joe Biden for her freedom Monday in a letter forwarded by her representatives, writing, "I'm afraid I might be here forever."
"I realize you are involved in so much, but please don't forget about me and the other detainees," read an excerpt released by the WNBA star's officials. "Please do whatever you can to bring us home."
The letter, described as handwritten, also notes her father's military service.
"On July 4th, our family typically honors the service of those men who fought for our freedom, including my father, who is a Vietnam War veteran," reads another excerpt. "It hurts to think how I usually celebrate this day because freedom means something very different to me this year."
Griner's trial for attempting to smuggle vape cartridges containing hash oil into Russia began Friday. Legal experts and US officials have described the trial as a "show trial" that is certain to result in a conviction and a lengthy prison sentence. The process has been described as a bargaining tactic used by the Russian government to swap them out in a prisoner swap.
A Griner representative said they would not release the entire letter or details of how it got to the White House from Griner's prison cell outside of Moscow. Griner, who has been detained since mid-February, was able to send and receive messages to friends and family through her Russian lawyers, although all messages were monitored by Russian officials.
The White House National Security Council confirmed that the White House received Griner's letter.
"We believe the Russian Federation is wrongly holding Brittney Griner," NSC spokeswoman Adrienne Watson said Monday. "President Biden has made it clear that all US citizens held hostage or wrongfully detained abroad must be released, including Brittney Griner. The U.S. government continues to work aggressively — by any means available — to bring them home."
Griner's family and supporters have tried to increase pressure on the White House and the US State Department to negotiate a deal that would bring them home. Russian state media, which usually work under direct government orders, have reported that there are discussions about swapping Griner for a Russian named Viktor Bout, who is serving a 25-year sentence on terrorism financing charges. US officials have also said they are trying to secure the release of another American, Paul Whelan, who has been in Russian custody since December 2018.
Griner's trial is scheduled to continue on Thursday. She has yet to file a plea, but sources familiar with her case said there was a strong chance she would plead guilty, knowing Russian officials would demand an admission of guilt as part of a deal to get her to send home.
Other parts of the letter read: "Sitting here in a Russian prison, alone with my thoughts and without the protection of my wife, family, friends, Olympic jersey or any accomplishments, I fear that I may be here forever. "
She also wrote: "I voted for the first time in 2020 and I voted for you. I believe in you. I have so much good left to do with my freedom that you can help restore it. I miss my wife! I miss my family ! I miss my teammates! It kills me to know they are suffering right now. I am grateful for anything you can do at this moment to bring me home.
The Associated Press contributed to this report.
https://www.espn.com/wnba/story/_/id/34193867/wnba-star-brittney-griner-makes-direct-appeal-president-biden-freedom-asks-letter-please-forget-me WNBA star Brittney Griner makes direct appeal to President Biden for her freedom, asks in letter to 'please don't forget about me'