Wolf, lawmakers launch budget season with billions to spend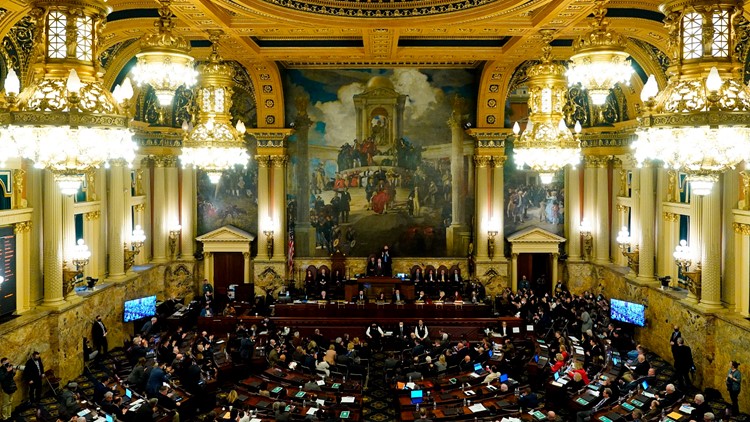 Putting together a spending plan for the fiscal year beginning July 1 will come in the shadow of partisan struggles over abortion rights and gun violence.
PENNSYLVANIA, USA — Editor's Note: The video above is from March 28th.
Pennsylvania Gov. Tom Wolf and state legislatures enter their busiest period: the horse-trading and budgeting weeks of June, unlike any other this year has been remembered, with billions of additional dollars to be distributed.
It's a particularly unusual place for a state largely in deficit since the Great Recession, struggling with a shrinking workforce and a rapidly expanding elderly population.
Of course, there is no lack of demands on the money.
"It should be easy for me, but it boils down to — and I'll be honest — if everybody has money, they want to spend every last dollar," said House Appropriations Committee Chairman Stan Saylor, R-York.
Putting together a spending plan for the fiscal year that begins July 1 will play out in the shadow of partisan fighting over abortion rights, gun violence and proposed constitutional changes Republicans are leading as a political path around Wolf's veto pen.
Wolf, a Democrat serving his final year in office, kicked off the fiscal season in February with a $43.7 billion proposal to the Republican-controlled Legislature. Its dominant feature is a call for about $1.8 billion, or about one-fifth more, for public school instruction, operations, and special education. The aggressive request crowns a hallmark of his tenure: a campaign to eliminate profound funding disparities between the poorest and wealthiest public school districts.
How much Republican lawmakers are willing to approve could determine how willing Wolf is to align with GOP budget priorities.
Other key proposals from Wolf include using federal coronavirus aid to send $2,000 checks to households making less than $80,000 a year — an idea that didn't catch on with Republicans — and a $200 million scholarship program to bolster the state's shrinking public university system.
Since taking office in 2015, Wolf has pushed for reducing Pennsylvania's corporate tax rate — one of the highest in the country — but with structural changes to tackle tax avoidance that the Pennsylvania Chamber of Business and Industry opposed.
This year, the Chamber and Wolf are optimistic about a compromise.
Wolf's office says his plans are a "historic opportunity to make Pennsylvania a more desirable place to live and work."
Republican leaders in the House and Senate worked on a joint counter-proposal over the weekend and are poised to send more money to public schools. But nowhere near the level that Wolf wants.
They preach caution and worry about projections that the economy is headed for a slowdown.
The state's bank accounts are now – by some estimates – carrying $12 billion in reserves and surpluses.
This is a revenue bubble," said Rep. Jesse Topper, R-Bedford, vice chair of the House Appropriations Committee.
"It's unprecedented and unsustainable," Topper said. "So how do we go about using this money in a way that really helps set a good course for the future as the inevitable rough seas draw near?"
A few billion in leftover federal coronavirus aid needs to be spent by the end of 2024, and lawmakers expect it to be fully allocated this month. Water and sanitation projects, state lands, and businesses affected by the pandemic are likely to get some.
In the meantime, billions in government reserves will be needed to support spending next year.
There are other major demands on the state.
Nursing homes are warning of more closures without an increase in the long-stagnant Medicaid reimbursement rate.
The counties' #1 priority is to achieve the restoration of decades of state aid cuts to mental health services — a growing need that has been spotlighted by the COVID-19 pandemic and mass shootings.
Meanwhile, the difficulty of finding workers to care for children, the elderly and the disabled is leading budget holders to consider more subsidies for these jobs.
Saylor said his goal is to have at least $5 billion in reserve "or the next governor is going to have a very difficult time."
In many ways, the billions of dollars in additional cash are making lawmakers open to things they've been opposed to for years.
Wolf's office and lawmakers are looking for ways to rip off patches — like borrowing and late payments — that they applied to the state's finances during lean times.
The National Federation of Independent Business has been trying for years to improve how members submit sales tax receipts and relax spending limits on purchases. This year, Pennsylvania state director Greg Moreland is more optimistic than ever.
"I'm going to be pretty disappointed, to be honest, if we don't see anything big in the small business budget this year," Moreland said. "The timing is right. The income looks good. They can no longer use that as an excuse."
Download the FOX43 app here.
https://www.fox43.com/article/news/politics/budget-pennsylvania-tom-wolf-lawmakers/521-ef448db9-22a2-4c48-9d95-a73ba68c5365 Wolf, lawmakers launch budget season with billions to spend