Woman diagnosed with skin cancer after spotting telltale sign in selfie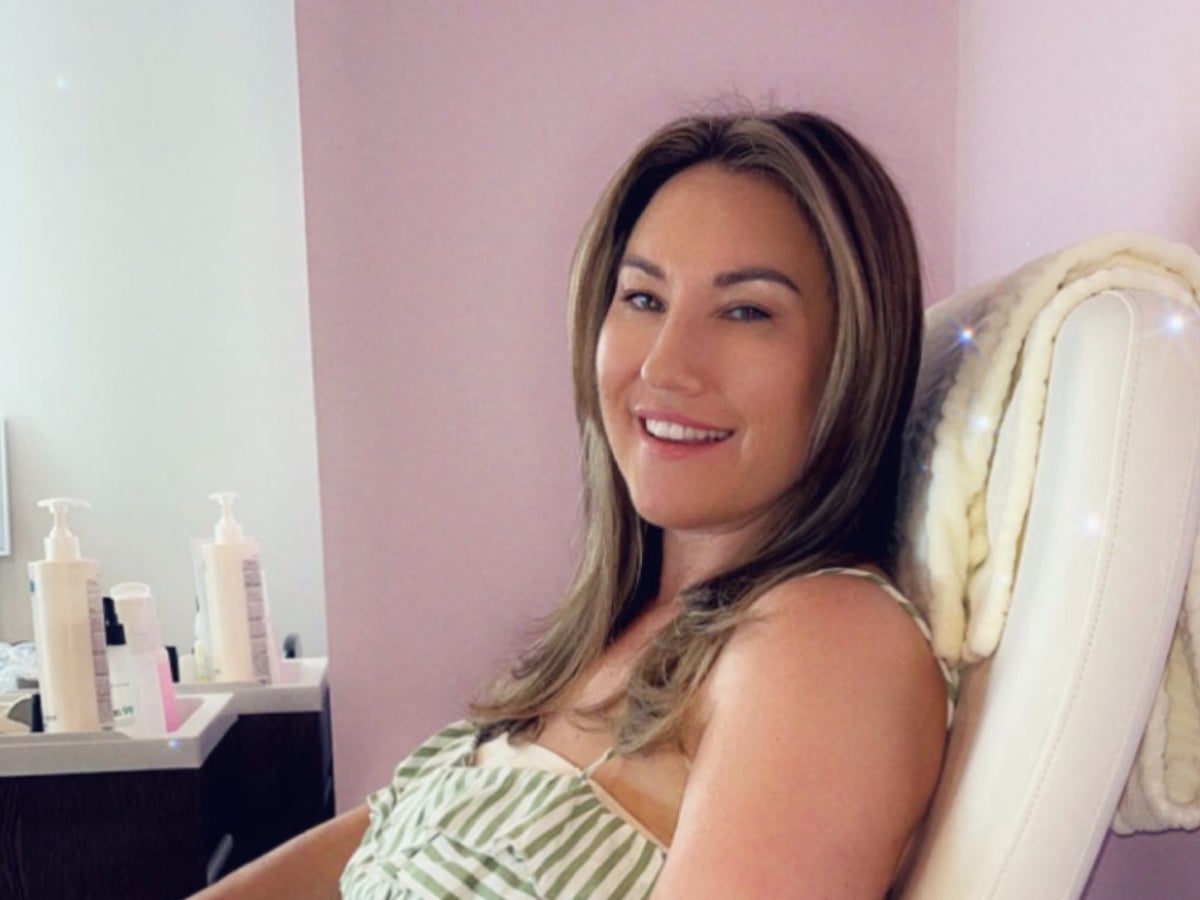 A Woman who uses sunbeds Almost every day for years and she was diagnosed with "a very aggressive form of…". skin cancer' leaving her with 'a large horseshoe-shaped one' scaron her forehead encouraged people to wear sunscreen and even arranged for her employees to take on-the-job training to protect against skin cancer.
Although Anna McCartney, 43, has been wearing sunscreen for 15 years, she says the damage to her skin started after seven years of regularly tanning in tanning beds.
After taking a selfie in May 2021, Anna, the managing director of Elan Laser Clinics, noticed a bump on her forehead. She sought medical advice and was diagnosed with skin cancer.
Anna, who lives in Liverpool with her nine-year-old daughter Ariana and now has a visible scar on her face, is hoping to warn others about the negative effects of UV rays.
She said: "When I was younger there wasn't any education about sunscreen, largely because I wasn't just a sunbather but — I'm ashamed to say — a sunbed addict."
"Thinking back, I used a tanning bed almost every day from the age of 15 to at least 22 – shocking, I know. If I look forward 20 years, I have paid the price."
"I still love the sun, but now I protect my skin with SPF and wear a hat. The damage I did to my skin wasn't worth the tan. You can buy a bottle of fake tan for £3 and avoid the ordeal I went through."
It was May 2021, almost 20 years after she stopped using tanning beds, when Anna took a selfie for an online skin questionnaire to buy skincare products and noticed an unusual spot on her forehead.
Not sure what it could be, she decided to keep an eye on it.
"Some people would have just written it off, but having suffered from severe acne in my early 20's, I knew this wasn't a normal spot," she said.
"It was like it suddenly appeared overnight, so I kept an eye on it for the next few days."
Anna took a new picture every morning and noticed that the bump was growing.
Concerned, she contacted a plastic surgeon and cancer specialist, who immediately scheduled her for a biopsy.
The following week, Anna received a call from the doctor telling her the lump was cancerous. She was diagnosed with a form of skin cancer known as squamous cell carcinoma.
Anna said: "I was really shocked because my skin healed so quickly after the biopsy that I assumed everything would be fine."
"Hearing the word cancer was terrifying, but I knew I was in safe hands. Luckily it was all caught very early and was treatable."
The then 41-year-old was told she would need a skin graft to remove the cancer.
Anna woke up under local anesthetic and underwent the 30-minute procedure in June 2021.
She said: "When I first saw the post-op scar I was embarrassed. For such a small bump, a large portion of the skin around it had to be removed and I had a large, horseshoe-shaped scar on my forehead.
"When I first saw it under the gauze, I was just stunned. As I got into my girlfriend's car as she picked me up from the hospital, I burst into tears.
"I was just so angry at myself for the damage I had done to my skin to get a tan. This scar will stay with me for the rest of my life and it could have been prevented so easily."
"It was a really scary time and I had a hard time healing.
"The skin was stretched and tense, so I suffered from severe headaches while it was healing."
Despite the difficult recovery, Anna says her post-operative results are "a relief".
Five weeks after the procedure, she was given the all-clear for cancer.
She said: "It's a very aggressive form of skin cancer so I was very fortunate that it was caught early and acted on quickly.
"It was a great relief to get the all-clear."
Anna is now very careful about sun protection and has even organized a training course for her employees on how to protect themselves against skin cancer in the workplace.
"I've been very careful about sun protection for 15 years, but the damage started when I was younger and naive," she said.
"Since my diagnosis, I have become even more aware of the sun and protecting my skin. I wear SPF every day, even on cloudy days."
"I organized a skin cancer awareness training course for the doctors in my company so that they could become more informed and aware when dealing with our customers.
"I'm a big proponent of sun protection and raising skin cancer awareness. It has become something very close to my heart."
Now Anna continues to wear sunscreen every day and hopes to warn others about the negative effects of UV rays.
She added, "The scar on my head is still there and it reminds me every day what an idiot I was when I was younger." Not only could I have prevented this, but I could have saved a lot of money by I would have reversed the aging caused by sunbeds and sun exposure.
"I now have probably three different forms of sun factors in my skin routine on a daily basis. It's in my skincare, makeup base, and true SPF 50.
"I still love the sun but I enjoy it while protecting my skin and wearing a hat. And for those of you who think you can't tan with a high factor: you can!
"Tanbeds should be banned in my opinion, they have no place in the beauty world and they do more harm than a tan is worth."