Women's FA Cup: How Chelsea turned 'the grind' into an art form to extend streak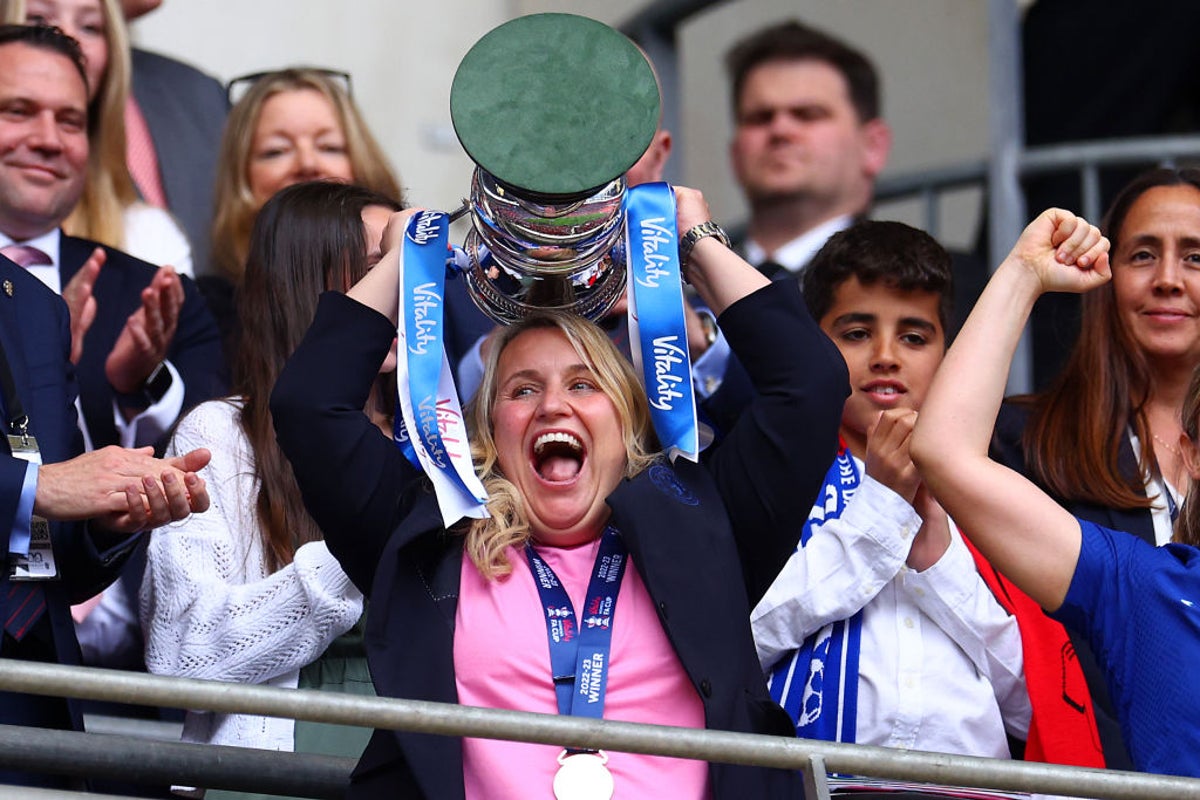 As Emma Hayes pondered a continuation of Chelsea's dominance, the manager came up with a new phrase to sum up the win over Manchester United in the women's FA Cup final. "The Hybrid Monsters," Hayes smiled, deeply content with the performance turning with a snap of his fingers. They throw the dice again and again and after a first-half performance in which Chelsea were clearly second best, there was a reaction that underscored their mentality. Long hailed as a mentality monster, Chelsea have mastered the ability to control games off the ball and then win them with the push of a button.
"Finding ways to win when you're not at your best is always a sign of a great team," Hayes said. Football like this doesn't usually garner a lot of respect, but maybe that's about to change with this Chelsea side. "Sometimes we scoff or look down on winning games like we do," Hayes suggested. "Sometimes you feel like everything has to be perfect." The FA Cup final was not an opportunity given United's strength and the physical demands of the current Chelsea fixture list. "Believe me, it's really difficult to play over and over every three days and play high-dynamic football," Hayes said.
Chelsea were "off" in the first half, Hayes admitted, behind the ball, behind everything. They could have fallen behind within 30 seconds as Leah Galton's disallowed goal was due to Chelsea making the wrong decision in each of the first four stages of the game. After that, Hayes feared it was going to be a long day. As they reached the break, their assistant Paul Green turned and declared it was the worst first half of FA Cup football Chelsea have ever played – and that for a side whose last defeat in the competition was in September 2020 was. "He wasn't wrong," Hayes said.
But the situation Chelsea found themselves in was familiar and they drew strength from it. As is often the case, Chelsea found a way to win.
"I said to the girls at halftime, 'This is the grind, that's the point,'" Hayes said. The Chelsea side are well acquainted with Hayes' requirements. It takes sacrifice to put the team above themselves and also patience to play off the ball – especially from a team that boasts Chelsea's attacking talents. "The team has become the most flexible team," said Hayes. She clicked: "We can switch between such paths. It can take years to master."
Hayes relishes such an approach, but the Chelsea manager also feels she is being coerced into it. By the end of the season, Chelsea will have played every game that could have been played that year except one, the Women's Champions League final. They reached the FA Cup final, the Continental Cup final but only lost to Barcelona in the Champions League semifinals. Chelsea have been playing every three to four days since April and such a schedule required an adjustment that required full commitment.
"Don't underestimate how hard this is," Hayes said. "I felt tired on the sidelines. We play games, we don't sleep. That's what I'm referring to when I talk about the grind. It's so impressive. We dig and dig and dig. It's a win for Grind – hard work is absolutely essential to me and we get to roll up our sleeves with the best."
Afterwards there was gratitude and admiration for their players. Hayes praised Maren Mjelde and her words at half-time and Pernille Harder and Sophie Ingle for their impact from the bench – the double change ahead of the hour they won the FA Cup. Then there was Sam Kerr, the embodiment of that Chelsea side that took the lead from the front despite only conceding two-a-side games. "I've never coached a player like her," Hayes said. "A player who has so much persuasion, confidence and courage in the way she attacks everything. But what I love about Sam is that she is willing to take responsibility at the top of the field."
Kerr's goal shattered United's faith and robbed the final of life and if Hayes was looking for another way to compliment her side it's the aura Chelsea have built and the effect they have on their opponents had. United were beaten when they fell behind – the closest they came to that goal was a scramble in the penalty area in the 96th minute, despite creating several chances in the first half. Given the way they started at Wembley, United could have been confident of providing the surprise, but there was still so much to do.
And that against a Chelsea team that Hayes said was in transition. Chelsea's domestic dominance continues, but Hayes said that is the case while her side find themselves between cycles, evidenced by the fact they have made six changes since last season's FA Cup final win over Manchester City in their starting line-up. It's another element that Hayes and her team had to endure, but there was no let-up. The standards have remained and the trophies have followed. "Winning knowing we're in this phase," said Hayes, "this is by far my most memorable FA Cup final."