Women's World Cup Daily: New Zealand's historic win, Kerr hurt, more
The 2023 Women's World Cup began Thursday and things are off to a great start.
These daily files will give you the latest reporting from around the 2023 World Cup as well as betting lines, what to watch for information and best reads. Check in with ESPN throughout the tournament as we bring you the latest from Australia and New Zealand.
---
THE LEAD: New Zealand off to a historic winning start
AUCKLAND, New Zealand — In a tournament that promised to deliver surprises, it did just that in the very first match as New Zealand, after 15 failed attempts, won a World Cup game. It was a moment they'd been dreaming of ever since they first stepped onto the pitch against Denmark in Guangzhou at the maiden World Cup, 32 years ago, and their 1-0 victory over Norway was fully deserved.
Heading into the World Cup being co-hosted by New Zealand and Australia, all the focus was on the Aussies and their upward trajectory under Tony Gustavsson. Despite making progress under Jitka Klimková, they'd yet to show their strengths due to key injuries.
– Women's World Cup: Landing page | Schedule | Rosters | News
Opening the tournament at Eden Park, the spiritual home of Kiwi sport, added an extra level of tension as the players took to the pitch. The first half showed the players were feeling it, too, as the Ferns, for all their hunger and fight, consistently struggled to take advantage. The second half, however, brought about the tonic for the host when three minutes after the restart, Jacqui Hand found Hannah Wilkinson with a neat cross for the striker to convert.
For all the patchy results heading into the World Cup, it was clear Klimková had a plan in place and wasn't afraid to make tactical tweaks even when those changes didn't quite work. Norway, meanwhile, looked like a collection of individuals rather than a team and failed to make their overall quality count.
How New Zealand made history vs. Norway at the World Cup
Sophie Lawson reacts to New Zealand securing their first ever win at a Women's World Cup with a 1-0 victory vs. Norway.
It was the perfect end to an emotional day. The opening ceremony paid homage to the Māori roots that extend through daily life in Aotearoa/New Zealand. Fans were treated to a showing of friendship from the two "tribes" meeting on the pitch, with the two "chiefs" pressing their foreheads together and touching the tips of their noses twice.
– Women's World Cup: Landing page | Schedule | Rosters | News
It was a show of togetherness and reminder of how football can reach out across the world and bring people together. And on a day in the largest city in New Zealand was rocked by a shooting in the middle of the Central Business District, that togetherness and joy shone through. — Sophie Lawson
---
NEWS OF THE DAY
USWNT players share condolences with victims of Auckland shooting
USWNT's Crystal Dunn and Lynn Williams express their devastation, following a shooting in Auckland where two people were killed.
Trouble for hosts Australia as Sam Kerr is out with a calf injury sustained during training. The injury will cause her to miss at least the first two group games.

Thursday's opening game also brought soccer's first-ever VAR in-game announcement.

The opening day of the Women's World Cup began with a shooting in downtown Auckland that left three people, including the gunman, dead. "I want to reiterate that there is no wider national security threat," New Zealand Prime Minister Chris Hipkins said. "This appears to be the action of one individual." Said U.S. forward Lynn Williams, "Unfortunately, I feel like in the U.S. we've dealt with this far too many times, but there was definitely a sense of, like, 'let's come together, we still have a job to do,' but also recognizing that there were lives lost and that is very real and very devastating."

She hasn't played a full 90 minutes since tearing her ACL over a year ago, but Spain and Barcelona star Alexia Putellas have been passed fit for Spain's Women's World Cup opener vs. Costa Rica.
---
TODAY IN THE USWNT CAMP
"The USWNT takes a decidedly different approach to World Cup prep. The helping hand — or in this case, voice — will aid in getting everyone to the top of the mountain. For that reason, a significant amount of knowledge transfer from the veterans to the World Cup rookies takes place, the better to make sure the entire group is as well-versed as possible on what's ahead. And when you have veterans like Alex Morgan and Megan Rapinoe in the group, it behooves the newcomers to listen."
— Jeff Carlisle reports on how the nine veterans in the U.S. squad are helping the 14 debutantes get comfortable at the World Cup.
---
SIGHTS AND SOUNDS
Earps slams "hurtful" Nike call to not sell England GK kit
BRISBANE — After a deep breath, Mary Earps turned to the small group of media in a hotel room in Brisbane, and opened with, "I can't really sugar-coat this in any way, so I am not going to try." And what followed was the England goalkeeper laying bare the frustration she's felt at Nike not selling her Lionesses' kit.
She spoke from the heart, but it was informed, measured but bubbling with frustration and disappointment. This group of Lionesses are standing on the shoulders of giants from those who changed the sport, but they're not standing still: they want to use their platform for change. We saw that in the statement they released on Tuesday about their disappointment at the deadlock in talks with the FA over bonuses and commercial strategy. They're not going to take the backfoot, and Earps' passionate criticism of Nike further underlined their collective will to encourage change.
She spoke about everything from her disappointment at never seeing her bespoke Lionesses' goalkeeper kit on the sale rack, the way she must relay this message to disappointed fans and the work she's done behind the scenes to try and force change. "I feel really bad that I feel a massive portion of the fans have been truly let down by this. It makes me feel really crap," said Earps.
Her Manchester United women's goalkeeper kit sold out on their club site, the third most popular shirt they stock, but at international level, her fans have to make-do with either repurposing one of the men's shirts, or using her United kit for her to sign. She's since launched her own t-shirt range, with the slogan "be unapologetically yourself."
Earps has seen first-hand the impact the Lionesses' 2022 Euros win last summer has had. When she went to kids' training sessions a couple of years back, she had to bribe one of them to go in goal – everyone wanted to be a striker. Now, things have changed and she's seen far more interest in kids wanting to go between the sticks.
But there's still work to be done to level the playing field and her mission is to change Nike's decision on this. She's touched but also tired of seeing Jordan Pickford's England men's kit repurposed with Earps on the back, and hopes this will be the last tournament where fans are having to find their own solutions to show their support for England's number one. — Tom Hamilton
Australia navigate Kerr injury, pick up win over Ireland
SYDNEY — The Matildas got off to a nervous start to kick off their World Cup campaign and any prematch nerves were only intensified when the team sheet revealed captain Sam Kerr would not be playing. A calf injury will see her sit out the first two games of the tournament, at least, and in her place, Mary Fowler was elevated to the starting XI.
The Matildas looked slow in possession and weren't able to break down a well-drilled Irish defence. In the end, their win came down to a Marissa Sheva shove in the box on Hayley Raso, and stand-in captain Steph Catley stepping up to drill the penalty into the top corner.
There were some heart-in-mouth moments for the Aussie defence in the final minutes — particularly from set pieces — but they were able to bank the three points and earn an opening game win at the World Cup for only the second time in their history. — Marissa Lordanic
Lordanic: Kerr absence a massive blow for Australia
Marissa Lordanic reacts to the news that Australia star Sam Kerr will be out of their first two matches of the Women's World Cup.
Spain seemingly moved on from Vilda saga
WELLINGTON, New Zealand — Spain coach Jorge Vilda was at the centre of a storm last September when 15 players made themselves unavailable for selection due to working conditions with the national team and elements of his management. The Royal Spanish Football Federation (RFEF) backed him to continue in the role, but every media appearance since saw seen him quizzed on the issue.
Three of the 15 returned to the squad for the World Cup, with Vilda pledging pre-tournament to only speak about the 23 players picked for Australia and New Zealand, not high-profile absentees such as Mapi Leon and Patri Guijarro.
His tactics, emboldened by the RFEF's support, appear to have paid off.
On Thursday, the eve of Spain's opener against Costa Rica, there was not a mention of the saga that has plagued La Roja for almost a year. Instead, cutting a relaxed figure in his pregame news conference, Vilda talked of how far Spain have come since their World Cup debut in 2015. He spoke of how their recognisable style of play raises expectations, how the conditions surrounding travel and staff have improved and how much of a boost to the squad an agreement has been that allows mothers on the team to have their children with them.
"We even have a one-month old around the camp," he said. "For us, that is an incredible thing." — Sam Marsden
Marsden: Putellas availability huge boost for Spain
Sam Marsden feels Alexis Putellas' availability for Spain's World Cup opener will provide a great boost for her side after previous concerns over her fitness.
Hosts get first-ever World Cup win
AUCKLAND, New Zealand — When the the final whistle blew, that's when the party really started. A 1-0 win over Norway is a long way from winning a World Cup, but for the Football Ferns and their home fans, it felt a bit like that for a moment on Thursday at Eden Park Stadium.
New Zealand has never won a Women's World Cup match, and they couldn't have picked a more perfect moment to do it, at home in front of their own fans and record crowd for any soccer event in the country — 42,137 fans — in the opening match of the 2023 tournament.
– World Cup news, features, previews, and more
– Stream FC Daily and Futbol Americas on ESPN+
"I'm so proud to be a Fern tonight and I'm so grateful for all the Kiwis who came out to support us tonight," goal-scorer Hannah Wilkinson said. She added that the crowd "made such a difference, honestly. It made all the difference for us and you could see it."
As "Pump It Up" by Endor pulsated through speakers around the stadium afterward, fans bounced in unison and waved scarfs. (A couple of brave men waved their shirts, going bare-chested in the windy, cold night-time temperatures.) When the players walked the perimeter of the field post-match and looked into the crowd, it was as if they had a spell on everyone in the stands — wherever the players looked, the shouts and fist pumps got a bit louder and more enthusiastic.
No matter what happens from here, they'll always have this night. — Caitlin Murray
Canada happy to fly under the radar
MELBOURNE/NAARM, Australia — Though arriving in Australia as reigning Olympic champions and ranked seventh in the world, Canada has somewhat surrendered the spotlight to group opponents and host-nation Australia during the build-up to the WWC. Their opener against Nigeria might not be getting the same prime-time kickoff or grandiose stage at the Melbourne Rectangular Stadium, but it's a low-key opening that suits Bev Priestman, Christine Sinclair and the rest of the Canadian squad just fine.
"The teams in our group, I think they will see us where they need to see us," Priestman said Thursday. "But you read things from around the world and I do think that absolutely this team, the world-class players that we've got, some of the greats, aren't talked about enough."
Heading into an astounding sixth World Cup — experience she admits still doesn't do much to temper any nerves — and having finally broken through at a major international tournament with gold in Tokyo, Sinclair hopes that those winning vibes are set to become a habit, even if it might take the rest of the world a bit of time to catch on.
"Around the world, we're still overlooked, which is fine by us," she said. "We were overlooked heading into Tokyo and we showed the world what we were capable of." — Joey Lynch
---
MATCH PREVIEWS
'Fighting for equality!' – Nigeria & Canada on overcoming pay disputes at WWC
Canada's Christine Sinclair and Nigeria's Toni Payne speak about their hopes for equal pay across football.
Group B: Nigeria vs. Canada (Melbourne Rectangular; 12:30 p.m. local / 10:30 p.m. ET [Thursday] / 3:30 a.m. BST)
Odds: Nigeria +850, Draw +400, Canada -340
Both Nigeria and Canada will enter the WWC in peculiar positions, both units possessing the talent to go deep into the tournament but also facing significant off-field distractions.
Nigeria has consistently been the strongest women's side from Africa and will call upon stars such as Barcelona's Asisat Oshoala, yet they've also been in conflict with their federation. Meanwhile Canada are the reigning Olympic champions and genuine contenders, led by the iconic Christine Sinclair. However, they have also been in a long-standing dispute with Canada Soccer over working conditions and remuneration, with a deal still yet to be struck.
– Stream on ESPN+: LaLiga, Bundesliga, more (U.S.)
Group B has come to be seen as the toughest of all, which gives Friday's game extra impetus: You might not be able to secure progression with a win, but a loss would represent an absolute hammer blow to those chances. — Lynch
Group A: Philippines vs. Switzerland (Forsyth Barr Stadium, Dunedin; 5 p.m. local / 1 a.m. ET / 6 a.m. BST)
Odds: Philippines +2300, Draw +600, Switzerland -800
Following the upset in the opening game of group A, the onus will be on Switzerland to swoop in and claim all three points and lean on their previous World Cup experience to do so. But with a coach new in her role, the path to success isn't an easy one for the Swiss and up against a Philippines team with little to lose and everything to gain, the match may be less straightforward than many are expecting. — Lawson
Group C: Spain vs. Costa Rica (Wellington Regional Stadium, Wellington; 7:30 p.m. local / 3:30 a.m. ET / 8:30 a.m. BST)
Odds: Spain -10000, Draw +1600, Costa Rica +5000
Spain will be looking to lay down a marker when they kick off their campaign against Costa Rica on Friday. Vilda's side are only appearing in their third World Cup and have never progressed beyond the last 16, but they are among the favourites due to their depth of talent. That includes back-to-back Ballon d'Or winner Alexia Putellas, who is fit and ready to play after recovering from an ACL injury, and Barcelona midfielder Aitana Bonmati.
Despite their abundant quality, Costa Rica coach Amelia Valverde says they "don't fear any Spain player." She added: "We have prepared well. We know it will be a really difficult game, but we hope to deliver a performance worthy of a World Cup opener." — Marsden
---
FEATURES OF THE DAY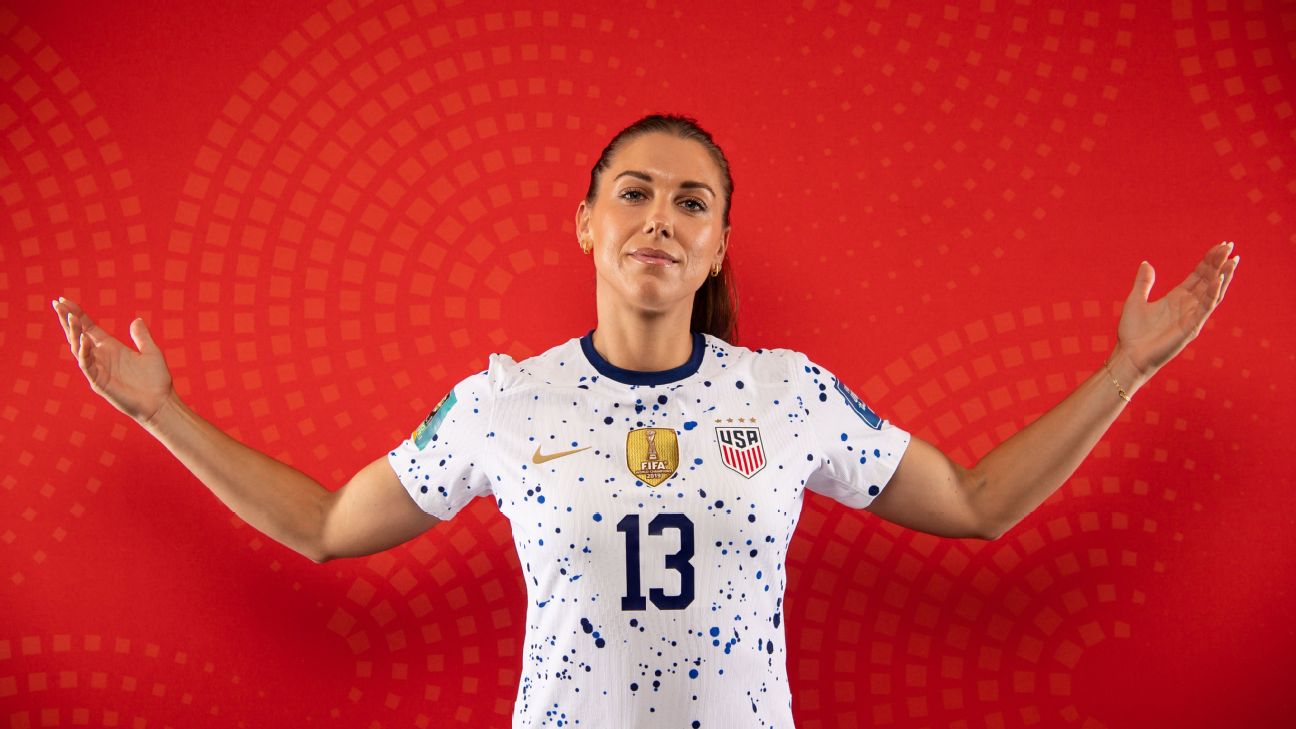 How do you stop Alex Morgan?
The U.S. forward is seemingly unstoppable on the big stage. We talk to some players who've had to defend her in the past about what it's like going toe-to-toe with the goalscoring legend.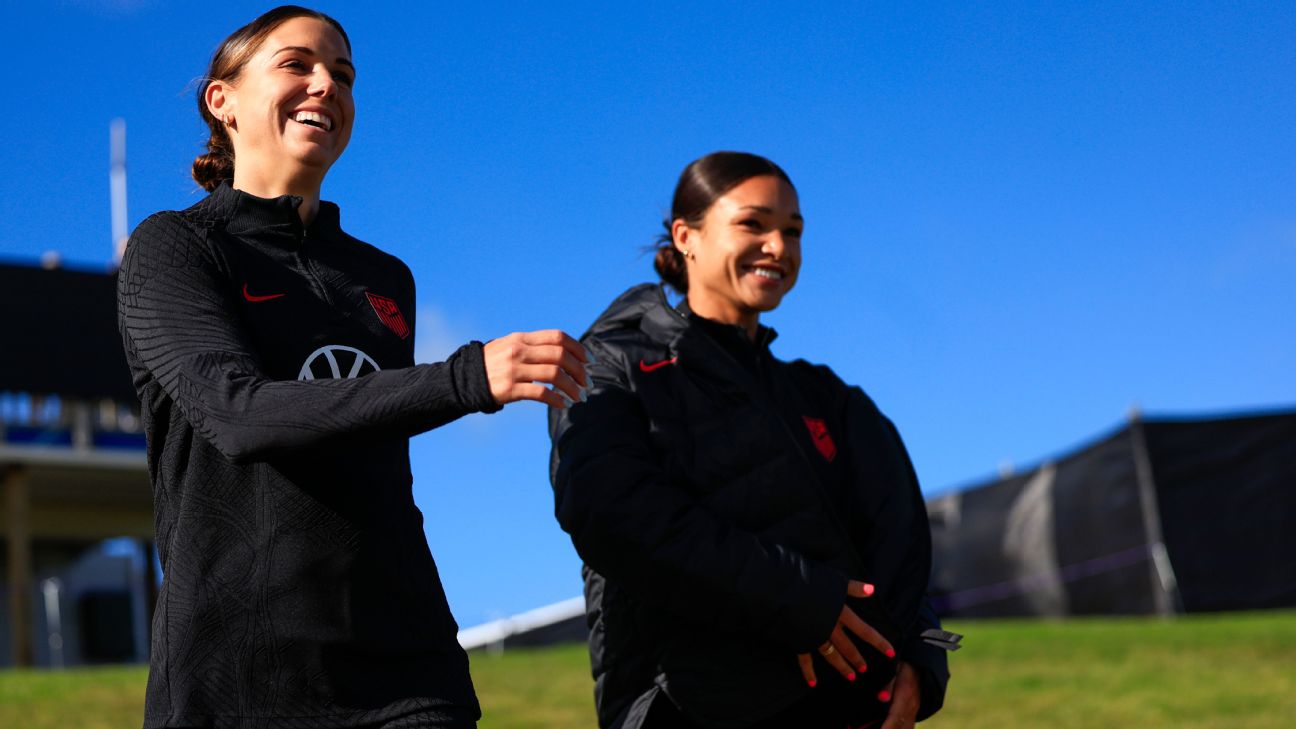 USWNT camp report: Rookies leaning on veterans
A whopping 14 U.S. players in the squad have never played a World Cup game before. Lucky for them, there's a wealth of experience in the squad to help keep them grounded.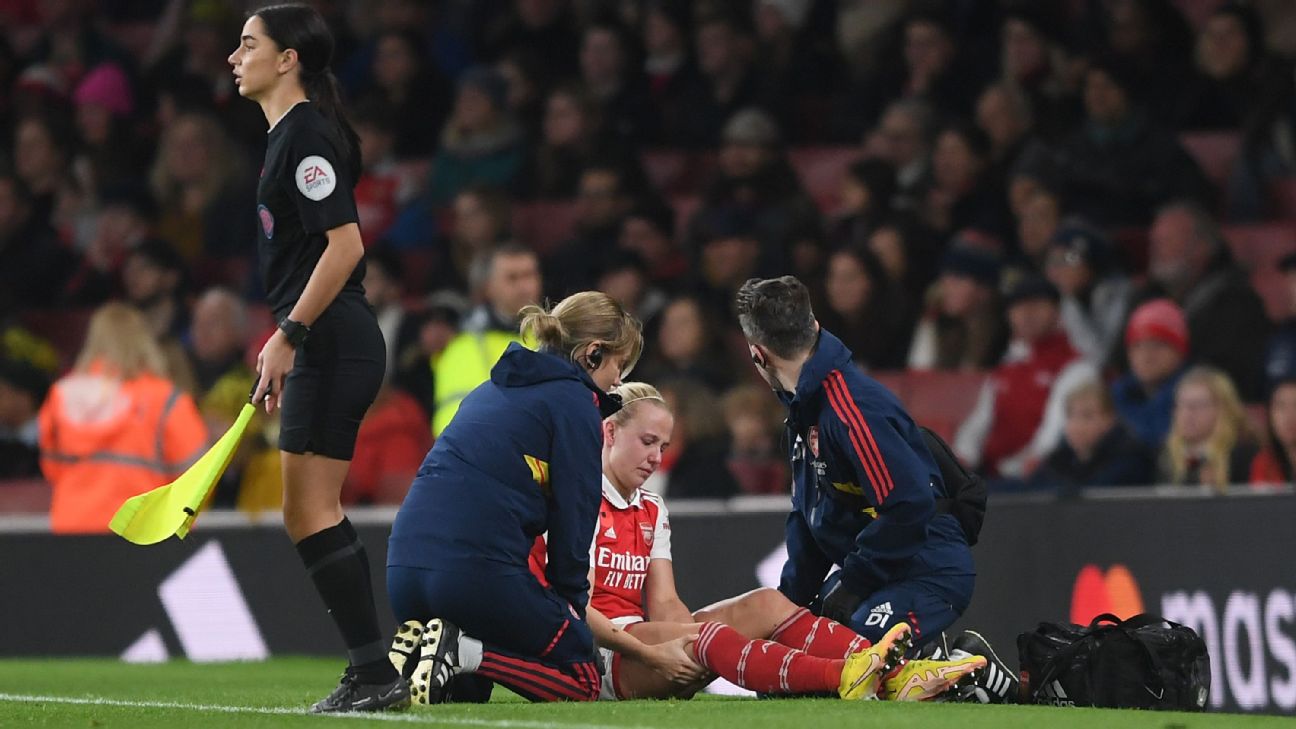 Why are so many Women's World Cup stars missing due to torn ACLs?
The list of absentees is depressingly long. Why is this long-term injury so much more prevalent in the women's game?
---
AND FINALLY…
Even before their World Cup opener, host nation Australia had apparently made waves off the pitch for their merchandise. Nike confirmed Wednesday that the Australian women's team have sold more official jerseys ahead of the 2023 tournament than the men's team managed around the 2022 World Cup, held in Qatar last November/December.
Ashley Reade, the boss of Nike Pacific, believes much of that buzz is down to their star striker, Chelsea forward Sam Kerr.
"I think she is one of the biggest athletes in the world already," Reade said in The Australian Financial Review. "She would be right up there, without question, as one of the most marketable athletes in the world."