Women's World Cup Daily: U.S. debuts, Nigeria vs. Canada, more
The 2023 Women's World Cup is in full swing, and these daily files will give you the latest reporting from around the 2023 World Cup as well as betting lines, what-to-watch-for information and best reads. Check in with ESPN throughout the tournament as we bring you the latest from Australia and New Zealand.
---
THE LEAD: Defending champions U.S. take the field
It's finally here! After much anticipation, coach Vlatko Andonovski's side will face Vietnam on Friday night (U.S. time) and get its World Cup underway. It'll be a vastly different team to previous tournaments — fully 14 of this squad are making their first appearances at the World Cup — but the talent, depth and determination is there to put on a show.
– Women's World Cup: Landing page | Schedule | Rosters | News
Every elite team knows a strong start is vital at this level, and at the 2019 edition, the U.S. opened proceedings in France with a 13-0 thrashing of Thailand, with Alex Morgan scoring five times. What will Friday night bring? Anything less than a comfortable victory might have fans feeling nervous.
---
NEWS OF THE DAY
USWNT stars Megan Rapinoe and Rose Lavelle will open the 2023 World Cup on limited minutes as Andonovski looks to ensure everyone stays fit and available for selection.

Canada forward Christine Sinclair missed a chance to become the first men's or women's player ever to score in six World Cups when her second-half penalty against Nigeria was saved.

England have struggled with injuries of late, but received a big boost when defender and new captain Millie Bright was passed fit to start the Lionesses' opener vs. Haiti.

A tough blow for Zambia as key midfielder Grace Chanda was hospitalised and ruled out of the World Cup.
---
TODAY IN THE USWNT CAMP
"We're preparing to see the best Vietnam team that has ever been on the field, and if that is the team that we saw against Germany, that's what we're preparing for."
— U.S. coach Vlatko Andonovski is taking nothing for granted against Vietnam as Jeff Carlisle previews the moment every USWNT fan has been waiting for: the first U.S. game of this 2023 World Cup.
---
SIGHTS AND SOUNDS
Canada devastated after legend Christine Sinclair's penalty miss
Reaction from both sides as Canada were denied a win at the Women's World Cup by a penalty save from Nigeria's Chiamaka Nnadozie.
Nigeria 0-0 Canada: Chiamaka Nnadozie flips the script
MELBOURNE/NAARM, Australia — You could sense the narrative building almost as soon as Francisca Ordega brought Christine Sinclair to the turf at the Melbourne Rectangular Stadium on Friday afternoon.
After being repelled by the Nigerian defence across the first 45 minutes of their opening World Cup match, a VAR review meant Canada's living legend had the chance to bypass all that scoring-from-open-play nonsense just minutes into the second stanza, and could have provided her resolute backline with a one-goal lead to defend from the penalty spot.
Grab a penalty and defend — it wasn't the most attractive of approaches, but one that had already delivered Bev Priestman's side a gold medal in Tokyo two years prior.
Chiamaka Nnadozie, though, didn't get the memo. Diving down low to her left, the 22-year-old stuck out a strong hand to deny Sinclair's initial effort and quickly sprung across to scramble away any potential follow-up, sending Sinclair once again to the turf, where she remained ruefully on the grass for a few extra seconds, processing, as the young keeper — who went on to be named player of the game — was mobbed by teammates above her.
"She's one of the best young goalkeepers in the world right now," Nigeria coach Randy Waldrum proclaimed postgame. — Joey Lynch
Spain 3-0 Costa Rica: Bonmati the maestro
WELLINGTON, New Zealand — Aitana Bonmati pulled the strings as Spain opened their campaign with a comfortable 3-0 win against Costa Rica at a cold and wet Wellington Regional Stadium. The talk before the game was about whether Ballon d'Or winner Alexia Putellas would be fit to start — she didn't, though she came on to a good reception from the crowd with 15 minutes to play — but it was her Barcelona teammate who took home the player of the match award.
Bonmati scored Spain's second, cutting on to her left foot and finishing neatly, but it was her timing and technique that stole the show. She seemed to be playing a different game to her opponents, driving forward gracefully and delivering passes which were both weighted and timed to perfection.
With her in this form and Putellas getting valuable minutes off the bench, Spain deserve to be considered among the favourites. But they will face tougher tests than Costa Rica, who kept the scoreline down thanks to their overworked goalkeeper Daniela Solera — she was so busy she ended up getting cramp. Solera made nine saves, including one from Jenni Hermoso's first-half penalty. She couldn't keep out Bonmati's effort, though, which was sandwiched between a Valeria Del Campo own goal and an Esther Gonzalez strike. — Marsden
Marsden: Aitana Bonmati a joy to watch vs. Costa Rica
Sam Marsden praises Aitana Bonmati's performance in Spain's 3-0 win over Costa Rica at the Women's World Cup.
Philippines 0-2 Switzerland: Scrappy win for the Swiss
It was nearly a debut to remember for the Philippines when playmaker Katrina Guillou stroked the ball into the back of the net a quarter of an hour into the tie, only for it to be called back for an offside call. In the end, it ended up being the brightest moment for the debutantes, who dug deep but ultimately succumbed to the far more experienced Swiss team who, after taking the lead in first half stoppage time for the spot, wrapped the win up with a scrappy goal after Oliva McDaniel had made a double-save but failed to fully clear the danger.
The win puts the Swiss in a strong position heading into their second group-stage game against a still-off-colour Norway team, and the Philippines will need to rally before their second game against New Zealand with the match having sold out before the final whistle in Auckland on Thursday night. — Sophie Lawson
Nigeria support stands out in Australia
MELBOURNE/NAARM, Australia — Lagos and Melbourne might be over 9,000 miles (almost 15,000km) apart on the map, but coming off the field after recording a 0-0 draw with Canada to open their 2023 FIFA Women's World Cup campaign on Friday, Nigerian players couldn't help but reflect that the atmosphere at the Melbourne Rectangular Stadium had felt like a home game.
Few who were buffeted by the noise that swelled every time the Super Falcons advanced toward goal Friday afternoon, or who had heard the explosion that greeted Chiamaka Nnadozie's 50th-minute penalty save to deny Christine Sinclair and keep the game locked at 0-0, would have much disagreed with that segment.
– World Cup news, features, previews, and more
– Stream FC Daily and Futbol Americas on ESPN+
"I thought that the fan support for Nigeria was great," coach Randy Waldrum said postgame. "They were vocal; you could hear them even when the penalty kick came. You could hear the chants for a save.
"I got a chance to meet several of them after the game and nothing but positive vibes from the crowd."
A reported 21,410 fans attended the first game without a host nation of the 2023 World Cup, and while the contest was nominally staged in the middle of business and school hours, some didn't appear to get that memo. Very quickly, a great number of those neutrals quickly found themselves drawn to supporting the African side.
"We are very contagious," one Nigerian fan told ESPN. "So we had a lot of other people cheering for us, a lot of school kids, which was very fun." — Lynch
Who could start for England's World Cup debut vs. Haiti?
ESPN's Tom Hamilton predicts England's starting XI ahead of first game against Haiti.
Who will start for England?
BRISBANE, Australia — Unlike last summer's Euros, where you could predict the England line up with all the confidence of rain affecting Wimbledon, it's far harder to work out exactly what team Serena Wiegman will select for their World Cup opener against Haiti on Saturday.
First, the good news: Millie Bright is fit to start. With last summer's Euro captain Leah Williamson, Fran Kirby and Beth Mead all injured, Bright's return is a huge boost. But the list of absentees — including the retired Jill Scott and Ellen White — would form the spine of the team, meaning where before you could time your watch by the consistency Wiegman's 4-2-3-1 in the Euros, there are still question marks over who starts.
Will Wiegman go with Rachel Daly or Alessia Russo up front? Who will form the defensive unit.? Will they start Alex Greenwood alongside Millie Bright at centre-back, and then Niamh Charles or Jess Carter at left-back? Or will Greenwood start at left-back, with Carter and Bright at centre back? And then who gets the nod on the wings – will it be Lauren James, Chloe Kelly or Lauren Hemp?
Wiegman wouldn't give away any clues in her pre-match press conference Friday, and wouldn't even say which positions have given her the biggest headache. But regardless, Wiegman knows her preferred XI and it'll be fascinating to see if she keeps the faith with it like she did during the Euros, or opts to shift things around through the group stages.
If I had to put my neck on the line, I think we'll see Daly up front, Carter alongside Bright at centre back and Hemp and James starting on the wings. — Tom Hamilton
---
MATCH PREVIEWS
Lose to Vietnam, win the World Cup? 'Like Argentina!'
Vlatko Andonovski jokes about the USWNT 'ending up like Argentina' and winning the World Cup even if they suffer a shock loss in their opening game like Messi's side did in 2022.
Group E: United States vs. Vietnam (Eden Park, Auckland; 1 p.m. local Saturday / 9 p.m. ET Friday / 2 a.m. BST Saturday)
Odds: USA -30000, Draw +2800, Vietnam +4000
Up next, the highest-ranked team of the tournament (the United States) against one of the lowest-ranked teams (Vietnam). It might be tempting to see this as a potential redux of the USWNT's 13-0 drubbing of Thailand four years ago at the 2019 World Cup, but Vietnam's recent results suggest that is unlikely. Sure, Vietnam's most recent match was a 9-0 loss to Spain in July, but their 2-1 loss to Germany in June hints at a team capable of making life difficult.
– Stream on ESPN+: LaLiga, Bundesliga, more (U.S.)
Still, let's be clear: The USWNT should win comfortably, and if they don't, the word "upset" wouldn't be sufficient to capture the hand-wringing that would follow. For the Golden Star Women Warriors (as Vietnam is known), only striker Huynh Nhu plays club soccer outside of Vietnam. For the U.S., only one player doesn't play domestically either — but the National Women's Soccer League is one of the best leagues in the world, while Vietnam's is decidedly not.
The level between these two teams isn't close, even with Rose Lavelle and Megan Rapinoe not at 100 percent yet, and the Americans will want to issue a statement of intent with a big win. It could get ugly, but as the opening games of this World Cup have shown, not everything goes according to FIFA rankings. — Murray
Group C: Zambia vs. Japan (Waikato Stadium, Hamilton; 7 p.m. local Saturday / 3 a.m. ET Saturday / 8 a.m. BST Saturday)
Odds: Zambia +850, Draw +480, Japan -390
After a decade of mediocrity on the global stage, Japan head into their first game having finally found their feet again, with the team looking more and more like the side who shocked the world to win the 2011 World Cup.
The biggest challenge for Japan will be taking their chances rather than just letting their possession do the work, not least against a hungry Zambia team making their World Cup debut. Barbra Banda and Racheal Kundananji are two players for the Copper Queens who will be looking to upset the part and dish out another surprise during the first round of games. The antithesis of their opposition, Zambia are a team that strike with gusto on the counter, needing very little to carve their opponents apart, with Banda leading the charge for her nation.
Two teams with vastly different styles — expect fireworks in Hamilton tomorrow evening. — Lawson
Will bonus dispute overshadow England's World Cup chance?
Sarina Wiegman and Millie Bright open up on the dispute over FA bonuses ahead of England's first game of the 2023 World Cup.
Group D: England vs. Haiti (Lang Park, Brisbane; 7:30 p.m. local Saturday / 5:30 a.m. ET Saturday / 10:30 a.m. BST Saturday)
Odds: England -8000, Draw +1500, Haiti +6000
On paper, this is a monumental mismatch — England are fourth in the world, Haiti are 55th — but for Nicolas Delepine's Haiti, it's a free shot at one of the best teams in the sport. "If we want to be one of the best, we have to play the best," Delepine said.
Though he said he could "talk all press conference" about England's strengths, he did take a little shot at the Lionesses' run of three matches without a goal. "They are a good attacking side, but maybe they have a problem with finishing," he said.
For England, this is a case of building momentum and avoiding any setbacks. All 23 players in the squad are fit to play — including captain Millie Bright, who has successfully returned in time after suffering a knee injury in March. Wiegman has kept cards close to her chest over what the starting XI will look like, dodging every question about it in the prematch news conference, but England are adamant they're in a good place to get their World Cup campaign off and running despite a week dominated by off-field matters. — Hamilton
Group D: Denmark vs. China (Perth Rectangular Stadium, Perth; 8 p.m. local Saturday / 8 a.m. ET Saturday / 1 p.m. BST Saturday)
Odds: Denmark -150, Draw +250, China +420
As is a growing theme at this tournament, China are coming into the competition after a considerable lull and looking to recapture past glory under Shui Qingxia, the latest in a long line of coaches to take the mantle. Up against a Denmark team who themselves have struggled with underwhelming performances and an inability to showcase the best of themselves, the match is assumed to help decide who finishes second in Group D, but beyond that, it should give a greater idea of the form both nations will be showing this summer.
The match is likely to be decided by the respective attacking might of both sides, with Pernille Harder finishing the WSL season with a flourish and showing the type of offensive play that will be vital to lift Denmark in Australia. On the other side of the pitch, the Steel Roses will be looking to Wang Shuang and captain Wang Shanshan to provide the spark in attack as they have at the past two editions of the FIFA tournament.
Our top tip ahead of the game? Listen to Denmark's official 2023 World Cup song, even if we're not entirely sold on it yet. — Lawson
---
FEATURES OF THE DAY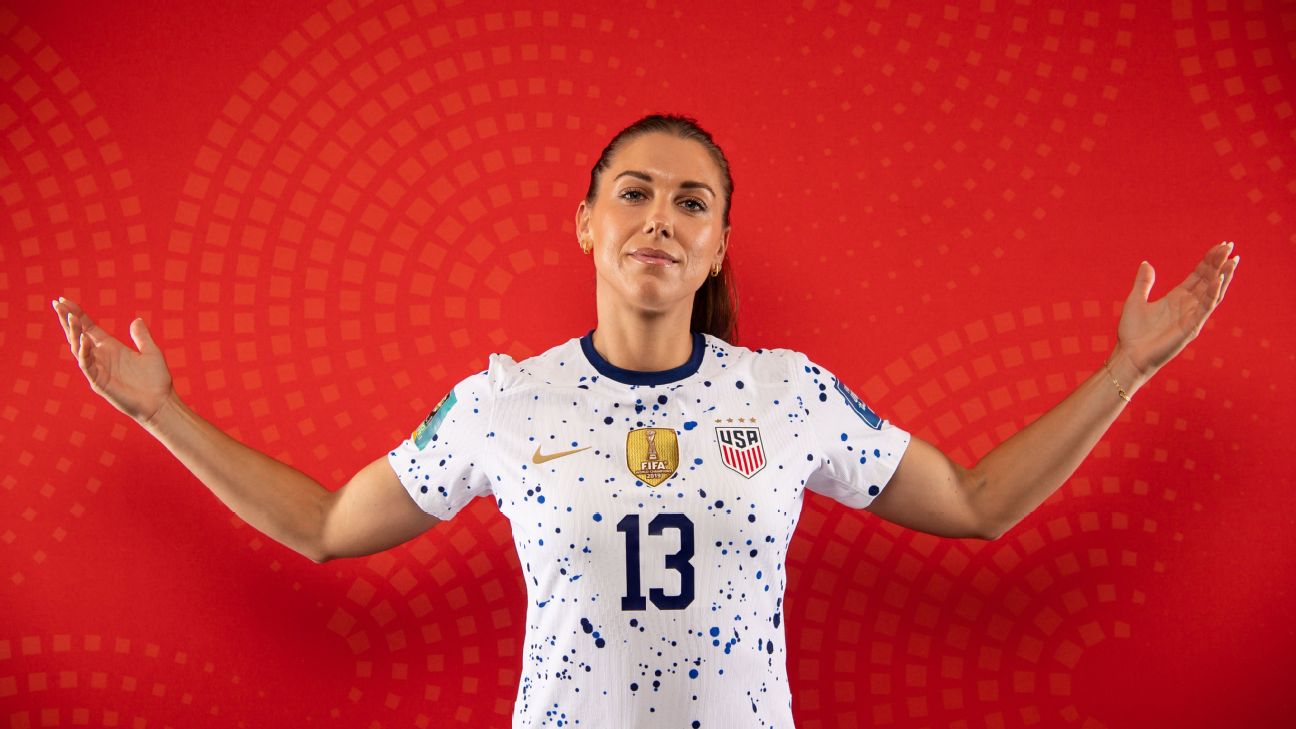 How do you stop Alex Morgan?
The U.S. forward is seemingly unstoppable on the big stage. We talk to some players who've had to defend her in the past about what it's like going toe-to-toe with the goal-scoring legend.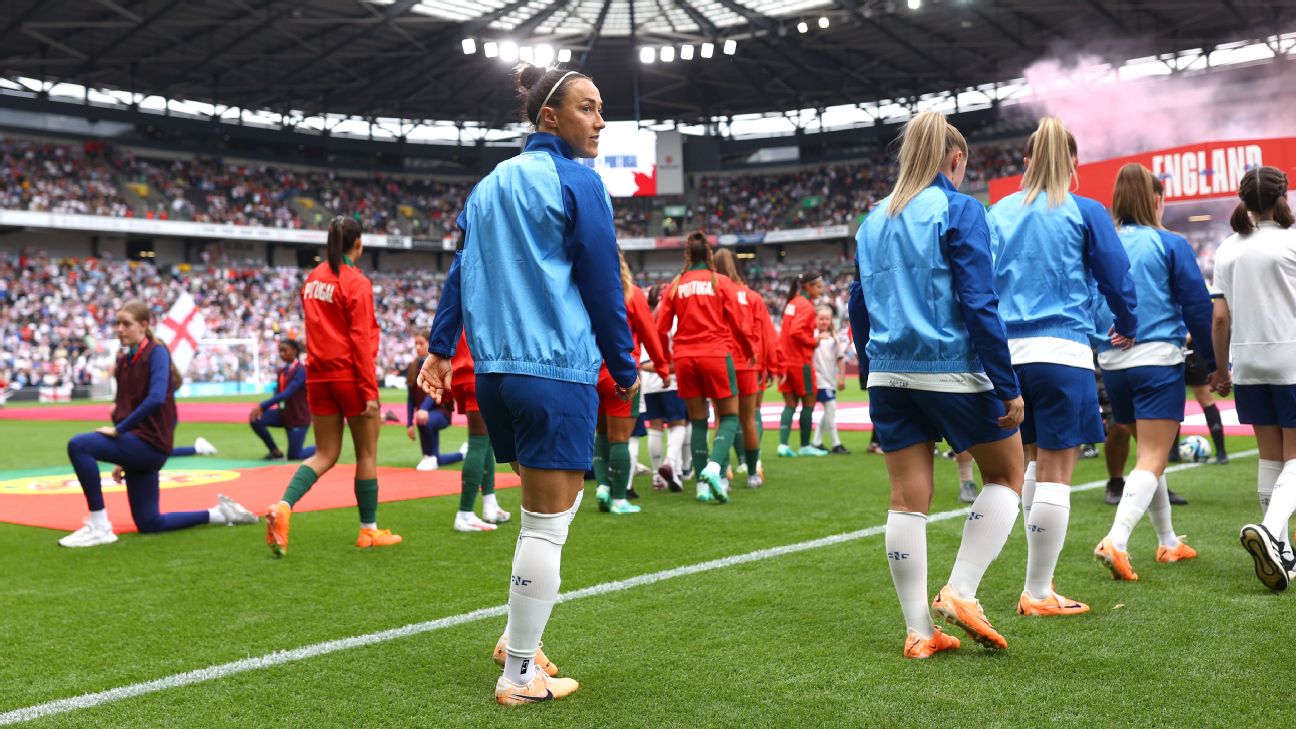 England's turbulent World Cup prep
It's been a difficult year for the Lionesses since winning the Euros at home last summer. Can they rally, shrugging off key injuries and off-field conflict, to make a strong run at the World Cup?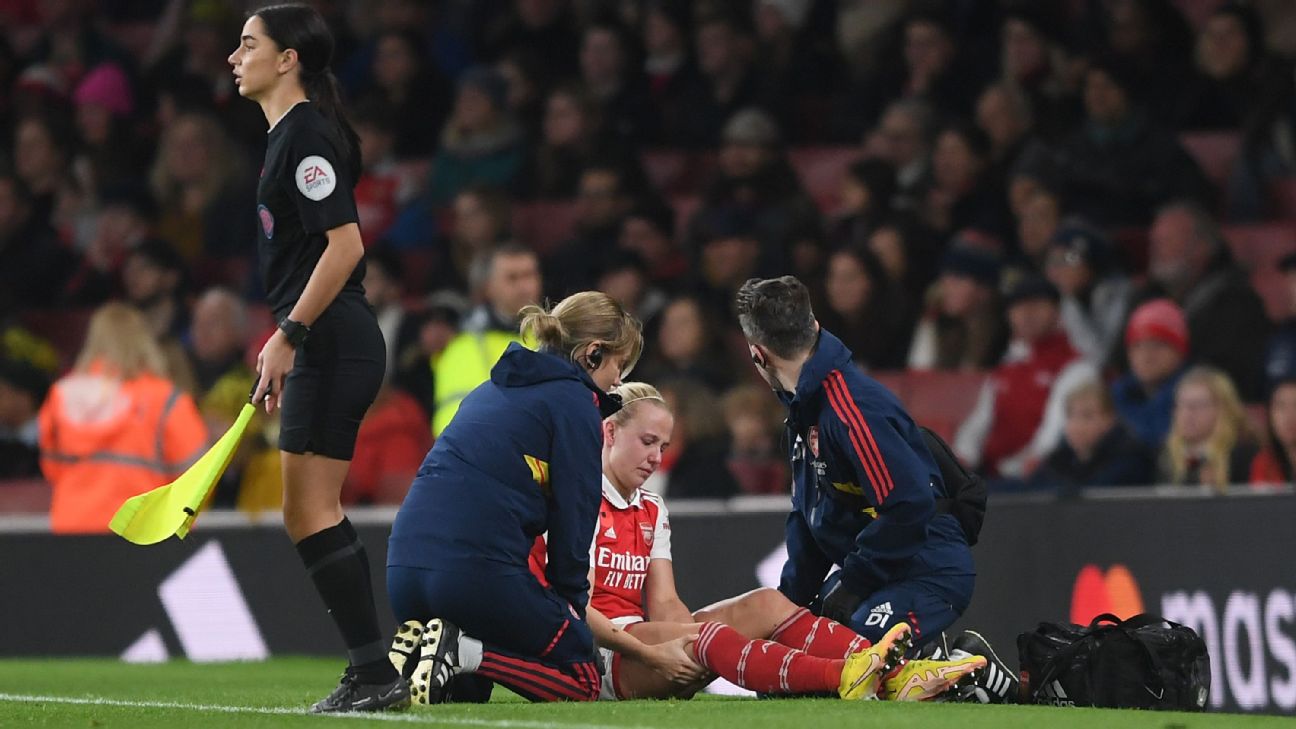 Why are so many Women's World Cup stars missing due to torn ACLs?
The list of absentees is depressingly long. Why is this long-term injury so much more prevalent in the women's game?
---
AND FINALLY…
Here's a story we missed earlier in the week out of Brazil, where a government minister announced changes to the working day that would allow civil servants to watch the women's team compete at the 2023 World Cup.
Per Reuters, the decree was quite explicit about wanting that time off, too: "On days when the games are held at 7:30 am, the working hours will start at 11 a.m. Brasilia time. On days when the games are held at 8:00 a.m., the working hours will start at 12:00 p.m. Brasilia time."
Brazil begin their World Cup campaign on Monday against Panama.