Worker strikes, unionization efforts are on the rise in WA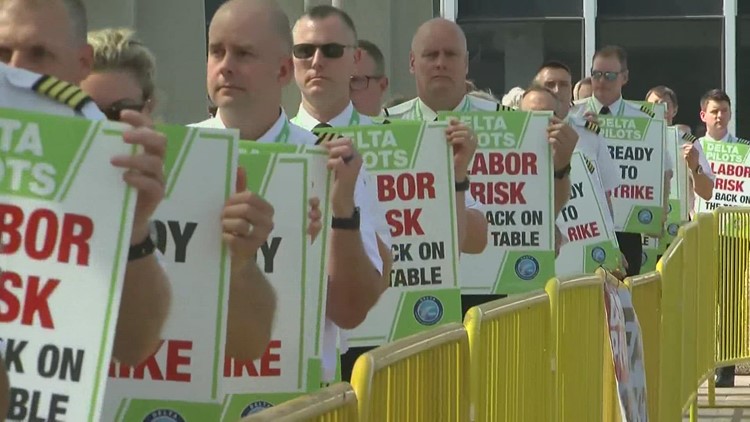 Labor experts attribute the pandemic, wage inequality and the lack of humanity in America's businesses to a surge in workers' strikes.
SEATTLE — In just a month, Washington state has seen teachers, woodworkers and railroad workers attack the picket line.
Labor experts said while we are seeing a rise in strikes, walkouts have leveled off in recent years.
According to the US Bureau of Labor Statistics, 2021 saw 16 major work stoppages earlier in the year. The department categorizes a "major work stoppage" as one involving 1,000 or more workers and lasting at least one shift during the workweek.
The lowest annual total of work stoppages was in 2009 with 5, the highest with 470 in 1952.
"Strikes have basically disappeared in the last few decades, so any upside will look like a resurgence," said Barry Eidlin, associate professor of sociology at McGill University.
Eidlin focuses on working-class power in America. He said wages are a big issue, but that's not what's putting people on the picket line.
"Basically, what drives people to go on strike are issues of dignity, respect and a sense of powerlessness," Eidlin said.
Eidlin said strikes work when done right and workers have an impact on the current job market.
"Employers are more likely to listen to what their workers are asking for because they know they're going to be a lot harder to replace," Eidlin said.
Many experts attribute the recent rise in the labor movement to the pandemic and worker safety standards.
"It's kind of dramatic when you see the head of a company go into space and the frontline workers can't even get masks," said Conor Casey, director of the Washington Labor Archives.
Casey said there are historical parallels to what we see now, like income inequality.
"The disparity is wider than it has been since the Golden Age, another period of labor unrest," Casey said.
Casey said Seattle has a strong labor movement that dates back to a time when it was just a territory.
"I think one important thing about this is that people are protesting, but they're doing it together," Casey said.
More workers in Washington are applying to form new unions this year than in the first nine months of the last three years, according to an analysis of data from the National Labor Relations Board.
"One of the few human rights people have is to withhold your work if you feel you are not being treated fairly," Casey said.
Eidlin said it was important for the public to know that workers do not take the decision to strike lightly.
"It's very hard to go on strike, it deprives you of your salary and most Americans don't have much savings," Casey said.
Experts will be keeping an eye on the latest trend to determine whether it is a spontaneous wave of strikes or long-term organizational efforts.
https://www.king5.com/article/news/education/worker-strikes-unionization-efforts-up-washington/281-33fdc74b-f1a0-4f43-95ba-e79f3cc9c393 Worker strikes, unionization efforts are on the rise in WA