World Athletics Championships 2023 schedule: Dates, times and event-by-event guide to Budapest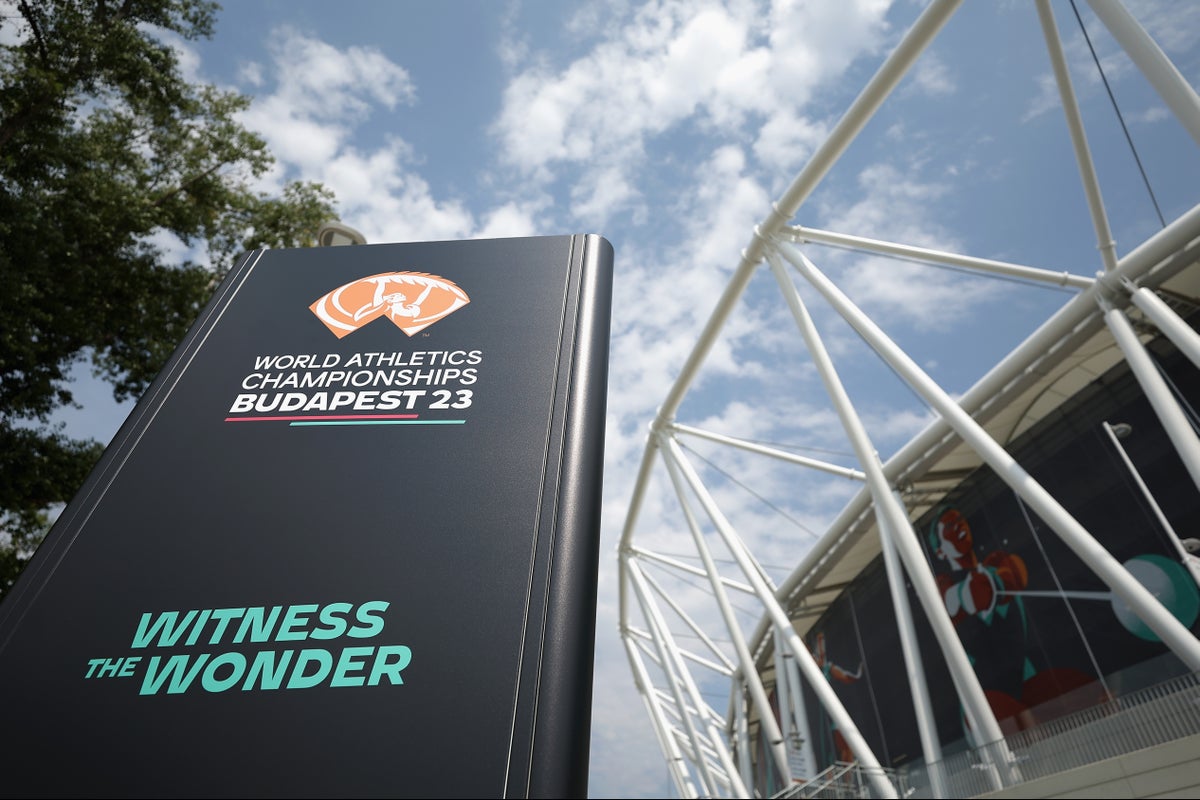 The world's best athletes have come to Budapest for the 2023 World Athletics Championships.
The 19th Championships will be held in Hungary for the first time, taking place in Eugene, United States, just 12 months after the last edition due to schedule changes due to the Covid-19 pandemic.
49 competitions will be held in Budapest, with most of the action taking place at the newly opened National Athletics Centre.
The competition will run for nine days.
Here's everything you need to know:
When is the 2023? world athletics championships?
The 2023 World Athletics Championships will begin on Saturday, August 19 and last through Sunday, August 27 in Budapest, Hungary.
how can i watch it
Viewers in the UK can follow any event on the BBC, with extensive live coverage on BBC TV, iPlayer, Red Button, Radio 5 Live and the BBC Sport website and app. Alternatively, Eurosport 1 will broadcast 68 hours of live coverage, while viewers can also take advantage of Discovery+ to ensure they don't miss any action.
2023 World Athletics Championships schedule, event by event (all times BST)
Opening Ceremony, 5pm, Saturday 19 August
100 meters men
Preliminaries 11.35 am Saturday 19 August
Heats, 6:43 p.m. Saturday, August 19
Semifinals, 3:35 p.m. Sunday 20 August
Finals, 6:10 p.m. Sunday 20 August
100m women
Heats: Sunday, August 20, 11:10 a.m
Semi-finals 7:35 p.m. Monday 21 August
Finals, Monday, August 21, 8:50 p.m
200m men
Heats: Wednesday, August 23, 11:50 a.m
Semifinals, 7:20 p.m., Thursday 24 August
Finals, 8:50 p.m., Friday 25 August
200m of women
Heats: Wednesday, August 23, 11:05 a.m
Semifinals, 6:45 p.m., Thursday 24 August
Finals, 8:40 p.m., Friday 25 August
400 m of the men
Heats: Sunday, August 20, 9:25 a.m
Semifinals, 8pm, Tuesday 22 August
Finals, 8:35 p.m., Thursday, August 24
400 m of women
Heats: Sunday, August 20, 8:35 a.m
Semifinals 20:10 Monday 21 August
Finals, 8:35 p.m. Wednesday 23 August
800 m of the men
Heats: Tuesday, August 22, 6:20 p.m
Semifinals, 7:50 p.m., Thursday 24 August
Finals, 7:30 p.m., Saturday 26 August
800 m of women
Heats: Wednesday, August 23, 9:05 a.m
Semifinals, 7:25 p.m. Friday 25 August
Finals, 7:45 p.m., Sunday 27 August
Men: 1500 m
Heats: Saturday, August 19, 6:02 p.m
Semifinals 4:35 p.m. Sunday 20 August
Finals, 8:15 p.m. Wednesday 23 August
Women 1500m
Heats: Saturday, August 19, 12:15 p.m
Semifinals 4:05 p.m. Sunday 20 August
Finals, 8:30 p.m., Tuesday 22 August
Men's 5,000m
Heats: Thursday, August 24, 6 p.m
Finals, 7:10 p.m., Sunday 27 August
Women's 5,000m
Heats: Wednesday, August 23, 10:10 a.m
Finals: Saturday, August 26, 7:50 p.m
10,000m men
Finals, 5:25 p.m., Sunday, August 20
Women's 10,000m
Final, 7:55 p.m., Saturday 19 August
men marathon
6 p.m. Sunday, August 27
women marathon
Saturday, August 26, 6 a.m
Men's 3,000m Steeplechase
Heats: Saturday, August 19, 10:35 a.m
Finals, 8:42 p.m., Tuesday, August 22
Women's 3,000m Steeplechase
Heats: Wednesday, August 23, 6:45 p.m
Finals, 8:10 p.m., Sunday 27 August
Women's 100m hurdles
Heats: Tuesday, August 22, 5:40 p.m
Semifinals 7:40pm Wednesday 23 August
Finals, 8:25 p.m., Thursday, August 24
Men's 110m hurdles
Heats: Sunday, August 20, 12:05 p.m
Semifinals: Monday, August 21, 7:05 p.m
Finals, Monday, August 21, 8:40 p.m
Men's 400m hurdles
Heats: Sunday, August 20, 10:25 a.m
Semifinals 18:35 Monday 21 August
Finals, 8:50 p.m. Wednesday 23 August
Women's 400m hurdles
Heats: Monday, August 21, 5:50 p.m
Semifinals: Tuesday, August 22, 7:25 p.m
Finals, 8:50 p.m., Thursday 24 August
heptathlon
Saturday August 19th
100m hurdles 9:35 am
High Jump 10:45 am
Shot Put 6:05 p.m
200m 7.30pm
Sunday 20 August
Long jump 8:50 p.m
Javelin throw 11 a.m. (Group A) & 12.05 p.m. (Group B)
800m 5pm
decathlon
Friday 25 August
100m 9:05 am
Long jump 9:55 a.m
Shot Put 11:20 a.m
High Jump 5:30 p.m
400m 20:05
Saturday 26 August
110 m hurdles 9:05 a.m
Discus 10:00 a.m. (Group A) & 11:05 a.m. (Group B)
Pole vault at 1 p.m
Javelin Throw 6:05 p.m. (Group A) & 7:10 p.m. (Group B)
1500m 8:25pm
Men's high jump
Qualifying: 9.35am Sunday 20th August
Finals, 6:55 p.m., Tuesday, August 22
Women's high jump
Qualifying: 9.20am Friday 25th August
Finals, 7:05 p.m., Sunday 27 August
Men's pole vault
Qualifying: 9.15am Wednesday 23 August
Finals, 6:25 p.m., Saturday 26 August
Women's Pole Vault
Qualifying: Monday, August 21, 5:40 p.m
Finals, 6:30 p.m. Wednesday 23 August
men's long jump
Qualifying 10.15am Wednesday 23rd August
Finals, 6:30 p.m., Thursday 24 August
women's long jump
Qualifying: 11.25am Saturday 19 August
Finals, 3:55 p.m., Sunday, August 20
Men's triple jump
Qualifying Saturday, August 19, 6:35 p.m
Finals, Monday, August 21, 6:40 p.m
Women's triple jump
Qualifying: Wednesday, August 23, 6:10 p.m
Finals, 8:35 p.m., Friday, August 25
Men's Shot Put
Qualifying: 9.30am Saturday 19th August
Final, 7.35pm, Saturday 19 August
women's shot put
Qualifying: 9:25am Saturday 26th August
Finals: Saturday, August 26, 7:15 p.m
Men's discus throw
Qualifying: 18:10 (Group A) and 19:40 (Group B) Saturday 19 August
Finals, Monday, August 21, 7:30 p.m
women discus
Qualifying: 8am (Group A) and 9.30am (Group B) Sunday 20 August
Finals, 7:20 p.m., Tuesday, August 20
Herrenhammer
Qualifying: 11am (Group A) and 12.40pm (Group B) Saturday 19 August
Finals, 4:50 p.m., Sunday 20 August
women's hammer
Qualifying: 18:00 (Group A) and 19:35 (Group B) Wednesday 23 August
Final, 7:15 p.m., Thursday 24 August
Javelin throw for men
Qualifying: 9:10am (Group A) and 10:45am (Group B) Friday 25 August
Finals, 7:20 p.m., Sunday 27 August
Javelin throw for women
Qualifying 9.20m (Group A) and 10:55 (Group B) Wednesday 23 August
Finals, 7:20 p.m., Friday 25 August
Men's 20 km walk
7.50am Saturday 19 August
Women's 20 km walk
6:15 a.m. Sunday, August 20
Men's 35 km walk
6 p.m. Thursday, August 24
Women's 35 km walk
6 p.m. Thursday, August 24
Men's 4x100m relay
Heats: Friday, August 25, 6:30 p.m
Finals, 8:40 p.m., Saturday 26 August
Women's 4x100m relay
Heats: Friday, August 25, 7:00 p.m
Finals, 8:50 p.m., Saturday 26 August
Men's 4x400m relay
Heats: Saturday, August 26, 6:30 p.m
Finals, 8:37 p.m., Sunday 27 August
Women's 4x400m relay
Heats: Saturday, August 26, 6:55 p.m
Finals, 8:47 p.m., Sunday, August 27
4x400m mixed relay
Heats: Saturday, August 19, 10:05 a.m
Finals, 8:47 p.m., Saturday, August 19