World champions accuse Ryan Garcia of 'giving up' in Gervonta Davis loss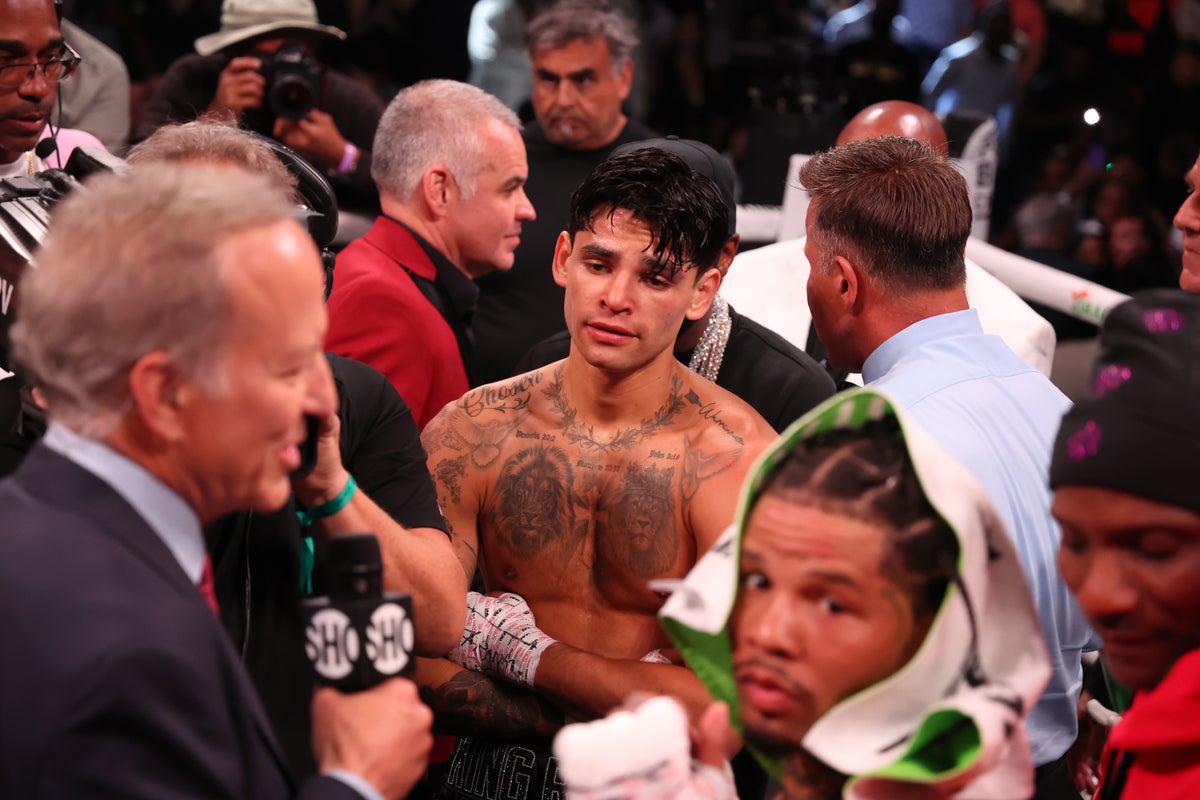 Former world champions Tony Bellew and Andy Ruiz Jr. accused Ryan Garcia of "giving up" in his loss to Gervonta Davis on Saturday.
Garcia suffered a seventh-round loss to Davis in Las Vegas when he failed to beat the referee's count after a body left hook.
Davis, 28, had also dropped Garcia with a left hook to the head in Round 2, but the 24-year-old was criticized for his reaction to the second knockdown – which eventually decided the 136-pound catchweight fight.
Bellew took to Twitter to write, "Spit it!" after Garcia suffered the first loss of his pro career while Davis went undefeated. "Yeah, they really hurt," the former WBC cruiserweight champion continued, "but you gotta get up! Do it once and you will do it again!
"The attributes that Garcia has are amazing! He is the fastest and one of the greatest fighters in the world [lightweight] Division and yet he lets people get to him! If he uses the gifts he has properly then he would be almost impossible to beat! amir [Khan] had similar properties! stay away [and] Crate!"
Meanwhile, former Unified Heavyweight Champion Andy Ruiz said in an Instagram Story: "I wanted Ryan but he gave up man. I have a feeling he's given up.
"I feel like he should have done what he had to do to win the fight. If we come down, we gotta get back up, man. We must ask God for this victory.
"I feel like he should have done that, I still think Ryan should have done more man. He should have risked his life more."
After losing to his American compatriot Davis, Garcia said: "He just caught me with a good shot, I don't want to make any excuses here. I couldn't recover and that's all I have to say.
"He caught me well. I couldn't breathe I wanted to get up again, but I just couldn't. I think I gave him too much respect in the ring, I think that was my downfall."
In the post-fight press conference, Garcia added, "I wasn't feeling too well, I felt a little weak going into the ring; My legs didn't feel too much beneath me. But once the fight got going, it kind of all came together. So I can't really pin [it on] this is too much."
Davis holds the WBA lightweight title while Garcia is a former WBC interim champion in the division.
Click here to subscribe to The Independent's Sport YouTube channel for the latest sports videos.