Would you pay $200k to own 25% of this Seattle home?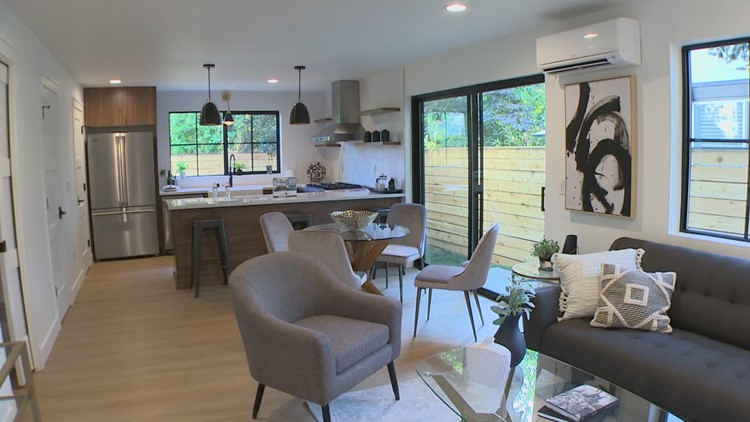 "If we're really looking at 'How do we make housing affordable?' We have to be creative," said Katrina Eileen, listing agent.
SEATTLE — The competition to own a home in Seattle is still fierce, and according to a new report by Redfin, largely because there aren't enough homes on the market. Redfin reports a nearly 20% decrease in total listings year-over-year
Now, with home prices as high as they are today, some Seattleites are thinking more creatively.
But there's a caveat: you'll only own 25% of the house.
"If we're really looking at 'How do we make housing affordable?' We have to be creative," said Katrina Eileen, founder of Katrina Eileen Real Estate.
A constant stream of people flocked to her Open House event on Sunday.
"I've never seen this before," said Stacie Hayworth, who toured the home.
Eileen says the idea is to help someone get a piece of the pie that they own for less. It's an idea that seems to have resonated with many home visitors.
"The barrier to entry for many people is just the cost of buying the property," says Hayworth.
Technically, you'd own a private room and bathroom for $200,000, Eileen said, and then across the hallway on the same floor, someone else would own the rest of the bedroom and bathroom for $200,000. USD. You'll be fine sharing the entire downstairs, fully equipped, with other occupants.
"We have a dining space, a living space… this is what everyone has access to as a co-owner," says Eileen.
An investor will own 50% of the house. In Eileen's case, records show her husband's LLC owns the land.
"Every former tenant owns a percentage of the property," says Eileen.
Each new owner will own 25% of the home.
In the long run, Eileen argues, flexibility has an added advantage over buying a home with a friend. Co-buying could cause more trouble, she said.
"You don't have the ability to buy and sell your profits separately from each other," says Eilen.
After her tour, Hayworth said she felt this was a "smart" idea, adding, "I think people are going to have a lot of questions."
Eileen said there will be restrictions on behaviors, such as smoking or making noise during "quiet hours," as outlined in the agreement owners will need to sign.
Another real estate professional not affiliated with this listing, Adriano Tori, CEO of Rexmont Real Estate, said buyers in these model types should "do a lot of homework first".
Tori supports the idea, calling it a "temporary solution" to the affordable housing crisis. He said he felt it was most important for buyers to ask the right questions and read the fine print.
"If any conflicts arise from that, who will decide in the end?" Tori said.
Eileen said she is marketing to tenants who already know each other; maybe even more hybrid workers in Seattle.
"You live far away and you have to go back to the office now, two, three days a week, now you have a crash pad," says Eileen.
Tori told KING 5 that he feels this may not be suitable for those looking to resell their piece quickly, because they can have a hard time finding buyers interested in the alternative arrangement. like this. However, he said he felt it could be profitable in the long run as he said property values ​​would soar, particularly in Crown Hill.
It is worth mentioning that they are charging HOA over 700 USD per month to keep the place clean and up and running and to maintain its resale value. Based on Today's LandlordThe average monthly HOA fee in Washington is $388.