Young stars boost USWNT's 2023 World Cup three-peat hopes
Sophia Smith has never used a CD player and isn't sure if there were any websites before Google. Alyssa Thompson doesn't understand the music her teammates like. And Naomi Girma recalls feeling sorry for Alex Morgan when she explained that as a girl, she had to use a map — not Mapquest, an actual paper map — to find her way to soccer games.
"It was such a tough time," Girma enthuses, as if Morgan, the most experienced player on the US Women's World Cup team, had driven to games in a covered wagon.
Although the USA team will again be among the oldest with an average age of 28 when the tournament begins in New Zealand and Australia on July 20, Thompson is also the second youngest American women's World Cup player in history at 18 Kader and three others – Smith, Girma and Trinity Rodman – who were also born in this century.
And it has created a generational divide that divides players off the field and unites them on the field.
Julie Ertz, for example, is 31 and heading to her third World Cup as a new mom, along with Thompson, her excited Angel City teammate, who has been busy with Ertz deciding what to pack like the two are headed to a slumber party. Ertz entered college when Thompson was out of kindergarten and turned pro while Thompson was in elementary school. Still, Ertz is a spring chicken compared to Megan Rapinoe, who at 38 is the oldest woman on the US roster and one of 10 players older than 30.
"Where we are in our career, especially for someone who's a mother and who I think could still be my daughter, that's what's so fun about this team," Ertz said of Thompson. "Everyone is at a completely different point in their life and has the same goal."
The young players bring a dash of youthful exuberance and enthusiasm to veterans like Rapinoe, Ertz and Morgan, who have competed in multiple World Cups and don't have the wide-eyed streaks they once used to have.
"Any time you get a new perspective from someone else, it's incredible," Ertz said. "If you can see the tournament through someone else's eyes, you're actually closer."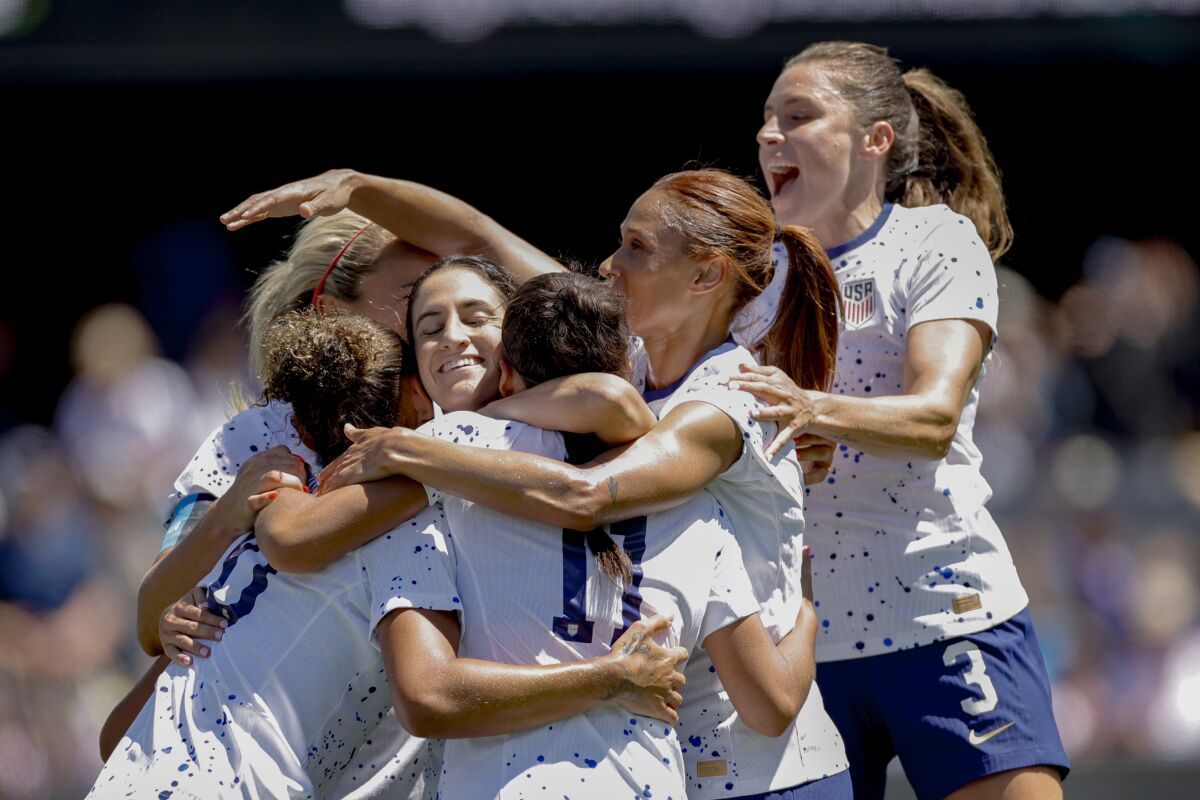 Defense attorney Crystal Dunn, who thinks she's a kid at heart at 31, agrees.
"I think I really connect with all my teammates," she said. "Just because we're at different stages in our careers doesn't mean we can't find common ground. People teach me the latest dance videos. Age should never stop two teammates from building chemistry on and off the field.
"Fact is, I'm 31 and Alyssa Thompson is 18, so she's into things I don't know about. That's OK."
Becky Sauerbrunn, who was expected to captain the USA at their fourth World Cup before missing out with a foot injury, admits the wide range of ages and life experiences can lead to conversations that include many blank stares.
"You share, you learn," said Sauerbrunn, 38. "I learned a lot from the younger players on the team and I would hope they learn something about '90s country or 'Seinfeld.'"
Sauerbrunn also noted that her younger teammates can be helpful when she needed IT support.
"I definitely ask them questions," she said. "They are all on TikTok and I refused to join TikTok. I'm always a bit late when it comes to new trends and such, but to them it's just a joke. And for me.
"It's actually a way that brings us together rather than separate."
Smith, the third youngest of the 14 World Cup debutants in the USA squad at 22, rolls her big, expressive eyes as she talks about her older teammates, who she feels are obviously hopelessly out of touch.
"Some of the songs they all listen to sound like [what] My parents listened," she said. "They talk about the technology they had, like the CD, but things I don't know. As if a song were playing and [someone] will say, "So you know who's singing that?" And it'll be like Tupac I guess, or someone I should know."
Smith steadfastly refuses to take endorsements from her older teammates on TV shows or movies.
"I'm not going to watch a movie that's grainy," she said.
That's not to say that the young players don't respect their elders. In many cases, these players inspired them to get into the game in the first place.
Smith said her first connection to the national team came from watching videos of the 1999 World Cup – even if the footage was grainy. And her roommate for her first national team camp was Sauerbrunn, who even during her studies made her feel like an equal and not like a freshman.
"All I remember is that she was so normal," Smith said. "You see people on TV and you think they're scary or something. But she was just so normal. I was doing homework in the room and she asked me about it."
Thompson hung posters of national team players on the walls of her bedroom. Now these icons are their teammates.
"I've looked up to these players for so long," Thompson said. "Each game I'm like, 'Wow, I can't believe I can do it now.' "
She's here now, just like all other Gen Z players, because she belongs. Thompson, who graduated from high school last month, is the only prep ever selected to the NWSL draft. Smith became the youngest MVP in NWSL history last season and the youngest to win the US Soccer Player of the Year award since Mia Hamm in 1994. Before her 21st birthday last May, Rodman made 17 appearances for the national team. And Girma, 23, captained the U-20 national team and was named US Soccer's Young Player of the Year.
While they are all exceedingly talented, none of them are finished products. However, her World Cup experiences over the next six weeks could mark the transition from young phenomenon to seasoned veteran.
"When you're young and talented, you're so used to always being successful," said Dunn, who made her national team debut a decade ago at age 20. Realize that everyone is good and that you have to level up. You are faced with the challenge of either accepting them, growing and learning from them. Or you won't survive.
"If you can survive and thrive in that environment, that says a lot about how you deal with challenges and obstacles and how you adapt."
And the music you listen to or the websites you visit have nothing to do with it.
⚽ You've read the latest edition of On Soccer with Kevin Baxter. The weekly column takes you behind the scenes and sheds light on unique stories. Hear Baxter on this week's episode Corner of the Galaxy Podcast.