Zharnel Hughes targets world glory after regaining British 100m title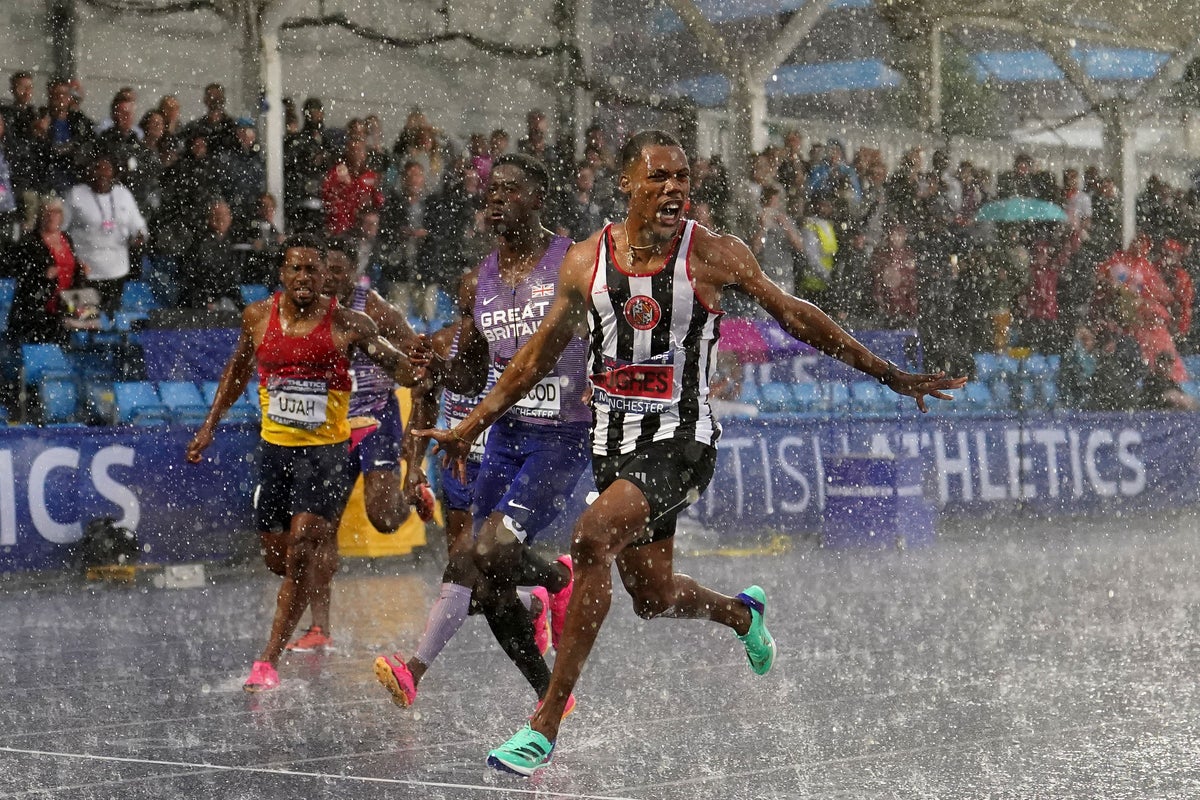 Zharnel Hughes had his sights set on the world title after becoming British 100m champion for the first time in eight years.
The new national 100m record holder, who broke Linford Christie's 30-year mark last month, won in the pouring rain on Saturday in 10.03 seconds ahead of Reece Prescod.
The skies opened up in Manchester just before the race and some electricians went out in the Regional Arena and BBC coverage also dropped.
But Hughes pulled through impressively to set his sights on the World Cup in Budapest next month.
"I'll use that to go faster and become a world champion," he said.
"It's been a long journey to win back the title, which I last won in 2015. I thank my team, my coach and everyone who came to support me.
"I will come back for the 200m on Sunday and I hope that the conditions will be better. I really have to thank every single viewer for watching in these horrible conditions.
"It doesn't matter whether it rains, whether the sun shines or whether the sun shines, you perform," is the slogan in Anguilla. Sometimes in Jamaica I train in these conditions, but I'm soaked, the conditions are the worst ever."
Eugene Amo-Dadzie, an accountant who competes part-time and ran 9.93s last month, finished third and is likely to be Hungary's final 100m finish.
CJ Ujah, who came back from a drug ban after a positive test at the Olympics two years ago that cost Team GB the silver medal in the 4x100m, finished fifth.
Dina Asher-Smith won the women's 100m with a time of 11.06 seconds.
The final was postponed after the torrential run forced athletes back inside.
Asher-Smith is gearing up for next month's World Championships, with the weekend also serving as a British test.
She stays well short of the world best time set by Jamacia's Shericka Jackson of 10.65 seconds, while Sha'Carri Richardson ran 10.71 seconds en route to victory at this weekend's US Championships.
Asher-Smith's personal best and the national record she set in 2019 remains at 10.83 seconds – which she equaled last year when she finished fourth in Eugene.
She said: "It was probably colder in the Gateshead Diamond League but today we felt like we didn't know if the race was going to move forward, the waiting, going out, coming in, lightning and wind."
"This is the first time I've really had to be careful to stay focused. It's good practice and I'm learning how to use it."
Asher-Smith was never challenged as his rival and last year's winner Daryll Neita focused on Sunday's 200m, while Imani Lansiquot and Bianca Williams finished second and third.
Earlier, Keely Hodgkinson reached Sunday's 800m final by winning her run in two minutes and 01.16 seconds.
The 21-year-old finished second to USA's Athing Mu at last year's World Championships after also winning silver behind Mu at the Tokyo Olympics two years ago.
She said: "When I said I was going to compete in the British Championships, everyone was like, 'Why?'
"Last year I missed it, although I ran the 400m it didn't get my adrenaline pumping because it's not my event. Everyone took it so seriously and I thought, "I don't belong here."
"I enjoy competing in the British Championships, I have – hopefully – another title under my belt and I live here, it's my training track too."
Laura Muir, who split from longtime trainer Andy Young earlier this year, won her 1500m race and is hoping to put a difficult period behind her.
"I think I can just enjoy it again. That's the most important thing," she said.
"It was very difficult. I've injured myself physically before, and this year it was much more difficult. I will get through one physical thing every day."
Matthew Hudson-Smith, who won bronze in the 400m in Eugene last year, reached Sunday's final in 46.31 seconds while Holly Bradshaw missed out on her eleventh British outdoor pole vault title to Molly Caudery.