GOP debate tonight: Why Donald Trump isn't showing up to the first Republican debate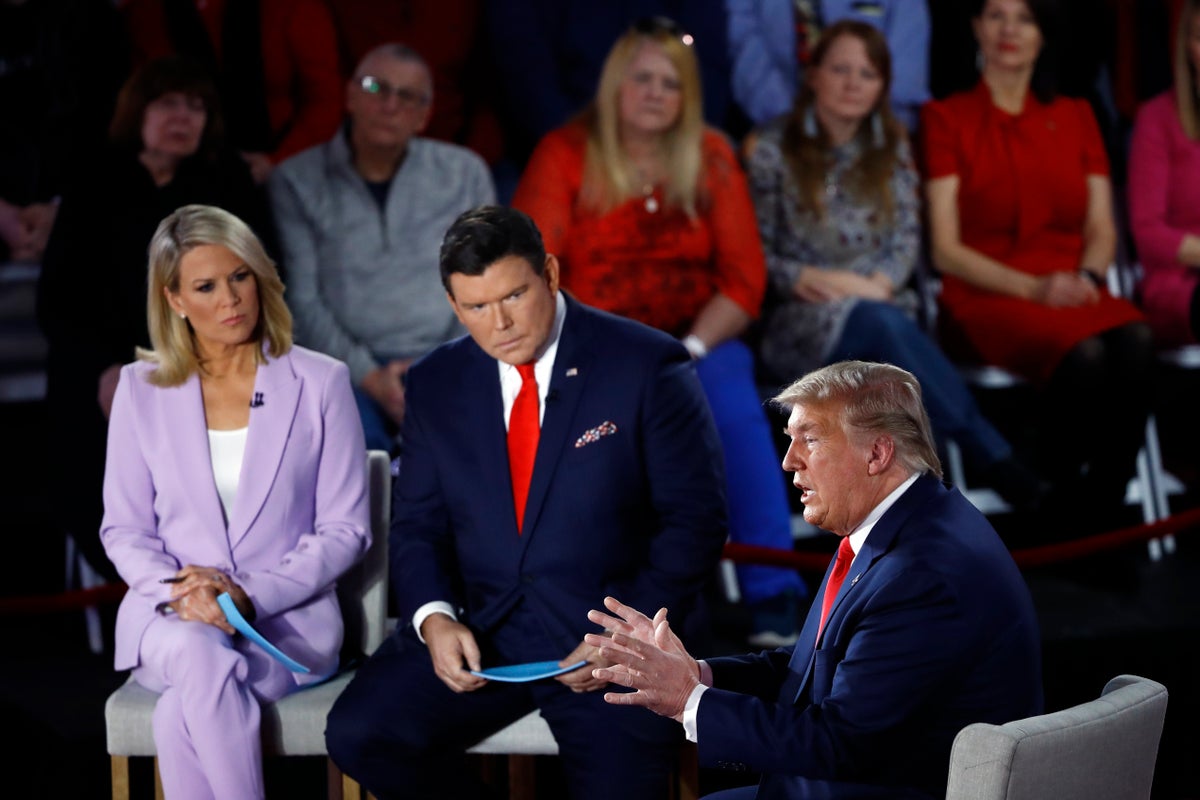 Expecting a coronation and so far looking likely to get one, the former president has chosen not to attend the first Republican primary debate.
Using his tried and true method of counterprogramming to steal attention from the event where he's set to be heavily discussed, Donald Trump will instead be interviewed by Tucker Carlson, the former Fox News host who was ousted from the network after a legal settlement cost the broadcaster $787.5m.
Morning Joe host Joe Scarborough recently suggested that Mr Trump is scared of former New Jersey Governor Chris Christie, who appears to be running a "kamikaze" campaign to take out Mr Trump with little hope of winning the nomination or getting a cabinet post, much less being the next vice president.
"I do think he's scared of Chris Christie. He saw what Chris Christie did to Marco Rubio when Chris Christie went into a debate with one thing in mind. He knows Chris Christie put Jared Kushner's father in jail for a very long time," Scarborough, a former Republican Florida US House representative, said last week.
"I think he's scared to death of Chris Christie and will not have the guts or the nerve to go on stage with Chris Christie anywhere," he added.
The Super PAC Never Back Down backing Florida Governor Ron DeSantis recently put out an ad mocking Mr Trump for being "too weak to debate".
"We need a nominee with stamina," the voiceover says. "A nominee who's sharp."
The ad included a clip of Mr Trump at a rally saying that the debates were "brutal".
Mr Trump confirmed on Sunday that he wouldn't attend.
"The public knows who I am & what a successful Presidency I had," he wrote on Truth Social. "I WILL THEREFORE NOT BE DOING THE DEBATES!"
It remains unclear if he meant the currently scheduled primary debates or all debates in the 2024 election.
Three debate experts The Independent spoke to agree – not attending the debate won't do Mr Trump much harm. It might even be good for him.
Trump has 'no reason' to take part
Susan Millsap, a communications professor at Otterbein University in Ohio, said Mr Trump has "no reason to" take part.
"His followers are only already dug in deep and solid," she added, noting the possibility that he may "misspeak" and create a moment that his "opponents could build on".
Mitchell McKinney, professor of political communication and Dean of the Buchtel College of Arts and Sciences at The University of Akron, said that what has become clear about Mr Trump is that he'll "do the unconventional in a way that will benefit him".
Dr McKinney notes that in 2016, after his dust-up with former Fox News host Megyn Kelly during one of the debates, Mr Trump declined to appear when his demand that she be removed wasn't granted, and instead held his own rally to divert attention away from the debate.
He notes that the debate Mr Trump skipped "only garnered about half the viewership of the first debate".
"So there's some history of Donald Trump assessing, 'is it to my benefit, or do I get what I want? If I don't get what I want, I'm going to create a situation where I will get the attention'," he adds.
'Debates are high-risk television'
Jacob Thompson, the Associate Vice Provost for Undergraduate Education and the former head coach of the debate team at the University of Nevada, Las Vegas, says that "debates are high-risk television" and that for Mr Trump "there's nowhere to go but down because of a debate".
"That's especially true when you couple that with the fact that as a centre of attention, he will be attacked by everyone else on the stage. And so it entails a lot of risk for him, I think he … doesn't have much to gain from being on the stage," he adds.
"Trump's goal has always been to capture the media cycle in as many unique ways that he can, and not showing up maintains this kind of circus-like air … that keeps him front and centre as the key point of discussion. So in many ways, his decision to not show up is frankly, a politically savvy move," Dr Thompson says.
"Every one of those other candidates is looking to be the person that could topple Donald Trump," he adds. "They're looking to make a name for themselves, so they may be willing to try pretty outrageous strategies to capture the attention of former Trump voters or people who maybe can swing in terms of their desire to vote for Donald Trump."
'People have already made up their mind about Trump'
Dr Millsap says she believes Mr Trump is taking the time to observe from afar how his opponents will manage on Wednesday night in Milwaukee, in preparation for the possibility that he may return to the stage. "People have already made up their mind about Trump … you either like him, or you don't – you're gonna vote for him or you're not."
Dr McKinney recalls that during the 2020 general election between Mr Trump and President Joe Biden, Mr Trump pushed back on the proposed rules for the third debate to such a degree that it didn't take place.
Mr Trump had been so abrasive and interrupted so many times during the first debate that rules were suggested that included turning the candidates' mics off when the other was speaking, something Mr Trump argued would hamper his performance.
Instead, Mr Biden held a town hall, and Mr Trump, always seeking the spotlight, got one of the other networks to counterprogramme Mr Biden's event with one of his own.
Dr McKinney adds that Mr Trump is making a "political calculation" that if he does appear at the debate, it will lead to a larger viewership and an "opportunity for some of my opponents to garner attention for themselves. Why would I want to do that?"
'I don't think it would hurt him to not show up'
2016: Trump dominates debate
"Unfortunately for all of those other candidates, we're not focusing on any of them, any of their ideas, any of their reasons why they would be a stronger nominee. It's going to be about Donald Trump," he adds.
"I don't think it would hurt him to not show up," Dr Thompson says.
"A lot of times a person who's in charge and is projecting strength, is able to say with no penalty, 'I'm not showing up to that, it's below me', right?" he adds. "Imagine a meeting at work with a kind of authoritarian boss who walks in 15 minutes late. That's just how it is – that person's the boss. They can do what they want. And maybe they did it on purpose to show that their time is worth more than everyone else's time."
"Trump's decision to not show up to the debate is also a way of expressing strength or power," Dr Thompson says.
'I'm searching for nicer words than just bully'
Asked about Mr Trump's debating style, Dr McKinney says that both Florida Governor Ron DeSantis and former New Jersey Governor Chris Christie have a strain of Mr Trump's persona.
"I'm searching for nicer words than just bully, but that's what it is," he says.
"Trump is going to think long and hard before he gets on a debate stage with Chris Christie, because of all those candidates, Christie really is the only one who strategically knows how to deal with Trump," Dr Millsap notes.
Mr Trump's debate strategy is to "throw out a whole lot of information very quickly," Dr Millsap says, adding that what he says may not be true or relevant but he says it "confidently" and in a way that says "you know this is true, right?"
What Mr Christie will do is "he will respond to one or maybe two of the things that Trump says and usually the ones that are relevant to whatever the question was … And debunk it and ignore the rest. Because what other people do is they try to respond to so many things that the audience gets no focused answer".
Dr Millsap says that if Mr Trump chooses to take part in one of the later debates, it will likely have "a lot of rules around it of what can and can't be asked".
Trump's debating style is 'semi-controlled chaos'
Asked about his debating style, Dr Millsap says that as a "person who teaches debate, it drives me crazy".
"He has no support for the claims that he makes, many of his claims are just inaccurate. So in that sense, so much of what he argues is just based on his credibility with his audience," she says, adding that if "the audience wants to believe him, it doesn't matter what he says, they're going to sit there and say, 'Yes, you are wonderful'. Which is a very scary thing".
"DeSantis is not a personable person. He comes across as very non-engaging, kind of distant, stiff, and on a televised debate, you have to know how to engage the audience, not only the one in front of you, but the one on TV," the professor says, noting that Mr Trump, with his TV experience, "knows to look at the camera and knows how to use both audiences to his advantage".
According to Dr Thompson, Mr Trump's debating style is best described as "semi-controlled chaos".
"He has very little brain mouth filter, which is something that has politically worked very well for him … He expresses things in the moment in a way that he is thinking them, which I think his supporters equate to honesty, forthrightness, and a no BS approach to politics," he says.
'I would have a hard time betting that debates would happen between Biden and Trump'
2020: Biden calls Trump a 'clown' during debate on healthcare
Asked about the general election debates between Mr Biden and the eventual Republican nominee, which now looks likely to be Mr Trump, the experts disagree on whether the debates will happen at all.
"I would have a hard time betting that debates would happen between Biden and Trump," Dr Thompson says. "Maybe that's a hot take, I'm not sure, it's not intended to be."
Dr Thompson predicts strong disagreements between the campaigns for how the debates would be conducted.
"The GOP and RNC have stipulated some pretty strong requirements for a Republican candidate to participate in a debate that might contravene what the Commission on Presidential Debates is really interested in doing," he says.
"I would say that it's a 50-50 proposition at best, whether or not there are actual debates between Biden and Trump."
"Assuming that Trump and Biden are the two nominees, then there has to be a debate," Dr Millsap says. "Trump will have to debate him just because Biden is the sitting president."
"Not to debate him looks weak, which is different from the Republican primary debates because nobody else is sitting in the place of power that Biden is," she adds. "I would assume that it's going to be a relatively staged thing so that both candidates know what's happening. I would not anticipate anything like a town hall-type debate."
The fight over the Commission on Presidential Debates
Dr McKinney says that how and if the general election debates will take place will depend on the Republican nominee and the GOP as a whole. The party has put a "flag in the ground" saying "no-way, no-how" to the Debate Commission's leadership.
When the primary is over, it will be a matter of the Republican candidate having "enough power to push aside the Debate Commission and come up with an alternative sponsoring organisation?"
"Or will the Debate Commission go forward? Then the American people will see that the Republican candidate is just not willing to participate in what has become this expected institution of our democratic process," he adds. "There's a lot to be answered on that front."
Dr McKinney notes that the general election debates began in 1960 and didn't happen again until 1976.
"We've had an uninterrupted span of general election presidential debates since 1976. I've studied these debates for decades. I think we are probably at the most perilous moment of not continuing general election presidential debates," he says.
"I think that the GOP party apparatus sees elections as often a referendum on a candidate, and many people have made up their mind. A lot of voting today is voting against, not voting for. So it's not as if Trump is likely to capture a large portion of undecided voters by showing up at a debate and making some common sense points about tax policy or whatever," Dr Thompson says. "I think that there's frankly downside for both candidates participating in a debate that indicates that there are incentives for them to not participate."
"There were supposed to be three presidential debates in the last cycle between Biden and Trump. And we only got two – he has a history of not participating in debates, be they primary or general election. So it wouldn't be unprecedented for him to say no. And I don't think that he thinks it hurts him too," he adds.
For the first time since '76, debates may not occur next fall
"We have a tradition in this country of having debates. But that tradition only started in 1960. And in 1964, 1968, and 1972, there were no presidential debates. And so we really only have a tradition of 50, 60 years of political campaign debates here," Dr Thompson says. "So it's not as if you're saying, 'we're gonna tear the Constitution or the Declaration of Independence up'. It's a tradition that exists and there are some expectations, but those expectations have a lot of cracks in them at this point."
Dr McKinney says Mr Trump's "direct threat and challenge that he's made to the institution of presidential debates is very similar" to "his challenges to our other institutions of governance of democracy, whether that's the Congress, whether that's the courts, whether that's challenges to the media institutions".
"We could see, for the first time since debates resumed in '76 – they may not occur next fall," he adds.
Dr McKinney argues that the candidates having separate events would be the "most disastrous thing for us" because it only spurs on the "polarised segmented society where we don't have to have our candidates appear on the same stage in a debate".
Recalling the 2020 campaign, Dr Millsap says that in the first debate, Mr Trump "came across as too overpowering, too strong, too forceful. And it made Biden just sound logical … A guy that you could sit down and have a conversation with".
"This is one of the reasons why he won't like debating Biden," she says.
2020: Trump clashes with moderator minutes into Biden debate: 'I guess I'm debating you now'
"The other worry you get with the Trump-Biden debate, of course, is that Biden is old. And he does have a stutter that he works very hard to overcome," Dr Millsap adds.
She says it's noticeable when Mr Biden gets nervous that he's "working really hard to get the words out, which can come across as being hesitant, or not knowing or weak".
"And when you have the big television star confidence of Trump next to that, then you have people worrying about 'well, can Biden do it?' That doesn't necessarily mean they're gonna vote for Trump, but it may keep people home and not voting for Biden," she adds.
Dr Millsap brings up the importance of the debates for down-ballot races.
"If Republicans don't want to vote for Trump – are they going to vote at all? Will they go to the polls? If they don't, the Democrats have a great chance of getting both houses of Congress back," she says, adding that the same is true for Mr Biden.
"If he comes across as too weak," then a low-turnout election suddenly becomes possible.
"And you never know what happens when you have low turnout."