Oregon man dies from fentanyl bought from Mexican pharmacy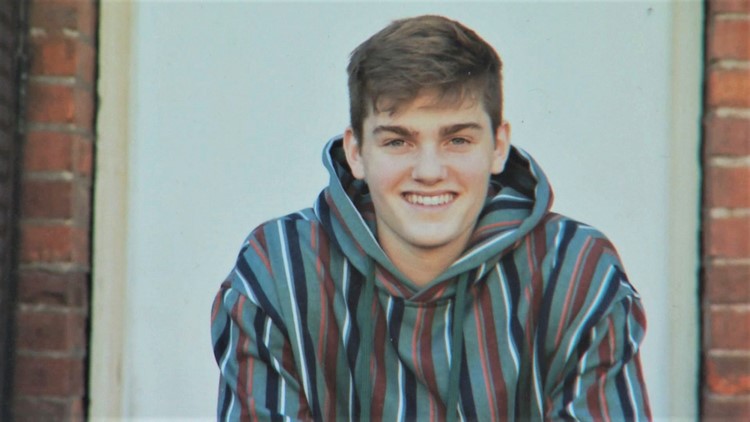 Tristin Schiess visited a pharmacy while on a family cruise in Mexico. When he returned home to Salem, his mother found him dead in his bedroom.
SALEM, Ore. — Heather Schiess misses everything about her son, Tristin. His uplifting spirit. His positivity. His wittiness. And especially his hugs.
"He loved making people happy," she said. "He loved helping people."
So much so, Heather said that when her son went off to college, he decided to study to become a nurse. When he returned home to Salem because of the pandemic, the "boy with the big smile," as Heather sometimes called him, started training instead to become a firefighter.
"The sky was the limit for my son," she said. "He was so full of life. He loved life. And he lived life to the fullest."
Last Thanksgiving, the Schiess family, including Tristin's older brother and younger sister, decided to celebrate with a cruise to a place the family had traveled for years: Mexico. 
They spent seven days on the Norwegian Bliss out of Long Beach, California, down and back the Pacific Coast, including a day on a sailboat tour off Cabo San Lucas, and a final stop in the port city of Ensenada, a couple hours south of San Diego.
"We actually hadn't vacationed in four years together because the kids had been off to school," Heather said. "It was just really nice. Everyone was excited."
Less than 48 hours later, and less than two months after his 22nd birthday, Tristin was dead.
'A couple of 'oxy' aren't going to kill me'
In Ensenada, Tristin and his brother had gone exploring on shore, and at some point, went to a pharmacy.
That evening at dinner, Heather learned that Tristin had bought some pills and brought them back on board the ship. He told his parents they were oxycodone.
"He was a young kid making a really bad choice that day," his mother said.
A year-and-a-half earlier, Tristin had been diagnosed with severe ADHD. While he didn't like to talk about it, his mother said he was also battling some mental health issues.
"You do all you can as a parent," she said. "You try to keep the line of communication open. You let them know that you're there for them. You help them."
She and Tristin's father had an intervention that night on the ship.
"I tried to get him to hand over the pills," she remembered. "And at the time he said to me, 'Mom, a couple of oxy aren't going to kill me.'"
The next morning, the Sunday after Thanksgiving, the ship docked in California and the family flew home to Oregon.
She hoped that returning home to Salem would provide her son with a sense of stability and that everything, in her words, would "get back to normal." Instead, when she went to her son's bedroom the next morning, she found his body. Investigators found 19 pills in a toolbox on his nightstand, according to a police report.
"It was the clean M … and the line and the 30," she said. "The blue pills."
Documents also show investigators recovered a drug testing kit with strips used to test for fentanyl, the synthetic opioid that's 100 times more powerful than morphine.
Salem police couldn't confirm to KGW whether the test strips had been used, or whether Tristin tested the pill, or pills, that claimed his life. Neither could his mother, but she was confident of one thing.
"(Tristin) was terrified of fentanyl," Heather said.
Four months later, she received the final toxicology report from the state medical examiner. It showed Tristin had fentanyl, along with the anti-seizure drug clonazepam, and what appeared to be the remnants of cocaine in his system. His death was officially classified as an accident.
"It was like falling backward, like when I first found him," Heather recalled. "But this time it was anger. I felt like my son had been murdered."
Researchers find Mexican pharmacies selling prescription pills laced with fentanyl, meth and heroin
It turns out, the problem of counterfeit prescription pills isn't limited to one Mexican pharmacy or even one city.
Two months after Tristin's death, researchers at UCLA published a study where they sent "shoppers" without prescriptions to 40 tourist-oriented pharmacies across four cities in Northern Mexico. They asked for single pills of oxycodone, Xanax and Adderall. Of those pharmacies, more than two-thirds sold the highly regulated pills to the study participants without a prescription.
Back in a lab, researchers used both infrared light, along with test strips to identify the contents of the pills.
The Xanax pills were all authentic, but nine out of 11 (81.8%) of the samples sold as Adderall contained meth. Eight of 27 (29.6%) of those sold as oxycodone contained fentanyl. Three out of the 27 contained heroin.
"We have this inherent trust in a pharmacy, that what we're going to buy is actually something legit," said Dr. David Goodman-Meza, assistant professor of infectious diseases at UCLA. He specializes in travel medicine and also co-authored the study.
"For pharmacies to be selling counterfeit products, that is very surprising to me," Goodman-Meza said.
The UCLA study mirrored a Los Angeles Times investigation that was originally published in February and expanded on in June. According to the study, over 50% of the 55 pills obtained from 29 pharmacies in eight cities were counterfeit.
When it came to opioid painkillers bought from pharmacies, more than a third — 15 out of 40 —  were counterfeit and 13 of those tested positive for fentanyl, the Times reported.
The Times reported that counterfeit pills were purchased not just in border towns like Tijuana, but also from major tourist destinations like Los Cabos, Puerto Vallarta, Playa del Carmen, Cozumel and Tulum. In two cases, counterfeit pills were sold not just as single pills, but in sealed bottles, the newspaper reported.
"They're targeting Americans," Heather said. "They're targeting anybody that will buy it."
Goodman-Meza's takeaway for people traveling to Mexico, or anywhere else, is simple.
"Do not purchase (prescription drugs) without a prescription, and especially high-risk medications like prescription opiates, benzodiazepines and medications like Adderall," he said.
The doctor, who grew up in Mexico, added that he'd like to see the Mexican government investigate pharmacies to make sure their supply is safe. He'd also like the authorities to consider a public awareness campaign aimed at international tourists visiting the country.
"There should be a sign (at the border or in airports) that says 'buying medications without prescriptions in Mexico could lead to purchasing counterfeit drugs,'" Goodman-Meza said.
As recently as March, Mexico's President, Andres Manuel Lopez Obrador, said that his country does not produce or consume fentanyl. Meanwhile, that same month, the U.S. State Department issued a travel advisory for Mexico after the UCLA study and Times investigation captured the attention of federal lawmakers.
It read in part, "Exercise caution when purchasing medication in Mexico …Counterfeit medication is common and may prove to be ineffective, the wrong strength or contain dangerous ingredients …These pills are sometimes represented as OxyContin, Percocet, Xanax and others, and may contain deadly doses of fentanyl."
For the Schiess family, those warnings came too late.
"I can guarantee you 110% my son would not have walked into that pharmacy," Tristin's mother said.
Should the cruise line have warned passengers about pharmacies?
One of Heather's lingering questions is whether Norwegian Cruise Lines (NCL) should have informed passengers on the Norwegian Bliss last November about the risk of Mexican pharmacies selling counterfeit pills.
"You get tons of paperwork. Every day," Heather pointed out. "There needs to be some sort of warning on those flyers you receive. Just in writing, put it in writing."
While there are federal regulations when it comes to security, safety and reporting crimes onboard most ships that embark or disembark in the U.S., it doesn't appear there are any that mandate what legal experts call a "duty to warn."
Douglas Williams is a maritime lawyer based in Bellingham, Washington who used to defend cruise lines. He is a partner with Boatlaw, LLP, and now represents plaintiffs suing for personal injury and wrongful death claims. Williams said when it comes to the concept of "duty to warn," it's a legal gray area.
"It's a case-by-case basis," Williams said. "It's going to turn on: Did the cruise line have actual knowledge of this particular harm in this particular place?"
That principle of duty also applies to places beyond the pier or port itself where cruise passengers could be reasonably expected to visit, Williams added. The more foreseeable the risk of harm, injuries or death, the more likely a court would find a cruise operator negligent for failing to warn passengers, he said.
It's unclear if NCL knew, or should have known, in the months before the UCLA study and the U.S. State Department travel advisory, that some Mexican pharmacies were selling prescription pills that were not authentic and potentially fatal.
"I want to see change happen with the cruise lines," Heather said. "This is such a new practice that this may be all new to them. But now they know."
In an email to addressed to her and dated May 3, NCL's Senior Manager of Guest Experience, Jonathan Rose, wrote in part, "Our communications team will update our current safety messaging to our guests to ensure they are aware of the issues with purchasing non-regulated medications from pharmacies in foreign ports."
She wrote a follow-up email in late May, asking what specific form those changes might take and when they'd be implemented, but did not get a response.
KGW sent three emails and a voicemail to NCL in June, posing those same questions and asking to discuss Tristin Schiess' death. NCL didn't respond.
While Williams sees NCL's commitment to spread awareness as a "positive," he said he's never seen an example where a cruise line has offered passengers a pro-active warning.
Searching for meaning in unimaginable loss
Six months after her son's death, Heather realizes that no one may ever be held accountable for selling the pill killed her son.
Tattooed on her left forearm is her son's final journal entry.
"Thank you for listening," it says, referring to her. "For unconditional love. And for always telling me the truth."
She knows the truth is her son bears a portion of responsibility.
"Yes, he made the choice that day to walk in (to the pharmacy)," she said.  "Yes. And he made a stupid choice. But he did not deserve to die."
Since the drugs were purchased in Mexico, Salem police have since closed Tristin's case. The department also said it's notified the Drug Enforcement Administration (DEA), which it called "standard protocol."
The DEA declined KGW's request for an interview and directed questions about pharmacies in Mexico to Mexican authorities. The agency also wouldn't comment on or confirm the existence of an investigation into Tristin's death.
While the Times has reported on a handful of cases, and UCLA's Dr. Goodman-Meza said he's aware of a few others, it remains unclear if the DEA tracks cases of Americans who have died after purchasing counterfeit medications in Mexico.
Last year, DEA testing showed six out of 10 fentanyl-laced prescription pills analyzed had a potentially lethal dose of fentanyl, with the bulk of the pills made by two Mexican drug cartels.
"One pill, one time, can kill," said David F. Reames, special agent in charge for the DEA's Seattle Field Division. "The only safe medications are ones prescribed directly to you by a trusted medical professional and dispensed by a licensed pharmacist."
This week, hundreds of extended family and friends will gather in Salem for Tristin's celebration of life.
The message that just a few grains of a single pill can prove fatal, even when it comes from a source you think you can trust, is one that Heather plans to share far and wide.
"I just don't want my son to be forgotten," she said. "I want something positive to come from this."
She shared a tattoo on her right forearm, showing a family of blackbirds sitting on a branch. One of them has taken flight: Tristin.
"Some days I tell myself my son had to die to help save other people's lives," she said, choking back tears. "And that helps get me through."