Graduate with Down syndrome makes history at Olympia college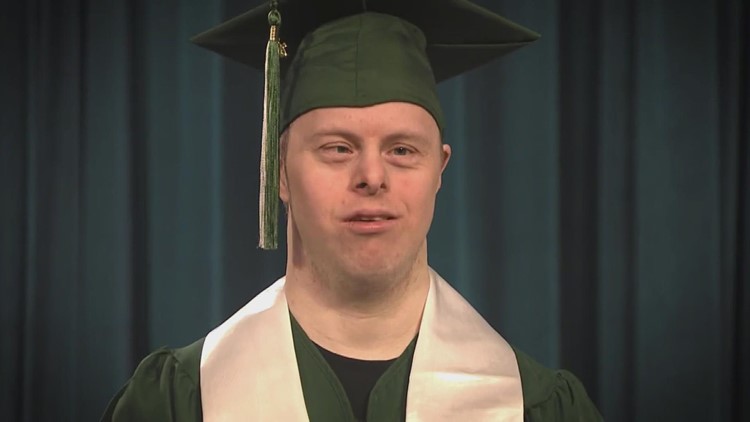 Dylan Kuehl was the first Evergreen State College graduate to live with Down syndrome.
OLYMPIA, Wash. – Dylan Kuehl has been told his entire life that he can't or shouldn't.
"You shouldn't tell me that," said Kuehl.
On Friday, he proved his doubters wrong again when he received a bachelor's degree from Evergreen State College. Kuehl, 38, was the first graduate to live with Down syndrome in the college's 51-year history.
"When life gives you lemons," said Kuehl, "make lemonade."
Kuehl received a Bachelor of Arts with a concentration in writing. His favorite classes included painting and dancing.
>> Download KING 5's Roku and Amazon Fire apps to watch live newscasts and videos on demand
Prior to his degree, Kuehl was one of just three students from the nearly 900 graduates selected to speak at the ceremony.
"I see greatness in all of our graduates," Kuehl said in the recorded message.
"I gotta say. Wow. I never thought I'd make it this far," said Kuehl, "When I started, people told me I wasn't ready for college. It discouraged me. Instead of giving up, I got I built a 'yes team'."
Kuehl credits his fellow students, tutors, teachers and his mother for helping him on the journey, but he said earned usually graduating alone.
He hopes his story will inspire others.
"Celebrate your skills. Live your life with ambition and pride," said Kuehl: "Yes, I'm the first to graduate here, but I won't be the last."
https://www.king5.com/article/news/education/graduate-down-syndrome-history-olympia-college/281-bc58a8f3-fe59-461f-8d82-a67d7bacf6c0 Graduate with Down syndrome makes history at Olympia college